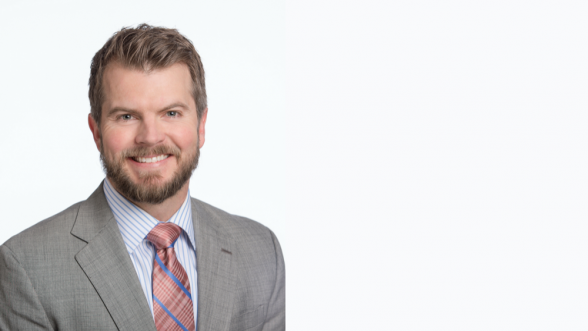 Jeremy Nicholas, '07 BSBA in Finance, was recently recognized by Denver Business Journal as a Top 40 under 40 leader in the Denver community. His background in finance and banking along with his degree from the CU Denver Business School helped him achieve the goals he set out for himself.
Nicholas now serves as the President of the DTC/Cherry Hills Office of First Western Trust, but his background isn't the traditional one you'd expect. He started at a four-year college back east, before he took a year and a half off to move west. In 2005, he started pursuing options to finish his degree, specifically looking for a school with built-in flexibility. That's when he found the CU Denver Business School. "I chose CU Denver because it had a great platform to get me where I wanted to be in a relatively short amount of time." he said. "I was really focused and dialed into what I was there for, which was to get my education."
During his tenure at the Business School, Nicholas interned for a family office, tasked with providing analysis and proposing solutions for the family's investable assets. Shortly after graduating from the Business School, the firm brought him on as a full-time employee. Reflecting on the experience, Nicholas says that while the finance-intensive job complemented what he had learned in school, its environment was one that didn't suit his personality. "I was doing work I really enjoyed, but I'm a people person. I like to interact, I like to engage, and I like to create relationships. A family office doesn't necessarily facilitate that type of culture," he said. In addition, the firm was beginning to consider placing him overseas, a move Nicholas says he wasn't interested in making, given his growing connection to Denver.
Knowing a change was in order, Nicholas pursued an opportunity with First Western Trust, starting from the bottom and working his way up over the course of nine years. Nicholas's rapid achievements earned him a variety of accolades from business institutions and publications. Last year, he was named as one of Colorado's most influential young professionals through the Colorado Business Magazine's GenXYZ Top 25 award. This achievement is granted to those who have made an impact in the community, surmounted obstacles, and exhibited strong drive in his or her career.
His most recent award was as a part of Denver Business Journal's 40 under 40, an honor Nicholas says stood above those he had received previously. "The notoriety and recognition that you get for the Denver Business Journal award is very different. It's more prestigious. Since then, I've had a lot of people reach out to me–people noticed." Despite all of the attention, he remains humbled by the experience, speaking to the honor of being associated with other noteworthy nominees.
Thinking back to his time at the Business School, he noted it was "extremely beneficial," because it allowed him to focus on what he was there to do. "It set the stage for me to begin my career and to put me on the path that I've been on since," he reflected. He is a big advocate for the school, noting continued growth in reputation and industry connections since he left a decade ago.
Despite a heavy workload and busy schedule, Nicholas still finds time to get involved in causes that matter to him most. Over five years ago, he joined the board of directors of Earth Force, a nonprofit that fosters environmental stewardship among young students by incorporating programs into middle school curricula. Moved by their mission, Nicholas described his work with Earth Force as "a natural fit." He continues to place high value on community involvement and hopes to continue supporting local organizations by providing financial guidance.
As a successful business leader and alumnus of the Business School, Nicholas has this piece of advice to offer those beginning their professional journey. "Learn and absorb as much as you can. Develop relationships with peers and stay motivated. Timing is important, but in the end, your drive and ambition is what will allow you to take advantage of each and every opportunity."