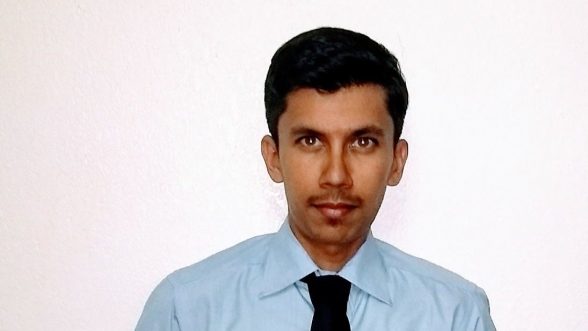 Parag Ravka is a second-year graduate student from India pursuing an MS in Information Systems. This past summer Ravka interned at Newmont Mining, a Fortune 500 company, where he worked as a technology intern. Headquartered in Greenwood Village, Newmont Mining is one of the world's largest gold producers and is dedicated to sustainable and responsible mining.
Ravka's responsibilities included writing a complex computer language (Procedural Language/ Structured Query Language) and creating business intelligence reports for an environmental project.  At first, the heavy workload surprised Ravka, but he enjoyed the challenge of stringent deadlines. Newmont Mining's diverse work environment allowed Ravka to make friendships with employees from various cultures and backgrounds.
Since Newmont spans across four continents, Ravka interacted with international clients from Australia to Ghana on a weekly basis. He learned how to conduct and interact in meetings, how to work with a team, and how to work with real time data. The company values community and schedules employee events and outdoor activities almost weekly. Ravka stated that even managers and seasoned employees felt like friends.
Business Career Connections helped Ravka land internship
The Business Career Connections (BCC) prepared Ravka for his internship and future endeavors. Ravka has taken full advantage of opportunities the BCC provides, such as attending job fairs and networking events. He states that attending sessions conducted by the BCC has been the best thing that has ever happened to him. By taking full advantage of BCC resources like attending job fair workshops, international student career workshops, and learning how to build effective resumes and cover letters, Ravka is confident his skill set helped land him his internship with a Fortune 500 company.
A tip for fellow students
To other fellow students, Ravka suggests, "to network to as many people [as] you can in the company as well as outside the company." Displaying one's skillset and talents at the workplace are of utmost importance. He also encourages students to learn as much as possible during and after the internship. He also recommends attending all networking events within the company to broaden your personal network. Those coworkers can become a future networking connection. Ravka also kept a journal to track his career plan, ensuring he was always working towards his goals. He believes with great planning and hard work, things will fall into place.