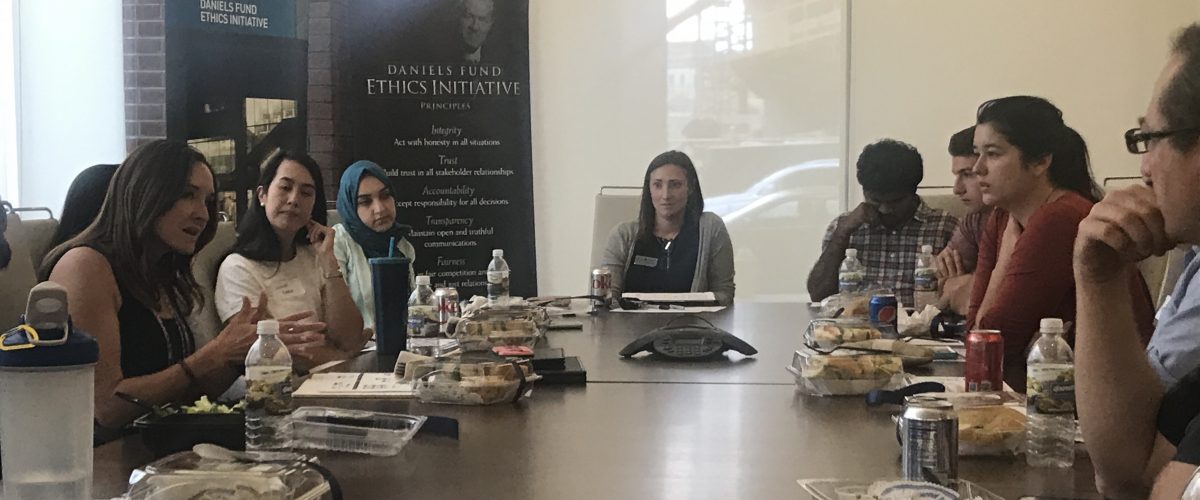 The CU Denver Daniels Ethics Fund Initiative hosted Rachel Thornton, Chief Audit Executive for Liberty Media, to a lunchtime discussion about real-world ethical dilemmas in the workplace.
In her position at Liberty Media, Thornton oversees the Internal Audit departments for five separate public companies and their very wide range of portfolio companies including SiriusXM, the Atlanta Braves, Formula One Racing (F1), QVC, zulily, Expedia and many more. Students were particularly interested in some recent ethical scenarios involving F1 that Thornton shared.
Liberty Media acquired F1 in January 2017 after several years of consideration while weighing the risks, including those inherent in racing, international entertainment, and association with the former F1 CEO Bernie Ecclestone, a self-made billionaire known for accusations of bribery and unsavory back-door partnerships.
"We take a lot of time to understand the controls and culture of a company before we acquire it," said Thornton. "While we identified many strengths with F1, we saw some things that could be better, so now we're focusing on restructuring and recalibrating to ensure real accountability and compliance."
Students also asked Thornton advice on entering the perhaps lesser-known career path of auditing. An auditor, while similar to an accountant, has more of an analytical function, evaluating financial information and looking for errors, fraud, or manipulation.
Overall, students felt this semester's Lunch with Leaders session was helpful and informative, and enjoyed getting the chance to casually meet and chat with a local business leader.
The Lunch with Leaders program is funded by the Daniels Fund Ethics Initiative at the University of Colorado Denver Business School. The University of Colorado Denver Business School received a grant from the Daniels Fund to participate in the Daniels Fund Ethics Initiative, which is aimed at teaching students principle-based ethics, emphasizing real-world application of ethical principles, and extending ethical behavior beyond campus and into the community.