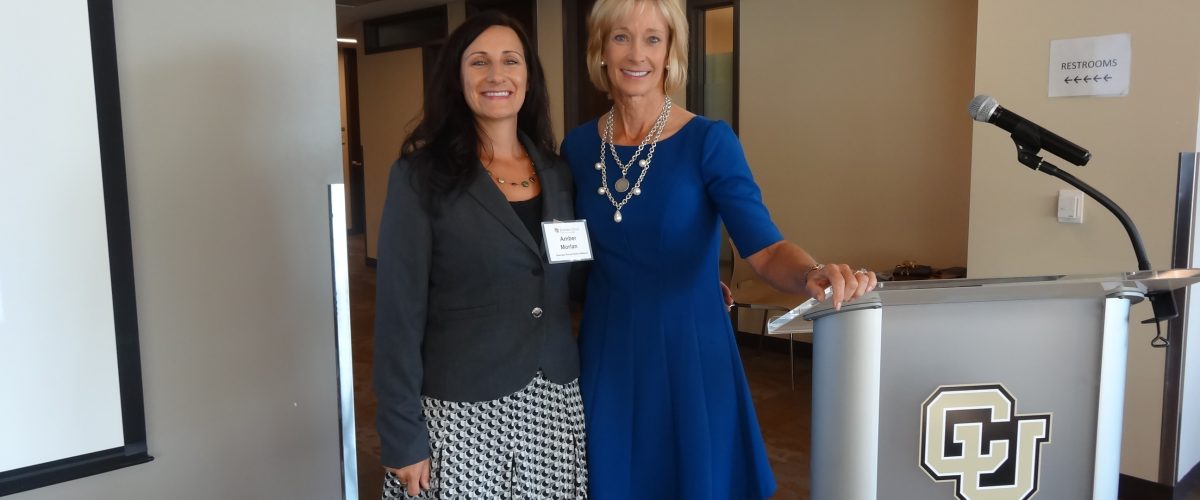 Alumni, faculty, and students hung on to Christie Austin's every word as she shared her real-world experience on risk taking and how that led to a career in professional golf. As an alumna of the Business School, Austin was the speaker for the Back to Business Speaker Series hosted by the Business School Alumni Network.
Graduating the same year as her mother and with a daughter currently in attendance at the Business School, Austin has strong ties to CU Denver. Before her golf career, she worked in a number of industries, including accounting, finance, and investment. Transitioning from the finance and accounting industries to opening her own mortgage company, Austin was not shy to taking risks and going outside of her comfort zone.
Austin discussed the importance of staying challenged and to think of making a change when in a non-learning environment. Austin certainly embodied this when she risked everything to open her own mortgage company. She, however, did not make this decision lightly but calculated the risks of going into an industry she knew little about and the potential of not making a return on her initial investment.
"Risk is important. Calculated risk, measured risk. Change is an opportunity."
Austin stressed the importance of having a strong support team when taking risks, such as entering a new industry or starting your own business. Having the support of her family, especially her husband's was key in advancing her career.
The risk of opening her own business paid off. Because of the success of her mortgage company, Tom Marisco, founder and CEO of Marisco Capital Management, LLC, asked Austin to take the CFO position at his company. This was an unforeseen career development, but her degree from the CU Denver Business School and prior experience helped launch her into a successful and long-tenured leadership position.
From CFO to professional golfer
Austin did not pick up a golf club until she was 26 years old. She learned the game through her husband, and it turns out she had a natural talent for it. In talking about her love and passion for golf, Austin shared that happiness should be a priority and money is not everything. Not only did Austin excel on the golf course, but she also served on several golf committees. In 2007, she became the fifth woman in 114 years to serve on the USGA Executive Committee, which oversees the US Open and Women's Open. She was admitted to the Colorado Golf Hall of Fame in 2015 for her exceptionalism on the green and in administration. She also was inducted into the Colorado Sports Hall of Fame.
In order to keep excelling in a career, one must take risks. Austin is a key example that if you put in hard work while going outside of your comfort zone, you can achieve happiness and success.

If you are interested in participating in Business School Alumni Network program, including the Back to Business Speaker Series and educational webinars, the Alumni Network offers several each semester. The Alumni Network is a great way for alumni to participate in the Business School community, host and attend events, volunteer in meaningful and impactful ways, create new ways for alumni to stay connected, and contribute to the success and importance of CU Denver. For more information or to see how you can be involved, contact Malena Brohm at malena.brohm@ucdenver.edu.