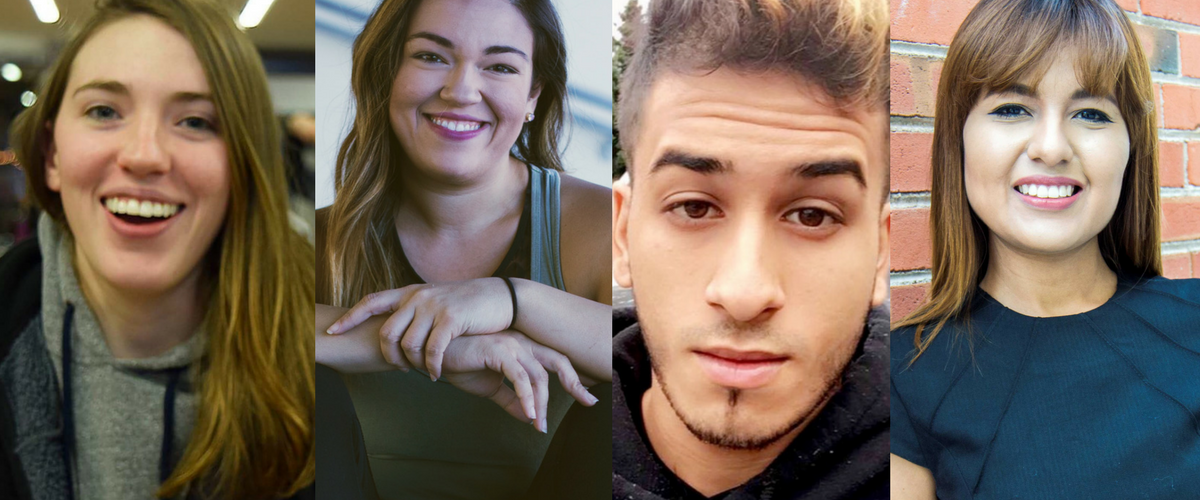 Meet our brand advocates for Fall 2017
Ever wondered what the Business School experience looks like through someone else's eyes? This semester four Business School students will document their experiences on our @CUDenBusiness Instagram. Each week we will have a different topic specific to the Business School, CU Denver, or the Denver area. Each student will post a picture highlighting that topic. Each student will have his/her own hashtag as each one shares what it really looks like to be a #CUDenBusiness School student.
Abby Nolan
#AbbyInTheCity
My name is Abby! I was born in Colorado and raised in both Philadelphia and in a small town in southeast Colorado which is where I graduated high school and got my associates degree. I now live in downtown Denver, and I am currently a senior at CU Denver pursuing a BSBA majoring in Marketing. When I was younger, I traveled around the country with my dad and out of every city we went to, I knew that I would live in Denver one day. I chose to get my degree at CU Denver for the deep connection that it has to the city of Denver and for the feeling that I get when I walk onto its beautiful downtown campus. I felt that this university (specifically the Business School) would prepare me for the professional world of business, and it has exceeded my expectations already. From the very first time that I walked into the CU Denver Business School, I have felt such an amazing energy from students and faculty.
Amaan Haque
#AmaanInTheCity
Hi there, my name is Amaan Haque, and I am getting my BSBA majoring in Risk Management & Insurance and Finance. I'm originally from Philadelphia, Pennsylvania and recently transferred here from Penn State to take advantage of the great opportunities that CU Denver and the state of Colorado have to offer. I am currently in the application process of running a start-up with the help of the Jake Jabs Center for Entrepreneurship here at the Business School. Aside from school and business, I'm an avid skateboarder, reader, and foodie. I also enjoy traveling whenever I have the chance. I'm probably the loudest, funniest, and most extroverted nerd you will ever meet. If you ever see me around campus or in the city make sure you stop to introduce yourself!
Gloria Avalos
#GloriaInTheCity
Born and raised in Mexico, I am a transfer student exploring the United States. Within the three and a half years that I have had the opportunity to live in this country, I have greatly enjoyed trying new food, experiencing the American traditions, and all of the immensely rich and diverse perspectives this community has to offer.
I feel greatly honored to be part of CU Denver as a BSBA student majoring in Marketing and Information Systems. CU Denver is such a great option for college due to the incredibly convenient downtown location among highly renowned companies in the business industry. At CU Denver, all of the faculty and staff has always made me feel right at home.
Education has guided my pathway in life. I am always trying to get the most out of the academic opportunities I encounter. From public speaking competitions in high school to mentoring, and doing marketing research here at CU Denver, I have always enjoyed the sense of achievement we get when we pursue what we feel passionate about. I look forward to becoming a business analyst in the future.
Mikala Burns
#MikalaInTheCity
Growing up here in Littleton, Colorado, I have always enjoyed the rich culture and unique personalities which encompass this state. When it comes to how I ended up here at CU Denver, I had always seen myself at a bigger university with some sort of campus life, I had thought originally that was the only way I would make friends. However, coming to this school turned out to be one of the decisions that I am most grateful for. Through my time here I have met some of the most genuine individuals and professionals, as well as had the opportunity to experience much more than I had ever dreamed possible.
Currently, I am a senior here at CU Denver, getting my BSBA majoring in Accounting and Finance. I also am part of three student organizations: Portfolio Management Group (PMG), Business Student Ambassador Committee (BSAC), and Beta Alpha Psi (BAP). In two of these clubs I am the vice president, so life can be a little crazy sometimes.
I really enjoy staying busy and active within the CU Denver community because I believe there is so much to learn from every door that's open to the students here at CU Denver. In my small amount of free time, I really enjoy volunteering with an organization called Sports Made Possible, specifically with their adaptive baseball program. I also really enjoy hiking and cuddling with my two dogs, Bailey and Zoey.
To follow our brand advocates' journeys, follow us on Instagram here.