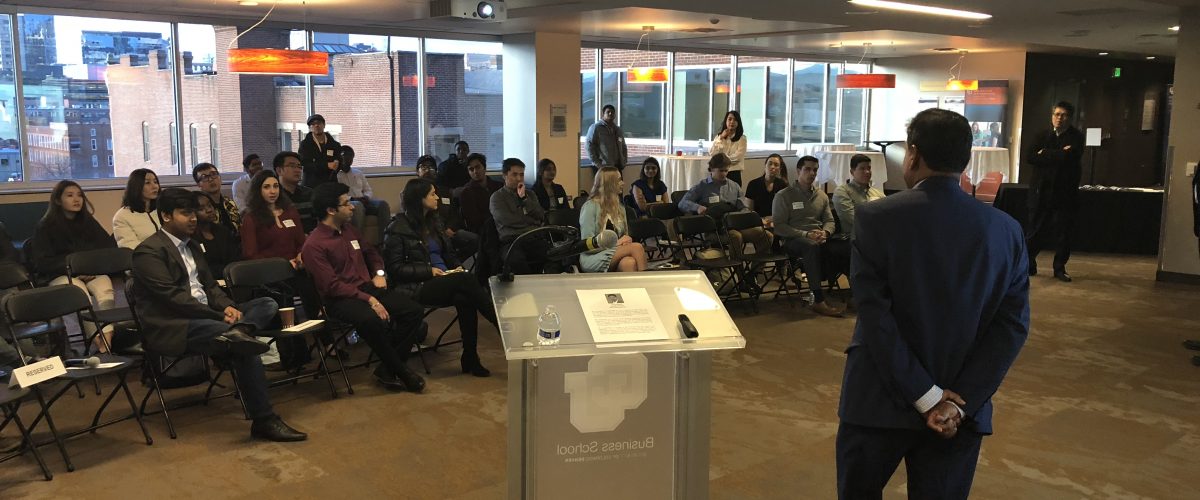 With the rapid advancement of artificial intelligence (AI) in today's society, Sai Gundavelli, Founder and CEO of Solix Technologies, said, "It is time to partner with machines and build the future." Gundavelli was invited by the CU Denver Institute for International Business (IIB) to speak to current graduate and undergraduate students.
Solix Technologies pioneered the concept of enterprise data management, providing the first worldwide infrastructure platform to manage data across all segments. Before Solix, Gundavelli spearheaded several strategic initiatives in enterprise application areas at CISCO System and Arix Corporation.
"It is time to partner with machines and build the future." – Sai Gundavelli
The importance of artificial intelligence for business
Gundavelli spoke on how pivotal the advancement of technology, particularly artificial intelligence has been to our society. Major industries have been disrupted by technology, and Gundavelli does not see any reason for that trend to change.
The industries most affected by AI so far have been agriculture and manufacturing. Gundavelli said that the next major industries to be affected as AI develops further will be health care, education, and transportation. He painted a possible future where AI changes the way the world works. Instead of waiting for a doctor, a doctor would come to you virtually. Instead of taking an Uber, your car drives itself while you answer emails. No matter the industry, AI's purpose always seems to be about making life easier and more convenient.
Will robots replace human work?
AI is a hot topic because of people's fear that this advanced technology will start to replace human workers and leave millions unemployed. But that logic doesn't hold up when looking at the numbers. Gundavelli stated that by 2020 AI will create 2.3 million jobs while eliminating 1.8 million jobs. In the grand scheme, that's a net positive of 500,000 jobs. While there will be jobs lost, newer jobs are being created by the needs of this technology.
By 2020 AI will create 2.3 million jobs, while eliminating 1.8 million jobs.
Of course, the fear still exists that the next job on the cutting block might be yours. Gundavelli addressed this concern, and stated, "Either we can complain or get back to what humans do best: think, collaborate, and innovate." His message was simple. The world is always changing. Instead of fearing that change, we should see it as an opportunity for a new and brighter future.
What Solix is looking for in a job candidate
After Gundavelli's presentation, students and faculty members were able to ask questions. Gundavelli previously mentioned that his company was actively seeking new hires. In relation to that, one student asked him what he was looking for in potential candidates. Gundavelli listed these three key traits:
Passion
IQ
Energy
Gundavelli noted that the most important of these three traits was passion, because passion can't be taught. He said, "Does this person just want a job? Or is this person pursuing a career?"
Connecting leaders in international business
The Business School hosts a number of executives, entrepreneurs, and business leaders in the Denver area and around the country. Students have the opportunity to learn from leaders like Gundavelli through startup roundtables, classroom guest speakers, speaker panels, and networking events.
The Institute for International Business holds a reputable Center for International Business Education and Research (CIBER) grant designation by the US Department of Education. CU Denver is the only CIBER school in Colorado, and there are only 17 CIBER schools in the US. The Business School's international business department and IIB are recognized as the state's prominent academic resource for international business education.
CIBER funds are used to support the development of new international business coursework, International Business Student Network (IBSN) activities, and International Executive Roundtables like this one.
Past International Executive Roundtables have included industry experts like David Collings, PhD, who spoke on how best to leverage expats for a competitive advantage.