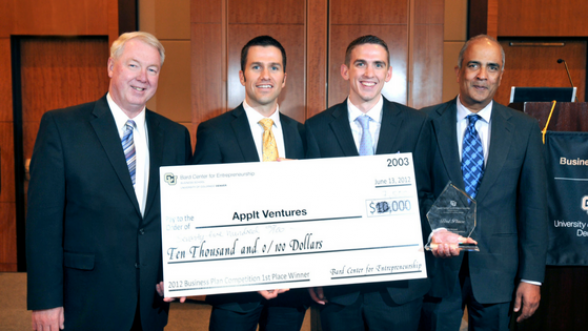 From student entrepreneur to founder and CEO, Rob Carpenter has always embraced a "never quit" mentality. The business for his mobile app and software development company, AppIt Ventures, took off when he won THE CLIMB | Jake Jabs Business Plan Competition in 2012, and AppIt has since been featured in top business journals and magazines, won industry awards and even expanded its offices to London and India. We met up with Carpenter to see how far AppIt has come since the competition.
Q: Rob, tell us a little about yourself!
RC: I was born and raised in Alaska, and after I finished by undergraduate degree in entrepreneurship at Northern Michigan University (NMU), I moved to Florida in 2008 in search of warmer weather. I stuck it out there for two years doing commercial real estate, but it was one of the most difficult markets and industries imaginable. So after two years, I decided that was enough for me. I still didn't know what I wanted to do, but I had a friend from NMU that moved out to Colorado and told me to come check it out. I literally slept on his couch for a couple of weeks until I got a job and started working. I then got accepted into the CU Denver MBA program, met my now-wife, completed my MBA in 2016 and started AppIt Ventures.
Q: Can you tell me about AppIt in your own words?
RC: AppIt is a custom software development company. We partner with individuals and firms to help them conceptualize, strategize, develop and deliver software. We've developed over 350 custom software products in the six years we've been in business. We primarily focus on mobile applications, web applications, and databases. But recently, we've started branching out into virtual reality and artificial intelligence and Internet of Things (IoT).
Q: Who are some of AppIt's clients?
RC: We've done development work for Rocky Mountain Health Plans, and we're doing a preliminary project right now for the state of Colorado with the Governor's Office of Information and Technology. We've also developed some pretty innovative products for some local companies like General Air, where we built them a IoT sensor platform for all of their gas tanks spread out around the entire Front Range. In addition to that, AppIt has been doing a lot of work a project with Valiant.