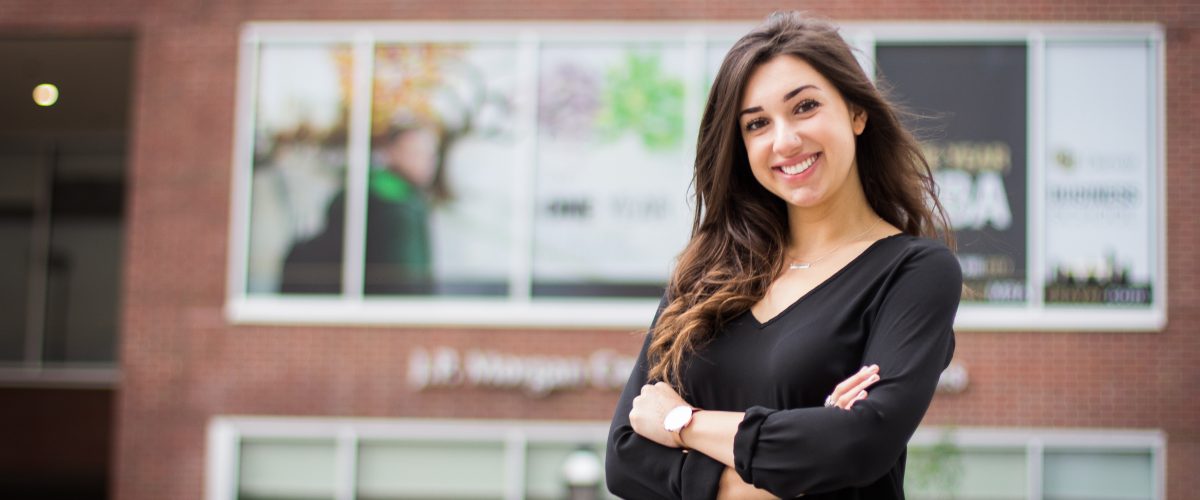 Alexis Weldon found her passion for business at a young age. While working for a small shop in high school, she fell in love with the many elements of entrepreneurship, marketing in particular.
As a Bachelor of Science in Business Administration student dual majoring in Marketing and Information Systems, Weldon searched high and low for special opportunities to get more involved and build a foundation for her career.
This dedication to personal and professional growth led her to the Karrikins Group, an international consulting firm specializing in behavior change for business growth and social impact. She was chosen as their digital marketing intern and plays an active role in several high-profile projects.
Strong foundations start early
Weldon's story really begins at a small yogurt shop in Golden. A high school student in the same boat as many of her peers, Weldon wanted some extra cash and has parents who highly encouraged early work experience.
Luckily for Weldon, the shop's owner was an established businessman who already had experience with a number of large companies. Also a father, his goal was to build a small enterprise his younger children would love.
"Before I graduated high school, I knew I wanted to study business in college." – Alexis Weldon
Not only did Weldon learn first-hand about working in the service industry and training employees, she also learned about sales, operations, and marketing, including the ins and outs of running a small business. It was in that little yogurt shop where she found her passion. "Before I graduated high school, I knew I wanted to study business in college," she recalled.
CU Denver was never in question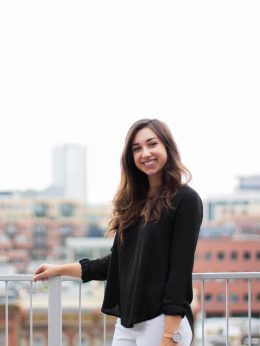 When choosing a university, the "typical" college experience was not her priority. She chose CU Denver and the Business School specifically "because the students here really care about learning and preparing themselves for successful careers."
This community of driven and hardworking students continues to serve as an incredible motivator for Weldon. Most of her peers already have work experience under their belts and bring that perspective into the classroom. In addition, her professors have established careers in business, either through well-known organizations or by building their own successful start-ups.
David Ruderman, a Management instructor, especially stood out for Weldon. "He wasn't afraid to ask us the tough questions and spark interesting conversations; he always made us look internally and dig deeper to learn more about ourselves."
One of Weldon's favorite classes had students work closely with local businesses to create an in-depth marketing plan for them. This challenge put her marketing skills to the test, preparing her for the next stage.
Not just a resume booster
Weldon had been actively searching for an internship and was holding out for something special. Although any experience that would build her resume was important, she knew that the right internship would be both challenging and meaningful. "I wanted to go to work every day actively contributing, working hard on high-level projects, and learning by jumping in feet first," she shared.
Before applying for her current internship, Weldon took advantage of the Business Career Connections (BCC) office to prepare by polishing her resume and taking the career essentials workshops.
Sue Wyman, Director of the BCC, shared the Karrikins Group opportunity with Weldon. She knew immediately she wanted the position. "It was exactly what I was looking for: exciting, professional and growth-oriented, but most importantly, challenging—and entirely out of my comfort zone."
"It was exactly what I was looking for: exciting, professional and growth-oriented, but most importantly, challenging—and entirely out of my comfort zone." – Alexis Weldon
Her hard work paid off when Weldon out-interviewed other applicants to land the position. In her role, Weldon worked closely with the marketing team to lead social media efforts and contributed to additional initiatives surrounding business to business (B2B) marketing.
"Maybe I'm biased, but I feel like I couldn't have found a better company to work for," Weldon said. "Karrikins Group demonstrates how a company can be both highly professional and invested in the community. They make a huge impact where it really matters while staying growth-oriented."
Step out of your comfort zone
Not only did Weldon sharpen her digital marketing skill set, but she was challenged with working exclusively with B2B marketing. "Most marketing classes focus on B2C. B2B marketing is something that's often pushed aside in classroom curriculum but B2B is so prominent in the business world," she noted.
Working with her Karrikins Group colleagues around the world, she was surrounded by mentors who were passionate about their work and eager to teach what Weldon may not necessarily learn in the classroom. "This experience has created such a dynamic learning environment for me; there's so much to the professional world that we don't learn about in school."
To future internship seekers, Weldon felt strongly that the internship experience is about learning and growing as a professional, not just something easy to toss on your resume. "Find something that pushes you to produce your best work, and be your best self, even if it means stepping out of your comfort zone."
Working for Karrikins Group full-time after her May graduation would be a dream come true for Weldon as she looks towards the future. "I know that I've found what I love. From here, I just plan to continue working hard and see what opportunities might unfold."
"Find something that pushes you to produce your best work, and be your best self, even if it means stepping out of your comfort zone." – Alexis Weldon