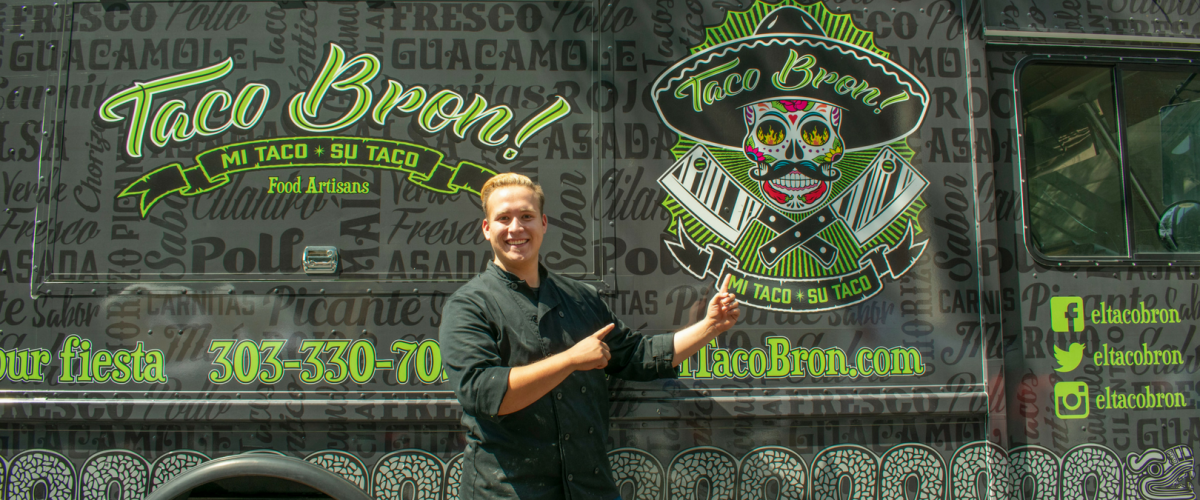 Running a profitable food truck restaurant while going to school full-time isn't always easy, but it sure is an adventure. Just ask Jonathan Tejada, a 20-year-old entrepreneur and undergraduate marketing major at the CU Denver Business School.
High school hustle
It all started with a container of homemade guacamole and a classroom of hungry teens. Tejada brought some to class and his friends asked to try it. Word of Tejada's guacamole spread around school, and he eventually started taking down payments from students and teachers who wanted to buy his guacamole in advance.
Before he knew it, Tejada was profiting from his guacamole. His father took notice and offered him a deal: whatever money he made from selling guac, he would match it after he graduated high school. "I knew he'd keep his word, but I wanted him to regret it," Tejada smiled. He ended up making 2,000 dollars his senior year.
Around the same time, Tejada's culinary dreams were further fueled after eating a horrible taco and watching the movie Chef. The movie follows a famous chef who gets bored with his fancy restaurant job and opens a food truck.
"It's kind of cheesy, but just seeing how passionate the main character [in Chef] was and how happy the food truck made him…it made me want to have people taste my food," Tejada said.
"After eating that bad taco, I told my dad that we could make better tacos at home. And that's when I got the idea to open a taco food truck."
All in the family
It's no surprise that Tejada wanted to open his own food truck; entrepreneurship runs in his veins. His father owns a graphic design company and always looked for ways to make extra money for their family on the side.
"When I was a kid, we would go to local festivals with our homemade churros. This was the first business that I worked for, and from there it clicked for me that you don't have to work for others to make money. You can work for yourself." – Jonathan Tejada
After graduating high school in 2015, Tejada had 4,000 dollars from selling guacamole – his dad kept his word – but it took almost two more years of working and saving to turn his food truck dreams into a reality. "My dad invested in the company and helped me buy the truck," he said. "And because my dad owns a graphic design company, we were able to work together on the name and branding."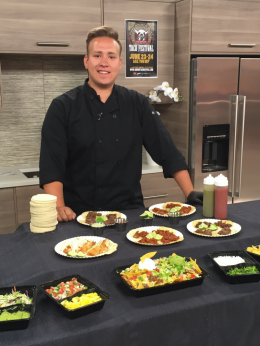 Off to market
Tejada opened his food truck, Taco Bron, for business in 2017. Finding the customers, however, was the next part of the equation. "No one knew who we were. It was hard," he said.
Enrolling in CU Denver, Tejada decided to major in marketing with a specialization in information systems because he wanted to improve his business knowledge in areas he wasn't well-versed in. Case in point: how to market a business. "My Principles of Marketing course definitely helped me understand marketing as a whole and that there's more than one way to get the word out about your company," he said.
Another course that Tejada found helpful was Technology in Business because it taught him just how intertwined technology and business operations are. "My professor, Eric Thompson, even covered search engine optimization (SEO) after I told him I was interested in it. It was such a cool topic and relevant for what I needed to do for my business," Tejada said.
Taco Bron eventually took off after participating in the Denver Taco Festival in June 2017, where he sold his tacos to a crowd of 25,000 people. Tejada also networked heavily within the food truck community, which he says is very inclusive and supportive. "We're all friends, and we all want each other to be successful," he said.
A balancing act
Even with all his success, Tejada knows how difficult it can be to balance his business and schoolwork. "My first semester at CU Denver, I had the food truck up and running. I really thought I could handle classes and my food truck, but I was exhausted," Tejada said. "It's hard to find a balance when you're hungry. Food is such a passion of mine, and I want people to feel that when they take a bite of my dishes."
Tejada learned from his mistakes and adjusted his work schedule to accommodate more time for studying, since school is his main priority. He even makes time to attend CU Denver events, such as the Jake Jabs Center for Entrepreneurship's Best of Colorado Speaker Series.
"I networked with Joshua Pollack of Rosenberg's Bagels at the Best of Colorado event, and he gave me some useful tips for my business. I realized that I could grow my business in a similar way, by focusing on catering and opening up a brick and mortar restaurant." – Jonathan Tejada
With one year left of schooling left, Tejada has a bright – and delicious – future ahead.