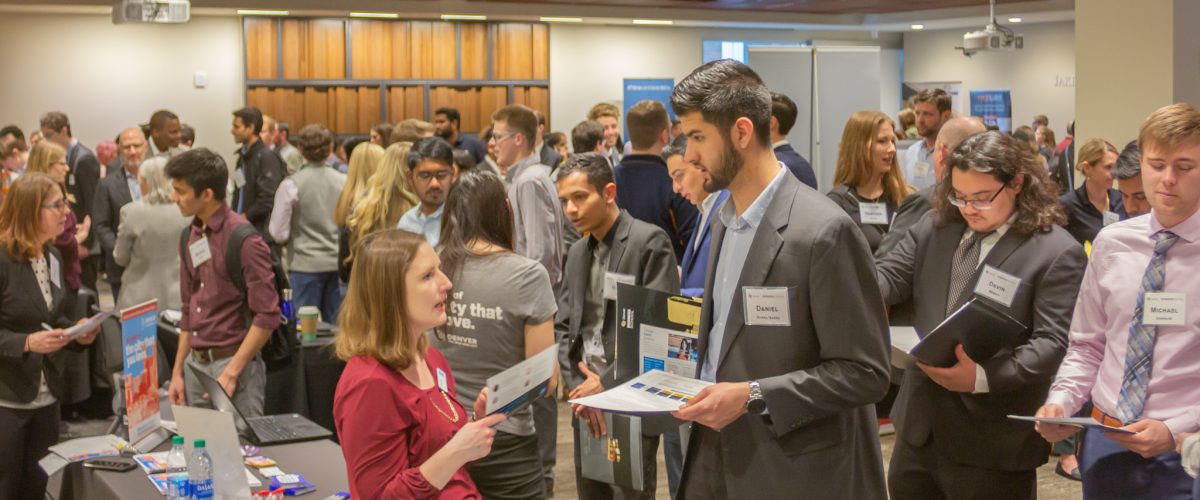 On March 4, the Business Career Connections (BCC) center held the Spring 2020 Career Fair in the newly opened Jake Jabs Event Center.
Students had the opportunity to network and connect with 27 employers, who accepted resumes and offered information about their organization's jobs and internship opportunities. Sarah Montoya-Ortega, a MS Management major, said "I enjoy coming to the Career Fair because it's great to get employers' perspectives on their own companies in addition to pitching myself."
Networking opportunities with 27 employers
Business school students and alumni had the opportunity to build their network and connect with employers they could potentially work for in the future. The Career Fair was a great experience for students who were looking for internships and full-time jobs, as well as students who weren't seeking a new role but wanted to meet hiring managers and make contacts for the future. Sarah Montoya-Ortego said, "It was a great experience for me to see what this event looked like. When the time comes, and I'm ready to make a career move, I'll be a little more prepared and know what I'm doing."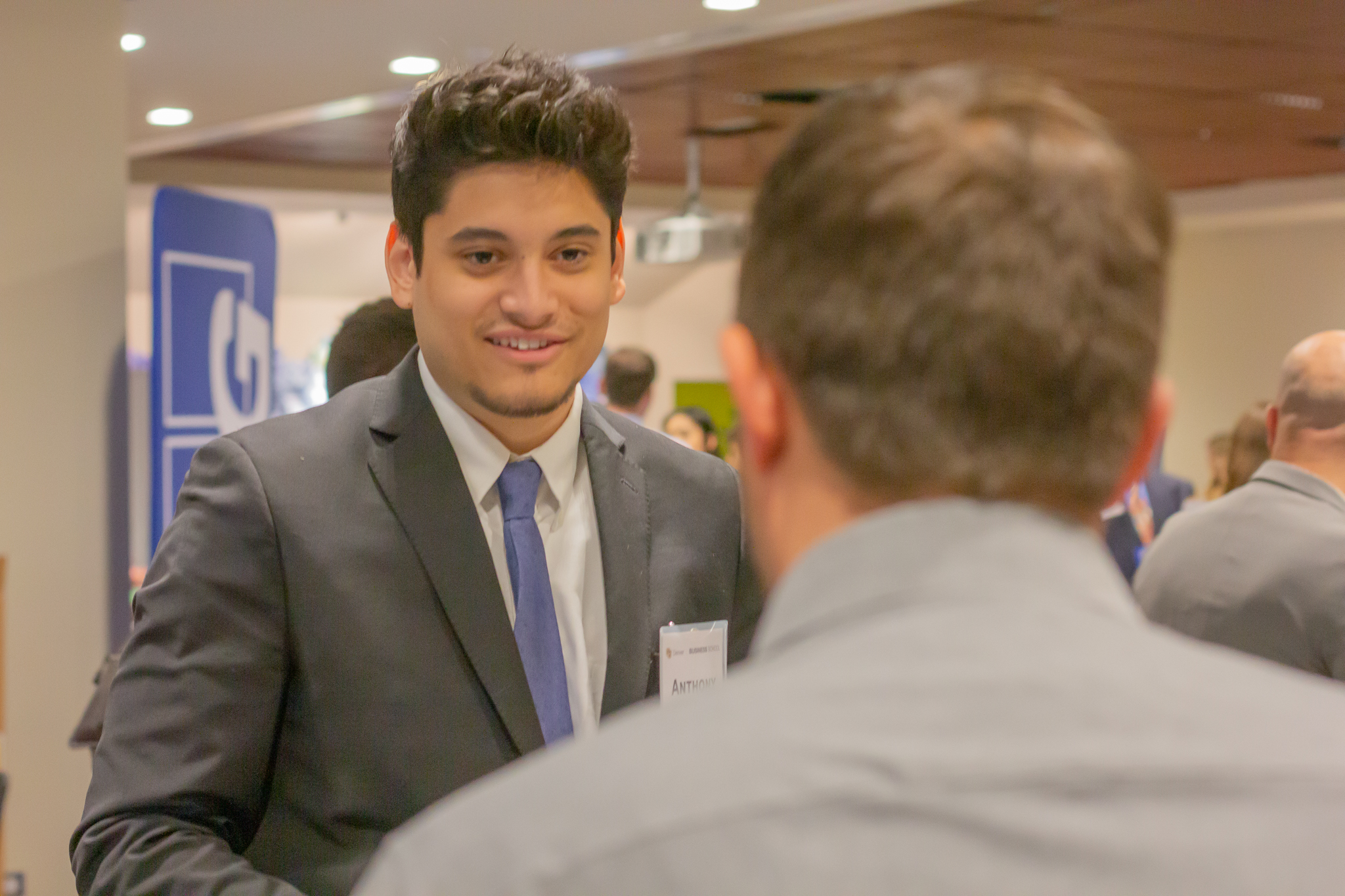 Johanna Philio, a representative from Xcel Energy stated, "We are so glad to be able to partner with CU Denver and connect with the outstanding students; especially because your campus is so close to our office."
Searching for internships and career paths can be a daunting task. The Career Fair gives students the chance to get away from the computer screen and in front of employers. Terry Darnell, a senior BSBA Marketing major, explains the benefits of attending the Career Fair. "The Career Fair is awesome because it brings a lot of companies that you see all the time in high rise buildings and on billboards. You can see the kind of people who work for these companies and it's way better than sitting behind a screen applying for jobs."
Opening new doors and building networks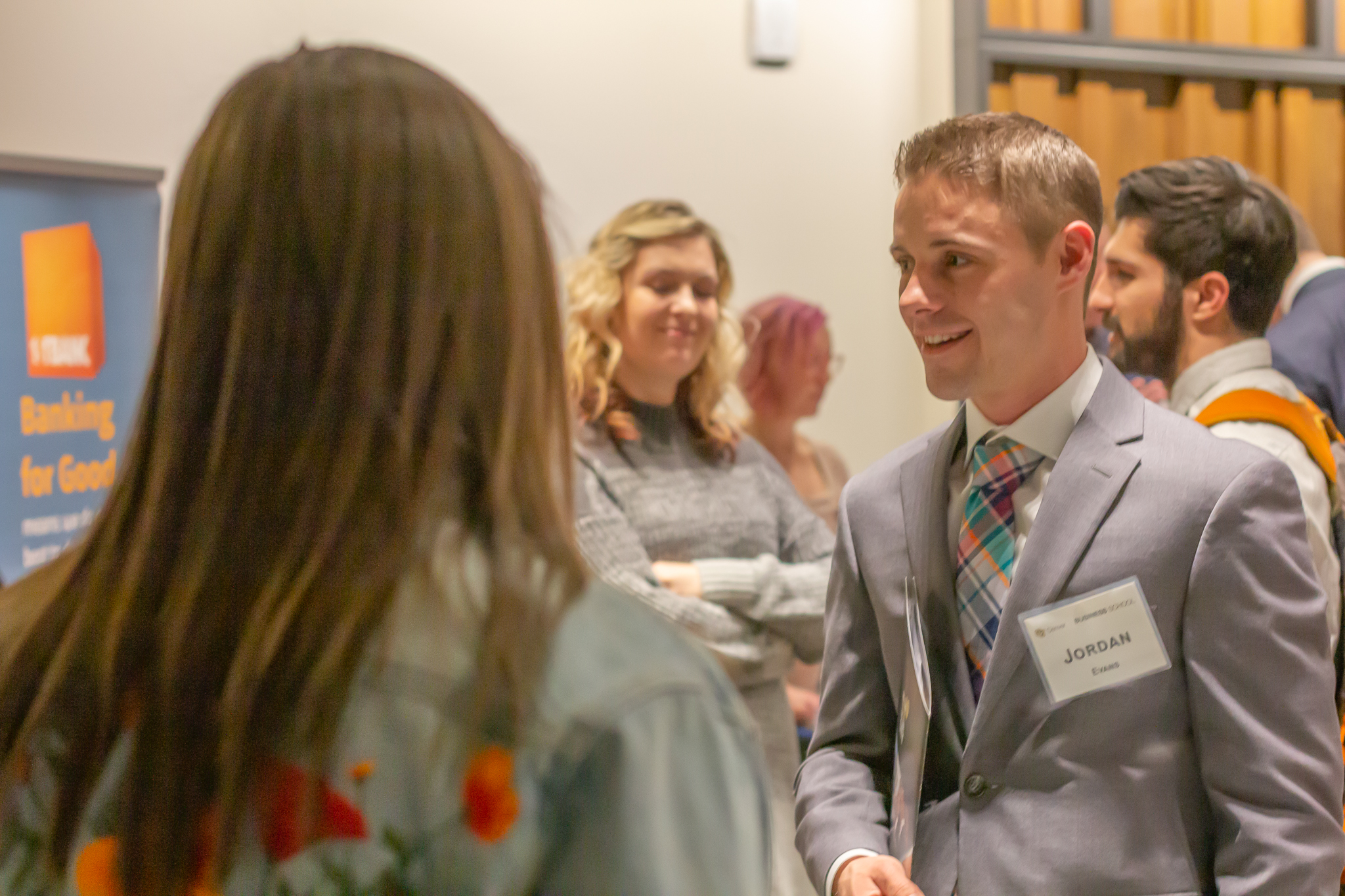 The Career Fair can open doors for students in a variety of ways. Students who are unsure about their careers can become inspired through networking with different employers. First-year students benefit from learning about roles and organizations they can pursue in the future. Adam Wilmsen, a first-year student who has not declared a major, mentioned that "The Career Fair allows you to talk to companies and just get an idea and a sense of what career field you want to work in." Daniela Venzor Majacla, a first-year student, talks about the importance of starting early. "I'm starting now because the sooner you start, the more experience you get with presenting yourself to different companies."
Finding a career path can be difficult because there are so many options, and it can be hard to see yourself working in an industry when you don't know a lot of people who work in that field. Baisia Brown, a junior BSBA student with interest in finance, commodities and trading, explains the importance of building new networks. "As a first-generation student without any contacts in finance, having this one-on-one contact is awesome. It makes it easier to network and meet people that will become essential professional contacts later in your career. Your network is everything."
Sticking out as an applicant is also critical in today's workforce. Aaron Gose, a dual Finance and Engineering major, explains the importance of putting a face to the name. "For me, a lot of the Career Fair was follow-up. I've put in applications with some of these companies, so it was great to put a face to the name. The Career Fair gives us a personal experience instead of just being an application number; sometimes you never hear anything back."
Employers are impressed with Business School Students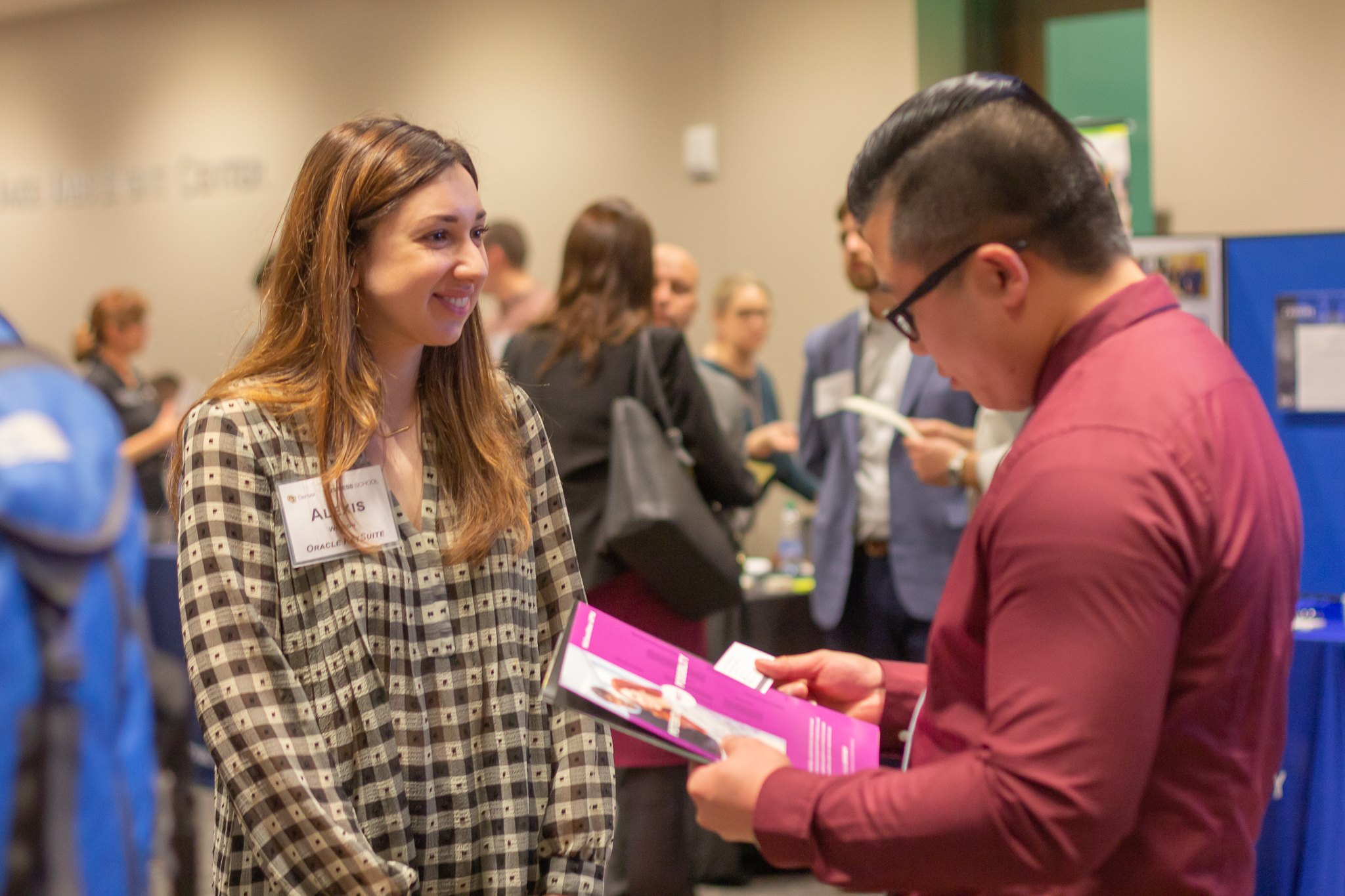 Each year, Career Fair employers give great feedback about the quality and professionalism of CU Denver Business School students. Lauren Meeker, Product Manager of Commercialization at Madwire emphasized the value of the Career Fair for her company. "I was impressed with the students who stopped by. I've never been to a Career Fair in which the students had written questions prepared for me. It was meaningful and helped us have a more informative conversation instead of just the basics."
Chad Meyer, a Property Broker with Willis Towers Watson Insurance Services West, Inc. stated, "We enjoyed the event and met some great students. I will be looking to connect with two or three of them for openings with our company." Brooke Henderson, a Corporate Recruiter with Frontier Airlines added, "We had such a great time speaking with students and getting to know them. The event was incredibly well-organized and the attendance was wonderful."
The BCC helps students win great internships and jobs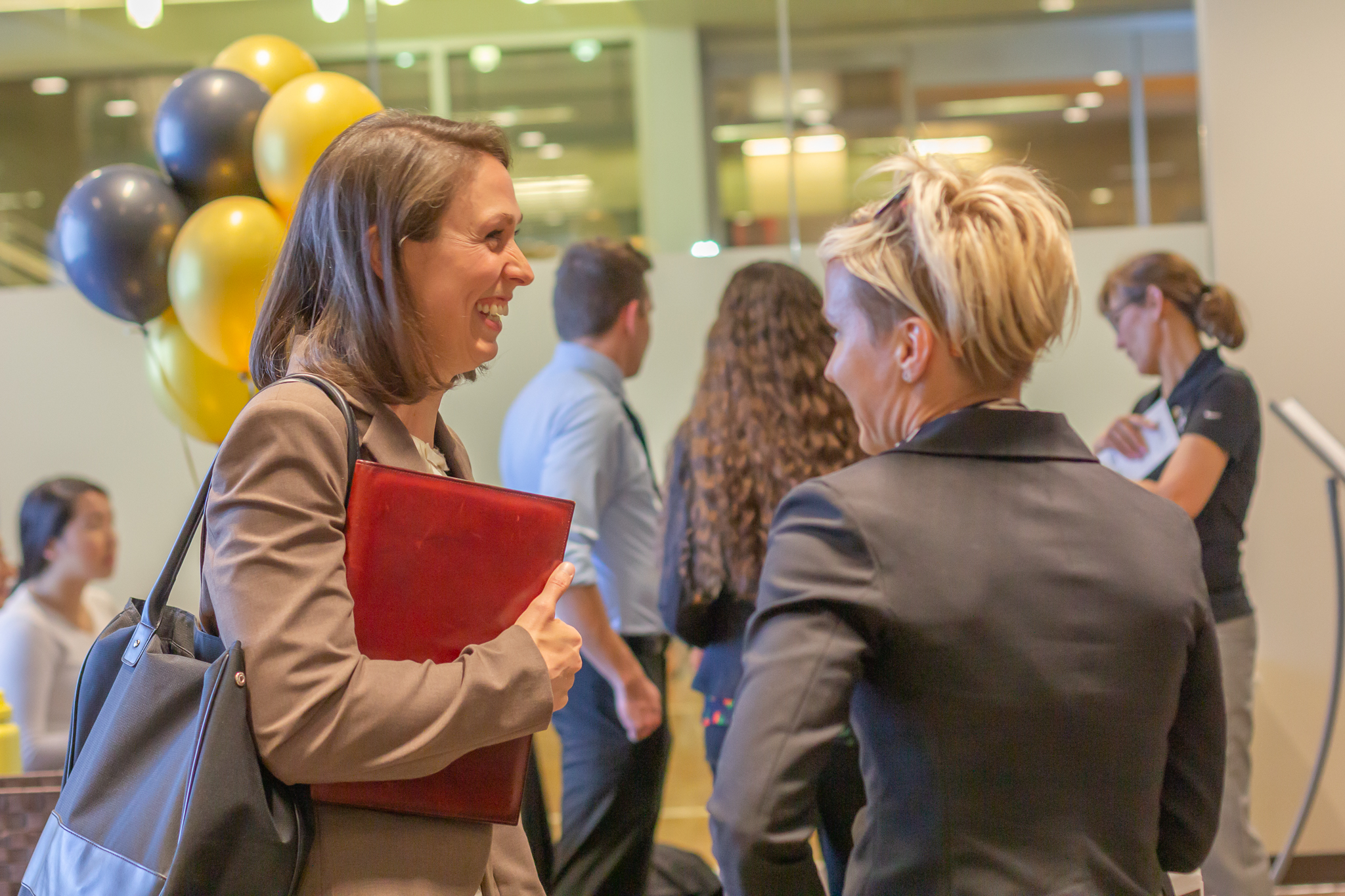 The Business Career Connections office helps students land their dream jobs in a variety of ways. In addition to hosting great networking events like the Career Fair, they offer guidance on writing your resume and cover letters, plus help with your LinkedIn profile, interviewing workshops, and more.
Nicole Kim, a Campus Relations Program Manager with the City and County of Denver mentioned, "The Business School Career Fair is extremely well-executed this year and every year. It is my favorite fair every year across all academic partnerships."
Neil Mirabito, a BSBA Finance major, was impressed with the BCC's resources to help students prepare for the Career Fair. "The BCC does such a great job of putting it on, building a reputation that makes employers want to come and meet with our students. I think the whole point of college is getting a career after so this is a great way to advance that and we can make sure we have connections that will help us."
Get involved in career development opportunities with the BCC today.