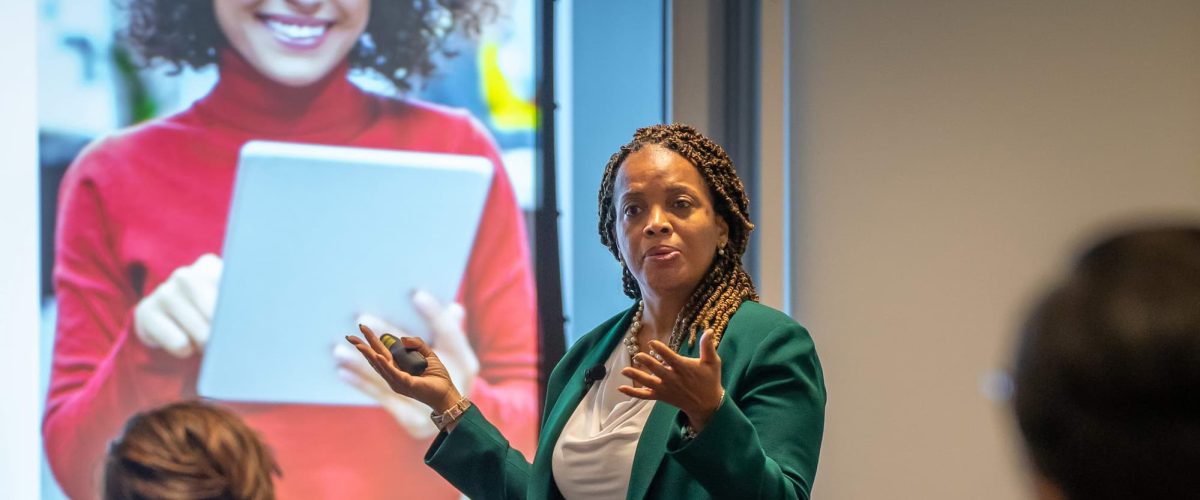 "Who are we doing business with?" "What drives us?" "How do we impact our organizations for the better?"
Rona Fourté, Vice President of Global Supplier Diversity at CBRE, posed many pivotal questions to the CU Denver Business School community, imparting her passion for diversity, equity and inclusion (DEI) for all industries.
As the first speaker in CU Denver's Multicultural Business Series, "Align with America's Emerging Majority," Fourté discussed how supplier diversity could advance an organization's commitment to DEI, serving as a starting point or expansion to those initiatives. She encouraged active outreach beyond traditional supplier networks. Fourté emphasized how a robust and widespread focus on DEI initiatives through all channels helps create a holistic change.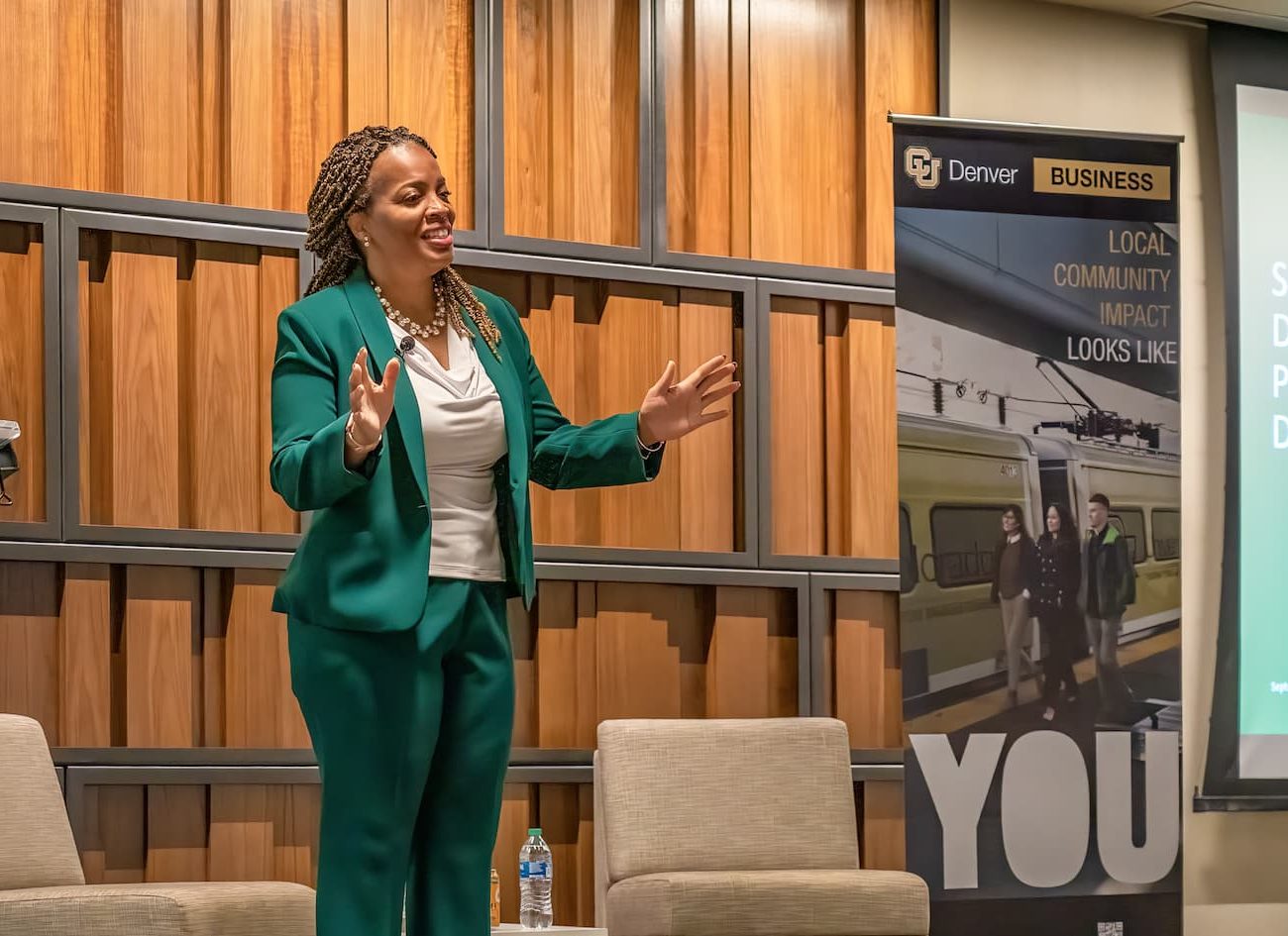 Don't be fooled; this change doesn't happen overnight. Fourté cited a 60-year history of advancing social change in and out of the workplace, "…six decades of evolution to create supplier diversity." However, Fourté did note that bursts of quick acceleration can help catalyze progress. She notes that "ESG was born out of corporate responsibility." A key component in making positive waves is breaking the mold: "You have to break away from the norm and build inclusivity even if you have something that works or is comfortable." An about-face from business-as-usual produces effective results and showcases businesses that walk the walk beyond a mission statement.
Fourté not only walks the CBRE walk but visibly expresses her investment in her organization. Speaking to the crowd at CU Denver Business School's Jake Jabs Center, she donned a statement-worthy dark green suit as she asserted the value of how people represent their brand (she noted the intentional color choice of her ensemble). People want to see themselves in the workplace, within their brand, and feel valued. She reminded the audience, "When people don't feel valued, they check out."
That thread of values runs through five primary areas of impact: workforce, workplace, customers, community and suppliers. Here, Fourté asks those critical questions about who we are doing business with and what drives us. Requirement? Empowerment? Amplification of diversity?
She challenges industries to use businesses that align with their DEI focus, to bring along stakeholders, and to cleanse and enrich the data while investigating their vendor base to get at the heart of how organizations can transform. Businesses can build solid DEI efforts through procedures, tracking, development, and communication.
Fourté asked listeners to embrace the realization that "diverse business is today, not tomorrow." She states that ownership and inclusion matter. Giving smaller operations a chance to interact and thrive in more advanced and established spaces is equally important. Fourté encourages organizations to welcome opportunities for others' growth, "Give them a chance and access even if small while holding vendors to the same standard."
DEI efforts are becoming increasingly vital to the success of Colorado.
Q&A moderator and Denver native Armando Martín from XL Edge built on Fourté's impassioned wisdom with a challenge of his own. Martín is excited for the emerging majority-minority, with intel indicating Colorado is a mere 17 years away from housing predominantly minority groups. Sixteen counties in Colorado already report minority majorities, and school systems are trending similarly, with DPS 75% minority and 87% in Aurora. With this burst of ever-increasing diversity, Martín says that Colorado is still passive.
Martín said, "This work isn't mandated… this is on us. We're all advocates enlisted to be champions in our sphere of influence." Fourté agreed, "You have to have that thought leadership in the room, the opportunity to give safe space to voice your opinion."
Fourté advises that a difference-maker's strength isn't determined by which position or title they hold. Instead, she says, "Get out of your comfort zone. Meet with your leaders. You can do the right thing regardless of where you sit."
Fourté's last pearl of professional wisdom pointed toward the future of business leadership, the CU Denver Business School student body:
"Get involved in a business resource group in your DEI office. It's important to get educated around these initiatives, know how you can impact the work that is going on and how you can voice what you see in your data." She suggests it might be the best place for student cultivation and growth as they enter the workplace. "Start with your business resource group's education and speak up. Say what's going on, what you would like to see better, and that will help you perpetuate the work we're doing in DEI."