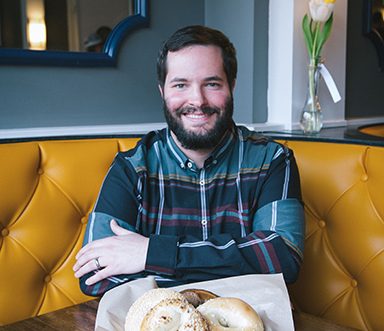 On Thursday, Sept. 22, a small group of students, community members, faculty, and staff gathered at the Jake Jabs Events Center for one draw: Rosenberg's Bagels and Delicatessen. Its founder and owner, Joshua Pollack, was there to share his insights from surviving the pandemic and how it has changed the strategic vision for his Bridge & Tunnel Restaurant Group.
It was also a welcome return for Pollack, who is a graduate of the entrepreneurship program at the CU Denver Business School. Entitled "Keeping Quality Through Change," the event was part of Denver Startup Week, an annual week-long series of workshops, speakers, competitions, job fairs, and celebrations of everything entrepreneurial in the Mile High City. In addition to sharing his story, Pollack was also eager to share an assortment of bagels and schmears so attendees could try the product themselves.
Maintaining the quality of his menu items — which range from specialty bagels and coffee to lox and deli salads — guided many of Pollack's decisions in the last three years. However, he also views his product to foundationally include the customer service, hospitality, and environment that is created through Rosenberg's. Sustaining this component was a key challenge during the many lockdowns, supply chain issues, and labor shortages of the pandemic.
"For me, it all comes back to the connection I have with people – with my customers and with my staff," said Pollack. "This all started as an idea because of the places and food that brought me and my family joy."
"This all started as an idea because of the places and food that brought me and my family joy."
Before 2020, Rosenberg's was looking to add to its three existing locations (Five Points, Stanley Marketplace, and Boulder) with additional spaces in the surrounding Denver metro area. However, construction standstills created an opportunity to rethink their customers' and operational needs. Pollack now sees the benefit of operating locations with smaller square footage and with design features that support to-go accessibility.
Pollack and his team were also forced to pivot their business model and increase their investment in technology. This was most notable at their original Five Point location, which switched from a dine-in to a grab-and-go model with menu modifications and reduced business hours. While Pollack says they hope to soon return to a six-day week, the cutback had been essential to support his staff and preserve the quality of their offerings.
Overall, Pollack is looking forward to now resuming his growth plans for Bridge & Tunnel Restaurant Group, now equipped with the hard-earned lessons of surviving the pandemic. He ended the event by sharing memories of his favorite bagel shop from his childhood and how it helped shape the community he grew up in. The hope to now do that for others through Rosenberg's Bagels is what keeps him and his team going.
"It's because of other people and their entrepreneurial endeavors that I decided to become an entrepreneur, and now I get to be that next generation that builds that community and makes people smile. It's best the feeling," said Pollack. "We're not just sustenance. We're providing something that's bringing people together for an experience. That's the best thing that I'll ever get to do."