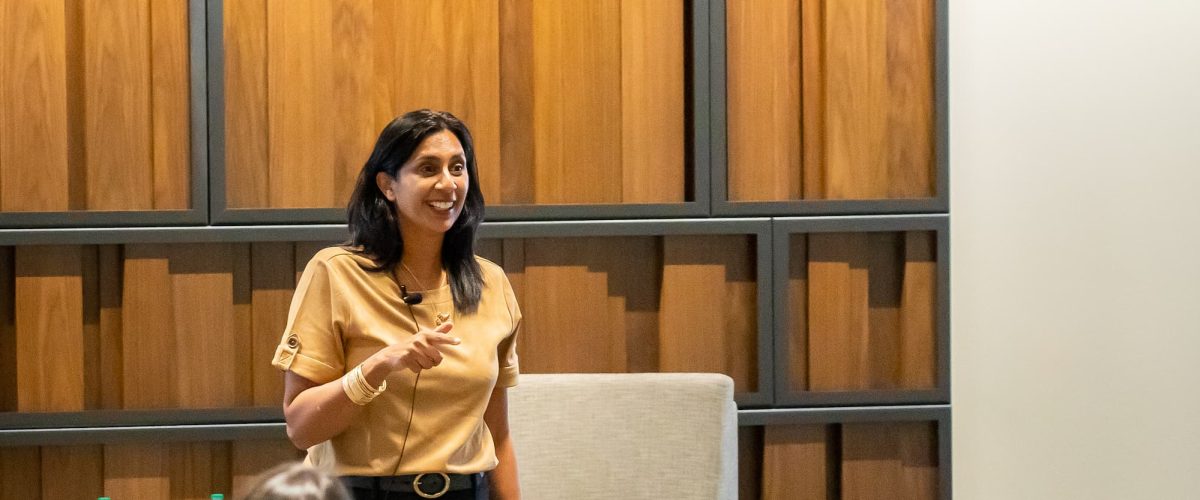 Transformative leadership is what drives an organization forward and beyond. Yet, many people have a hard time breaking their own limits and struggle in leadership positions due to self-limiting issues like Imposter syndrome and emotional illiteracy. These are often hindrances to leaders' breakthroughs; though pervasive, many leaders can feel alone in their struggles.
On September 27, the CU Denver Business School's community welcomed Jahnavi Brenner, MS '05, Leadership & Executive Coach and Business School alumna. In a compelling presentation, she shared key leadership competencies necessary to thrive in today's work environment. This was her way of giving back to the community that greatly helped her.
Brenner brings 25 years of corporate experience in R&D, Sales, and Human Resources as well as certifications in professional coaching. She explained that emotional intelligence, empathy and the art of managing up are the pillars of effective leadership.
Emotional intelligence is understanding and productively using your emotions, but how does one achieve that level of intelligence? Brenner stated that self-awareness, emotional expression and empathy are crucial skills in EI.
Inspiring leaders' Emotional awareness
Inspireing Leaders are often told to put emotions aside, although humans are inherently emotional. For many, their conditioning in home and work environments have affected their level of emotional awareness. Brenner referenced her own upbringing with Indian immigrant parents, where emotions were rarely discussed. Still, effective leaders must be able to identify and understand their emotions when they arise. Brenner suggests paying attention to what your body feels when you are emotional and being aware of your thoughts. Having that level of awareness will help you understand the root of your emotions and help you decide if and how you want to express them.
Emotional expression
Leaders need to regulate their emotions, know where to express them and how to do so effectively. Brenner noted that "emotions go through organizations like a current. How the leader feels impacts how the employee feels." Therefore, leaders should proceed with caution when experiencing disappointing emotions. Instead, they should find a way to process those emotions and be conscious of what they are expressing to their team.
Empathy
Building emotional awareness and expression helps leaders develop empathy for themselves and their employees. Brenner recommended that leaders ask people how they feel out of curiosity as an excellent way to examine others' perspectives and gain more insights about their team members. "Curiosity is the antidote to judgment," Brenner said.
Imposter Syndrome: A Hindrance to Your Success
During her presentation, Brenner asked participants to close their eyes and raise their hands if they had ever experienced Imposter Syndrome. All but one attendee raised their hands. She illuminated how common it is to feel like a fake even when leaders are competent and well-suited for their roles.
"If the work were easy, they (someone) would have done it already, but they hired you to do it! You are the best person for the challenge that they had. You were chosen!" Brenner asserted. Recognizing that leaders have been specifically chosen gives a boost of confidence and can embolden them to ask for help or voice their opinions. Leaders can then better question the truthfulness of intrusive thoughts and assess how it helps or hinders their performance. Such practice has proven to be successful among Brenner's clients.
Managing Up
Brenner concluded her presentation with the art of "managing up." She defined it as "proactively communicating with your manager about things that they need/want to know in a way that they want to hear it." It may not always be easy to do given different cultural experiences. A lack of organizational understanding, dishonesty and/or focus on self-interest can also prevent leaders from managing up properly.
Brenner cited some ways to manage up effectively like knowing what a manager needs, adapting a communication style to a manager's preferred style, being authentically charming, making it easy for leaders to manage employees and their work, putting the spotlight on their team, and asking for feedback.
Brenner knows CU Denver Business students have immense potential to be strong leaders of tomorrow. She encourages them to keep taking advantage of the many networking opportunities provided by the school because, as she noted, the "community is quite special and supportive." In addition, she encourages them to stay curious, experiment with emotional literacy, and "always keep learning."