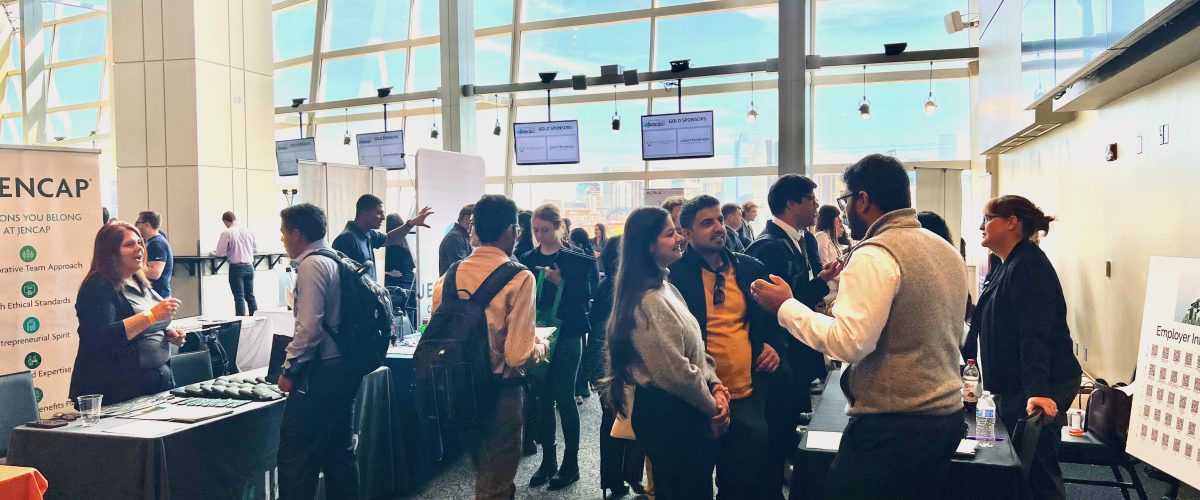 Opening doors and lowering barriers to student success, the Colorado Business School Career Fair provided an excellent platform for Colorado students to interact one-on-one with recruiters from various companies and make their next career move.
On Friday, October 14, the Business School hosted its annual career fair with the University of Denver, Colorado State University, and CU Boulder's Leeds School of Business. In a classically-Colorado venue, Mile High Stadium, students and alumni met over 140 employers from diverse industries and organizations, including Adobe, JENCAP, Medix, Plante Moran, and PNC Financial Services.
Many firms offered outstanding professional development opportunities that perfectly catered to students and recent graduates. Pinnacol Assurance, Colorado's largest workers' compensation insurance carrier, had recently launched a college internship program. Considering that the insurance industry is rapidly aging, Pinnacol was looking to diversify their workforce pursuing a younger generation to join their team. Mark Tapy, Senior Talent Management Manager at Pinnacol Assurance, stated that he was truly grateful to have a space like the career fair where they could showcase their business and help students discover the opportunities available to them.
A win-win for employers and students
But, recruiters were not the only ones excited by the fair prospects. CU Denver students mentioned that they were positively surprised by the number of employers present and felt grateful to have the chance to network with them.
Abdullah, a BSBA Financial Management and Consulting student, was enthused to be at his very first fair. Thanks to the event, he discovered career-relevant companies and learned more about financial investors. He gained a clearer perspective on his future possibilities and access to initial connections with employers.
Making an impression and leaving with results
Career fairs can be intimidating. For that reason, some students do not always know how to best approach employers or doubt their abilities to secure an important internship or desired full-time job. When asked about some tips for students to stand out, Celine Kirk, HR consultant and campus recruiter at Plante Moran, shared, "It's great when [students] are able to research the firms ahead of time. It makes recruiters' job easier and allows them to build a personal relationship with the student as opposed to spending our time sharing about positions."
According to Kirk, research is a crucial step before networking. The more a prospective employee knows about the organization, the greater impression they leave on recruiters and the more they make companies feel like they're not just one of 100 different firms of interest.
Fortunately, CU Denver Business School students came prepared. Many employers stated that they were indeed impressed by their approach and skill set. They were flattered that students already knew about their companies, were happy that they asked the questions, provided them with resumes, and planned to keep in touch. Mark Tapy from Pinnacol Assurance, noted that he already identified four strong candidates for internship positions before the end of the fair.
Securing a job interview right after networking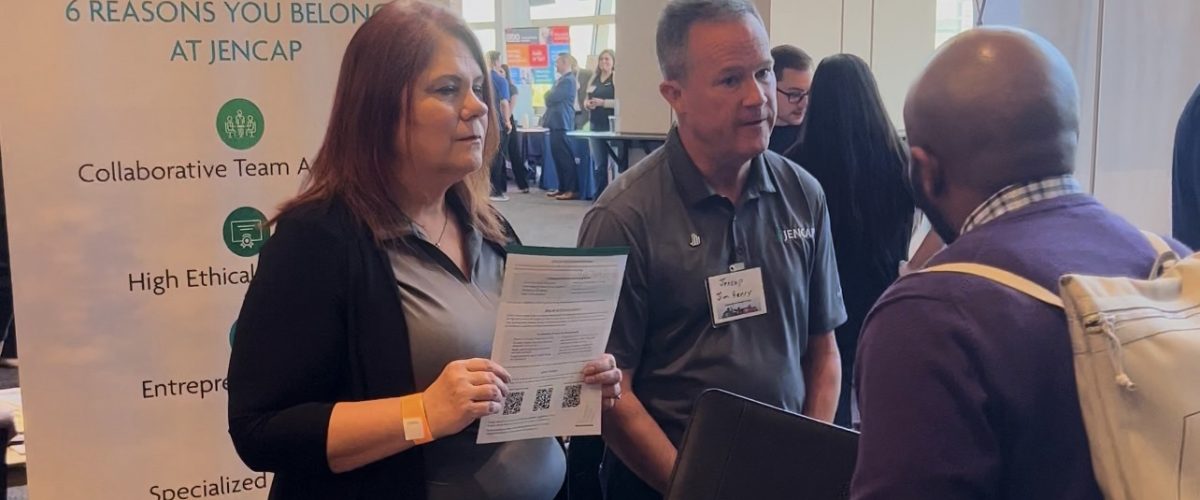 Career fairs are the best place to land a potential job; it's no myth. David Adugna, BSBA Risk Management and Insurance senior student, was able to secure a job interview at his top company. As soon as he arrived at the fair, he approached their booth, kindled an effective discussion with them. He received the interview offer after leaving his resume.
When asked what allowed him to have such a smooth process, he explained, "I did homework earlier on. I knew about Gallagher, was aware that they had an office in Denver and could possibly be hiring. I was able to direct and lead the conversation."
It is never too early to start networking
Although many positions target upper-level undergraduates and graduate students, career exploration starts early on. Rony Moreno is a freshman student studying finance and attended the career fair. Since the start of the fall semester, this was his second time participating in such an event. As he shared, he was very unprepared the first time and did not know how to properly approach employers. The CU Denver Business School career fair was another chance to try again and he gladly took that opportunity.
Moreno wanted to put his name out there and see what could be available for him. He was very satisfied and shared that he felt his confidence boosted drastically. Thanks to the fair, Moreno networked with GSA, a U.S. government agency, and grabbed their attention, identifying him as a strong candidate. He also secured an informational interview with a recruiter from Northwestern Mutual.
Moreno's advice to other freshmen is to "boldly get out there." "Do not feel disqualified because you lack experience or education. Internships will always be there and if people see that you regularly attend these events, you will stand out from the crowd. Employers can be more open to giving you opportunities."