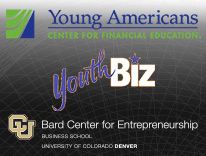 DENVER – The Bard Center for Entrepreneurship at the University of Colorado Denver Business School has invited young entrepreneurs from nonprofit organizations YouthBiz and the Young Americans Center for Financial Education to be part of this year's Business Plan Competition. An annual event, the Bard Center Business Plan Competition is one of the foremost events for early stage companies in Colorado. The first Bard Center Business Plan Competition was held in 2002 and the event has been growing ever since. It seeks to promote the development of high-caliber business plans, recognize the most outstanding plans with more than $50,000 in cash and in-kind awards from area businesses, and encourage the creation of new businesses.
This year, entrepreneurial youth from YouthBiz and Young Americans will have the opportunity to attend the Bard Center Business Plan Competition Elevator Pitch Night. The event, at which each team entered in the competition presents a pitch for its business plan, presents a great opportunity for these budding entrepreneurs to gain exposure to the process of raising capital.
Youth representing YouthBiz and Young Americans will also have tables at the Business Plan Competition Awards Ceremony, alongside past competition participants. The Award Ceremony will be held June 18th at the Four Seasons Denver Ballroom, and will bring together participants, business leaders, and members of the entrepreneur community. This creates a great opportunity for entrepreneurs from YouthBiz and Young American to show off their businesses as well as educate attendees about the organizations.
The competition is for Colorado-based companies which have been in business for less than 2 years and have not received any Angel or Venture Capital funding prior to the competition. Each plan must include at least person on the management team who is a University of Colorado student or alum from any campus and program. 2013 marks the first year, however, of a partnership with Montana State University, which has entered four teams in this year's competition.
Along with the students from Montana State University, teams of students and alumni representing both CU Denver and CU Boulder have entered the competition. The 2013 Bard Center Business Plan Competition includes a total of 72 entrants from a variety of disciplines and backgrounds, including Business, Music and Entertainment Industry Studies, Public Health, Journalism, Linguistics, Engineering, Healthcare Administration, Public Administration, and English.
To attend any of the Business Plan Competition events, become a sponsor, or to find out more about the Bard Center, visit the program's homepage or contact Erin Seivley: erin.seivley@ucdenver.edu or 303-315-8500.
The mission of YouthBiz is to advance the social and economic prosperity of youth through a focus on entrepreneurship, education and community leadership. YouthBiz believes in their power and potential as social and economic leaders, and the organization envision a future where they are the driving force behind the educational, business and community initiatives shaping and improving our neighborhoods.
Young Americans Center for Financial Education provides hands-on programs and real-life experiences that build life skills, work skills, and financial self-sufficiency in 50,000 youth every year. They also operate Young Americans Bank, the world's only FDIC-insured bank designed specifically for young people. The organization is running its own business plan competition, for business owners aged 6-21 which will wrap up in September.