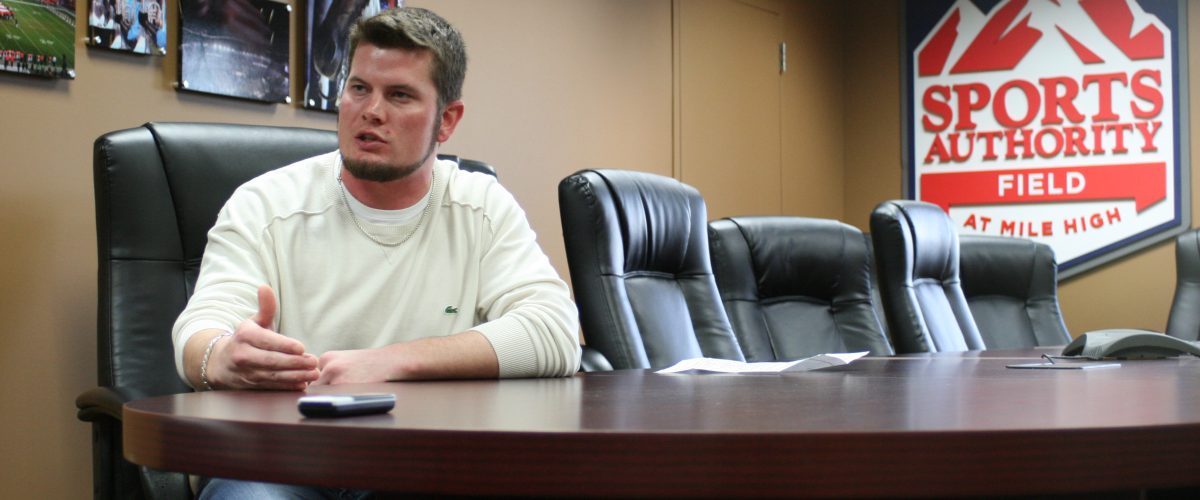 The Son of Broncos owner Pat Bowlen graduated from Business School's Sports and Entertainment Management MBA program.
John Bowlen kicked off his Denver Broncos career at age 10 as a ball boy. He has since worked in nearly every facet of the beloved franchise, and Bowlen points to a period of hitting the books — in the Sports and Entertainment Management MBA program at the University of Colorado Denver — for helping launch his current success.
Like Peyton Manning and the playbook, Bowlen absorbed all aspects of the sports industry in the program — marketing, finance, accounting and management. "The environment that CU Denver fosters is incredible," he said. "I took those face-to-face interactions in class and I learned from them on a day-to-day basis. Probably my biggest attribute is my ability to communicate with other people, and I can attribute that to CU Denver, along with riding light rail to school and getting to do things I hadn't done before."
Executive rotation
Bowlen, son of team owner Pat Bowlen and spring 2012 CU Denver graduate, is currently in the Broncos' executive rotation, learning the decision-making ropes of every department. Ironically, since he's now on rotation for the Broncos' Stadium Management Company, Bowlen will spend most of Sunday's playoff game working the parking lots and other facilities at Sports Authority Field at Mile High. "I'll be helping with the underground stuff you don't see," he said. "I'll watch the game in the fourth quarter from the field."
Bowlen played football at the University of San Diego, under current 49ers coach Jim Harbaugh, before an injury cut his playing career short. He earned a business management bachelor's degree at the University of Denver and flirted with law school before realizing that he wanted to pursue an MBA in Sports and Entertainment Management (SEM). "The CU Denver program was very interesting to me because not only was Professor(Wendy) Guild the director, but it really stood out how the professors, students and graduates were very closely tied and they created a notoriety in the Colorado sports community. It made me want to be a part of that."
He quickly came to learn that CU Denver, in the heart of the vibrant city he calls home, delivered an unparalleled education. Guild's "Managing Individuals and Teams" class taught him invaluable leadership skills and in "Sports Marketing" Bowlen and his classmates put together a World Cup soccer bid. "That bid project has played into every concert and every Super Bowl bid I've looked at. Also, every kind of venue-oriented event that goes on within the building, that project plays into how I evaluate it."
A hallmark of SEM is the London Calling travel-study program, and Bowlen made the most of it. He said some of the consumer-friendly approaches he observed at Emirates Stadium, home of Arsenal, an English Premier League team, have been applied at Sports Authority Field at Mile High.
'Different perspective'
"The knowledge I've gained from the MBA program at CU Denver has given me a different perspective than anyone else," Bowlen said. "A lot of times people will come up to me after a meeting and say, 'Gosh, that question you asked was fantastic, nobody would have thought of that.' I think I owe that to the MBA program for really broadening my horizons."
Graduate school challenged him like no previous experience. He said the course work at CU Denver prepared him exceptionally for the real world of sports and entertainment. "Now anyone can hand me anything and I wouldn't be afraid of it," Bowlen said. "That's something I've gotten from CU Denver, and I find that very important to kind of create that confidence and allow yourself to flourish."
He loves meeting the challenges of serving a fanbase in the fast-changing arenas of sports and entertainment, along with technology and globalization. "What's going on right now in technology is changing the way people experience things, so unless you embrace the technology, you're really not going to get anywhere," he said.
Bowlen used the flexibility of CU Denver's MBA program — many classes are offered online — to complete his degree in two years. "It was great how I was able to travel with the team while still doing my schoolwork."
He's a down-to-earth guy who bleeds orange and blue and loves football, but at his core Bowlen is workaholic. Guild said Bowlen displayed an incredible work ethic and enthusiasm in the MBA program. She recalled that in his internship in the Broncos' equipment department he even did the team's laundry.
"Students learn from the program what part of the industry is going to best suit them," Guild said. "They learn where their attributes and interests are going to fit and where the opportunities are that they hadn't thought of before."
'You've got to be dedicated'
Some people realize they aren't cut out for the industry because, far from the seeming glamour and the TV spotlight, it's not a field for the meek or 9-to-5ers. "You've got to be a dedicated person and you've got to be driven. You've got to be creative and willing to move," Bowlen said. "There's only so many positions available for people in Denver. Also, the hours we work are unbelievable. I've worked 14-hour days for weeks on end and not had a day off for 10 weeks."
When it came time to do a class project that critiqued a business, Bowlen chose to zero in on his family's own — the Broncos. It was yet another eye-opening experience. "There were things that I had never looked at or never thought of that students in the class brought to my attention," he said. "It allowed me to bring them to other people's attention and improve what we're doing here."
A desire to constantly improve and be the best, both personally and as a key member of the Denver Broncos, is what drives Bowlen to get up each day with the sun and stay at the office until 10 p.m. or later — whenever the laundry is done.
"Understanding how you can make people feel special at the end of the day is the business that we're in, and that's the service industry," he said.