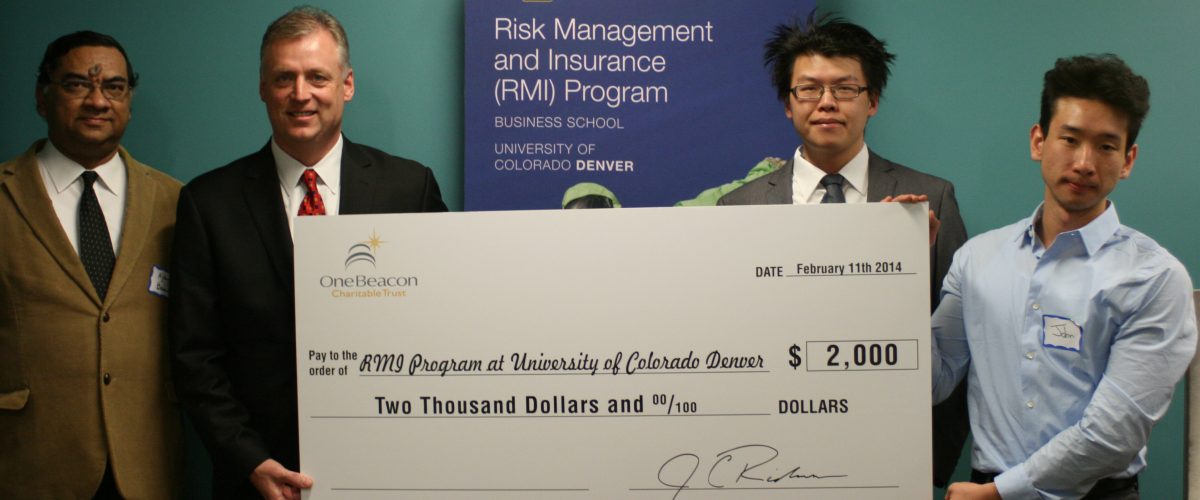 The OneBeacon Insurance Group Charitable Trust has made a scholarship gift of $10,000 to the Risk Management and Insurance (RMI) program at University of Colorado Denver Business School. This is the first gift from OneBeacon Insurance Group to the RMI program and it will continue the program's goal to recruit more students into the insurance industry workforce.
A large proportion of risk management and insurance employees are expected to retire in the next five years, and as Denver grows as an insurance and business hub, it will require an increasing number of new industry professionals.
Jeff Richardson, president of OneBeacon Government Risks, a member of OneBeacon Insurance Group, said, 'OneBeacon is proud to support the RMI Program at CU Denver through its Charitable Trust because we believe in investing in the future of our industry and we value the work the RMI program is doing for the insurance and risk management community. Today's RMI students are tomorrow's industry leaders and we couldn't be more excited about our industry's future.'
The University of Colorado Denver is Colorado's only public university to offer a program specializing in risk management and insurance, which was established at the Business School with a 2010 gift from Pinnacol Assurance. In three years, the program has grown from 19 students to 143 for the 2013/14 academic year.
Dr. Ajeyo Banerjee, RMI Program Director, said, "Our goal is to provide every student in the program with a scholarship and we thank OneBeacon for their support and partnership."
The OneBeacon Charitable Trust is a tax-exempt private foundation under Section 501(c)(3) of the Internal Revenue Code managed by employees of OneBeacon Insurance Company. For more information about the OneBeacon Charitable Trust and OneBeacon Insurance Group's products and services, visit: www.onebeacon.com.