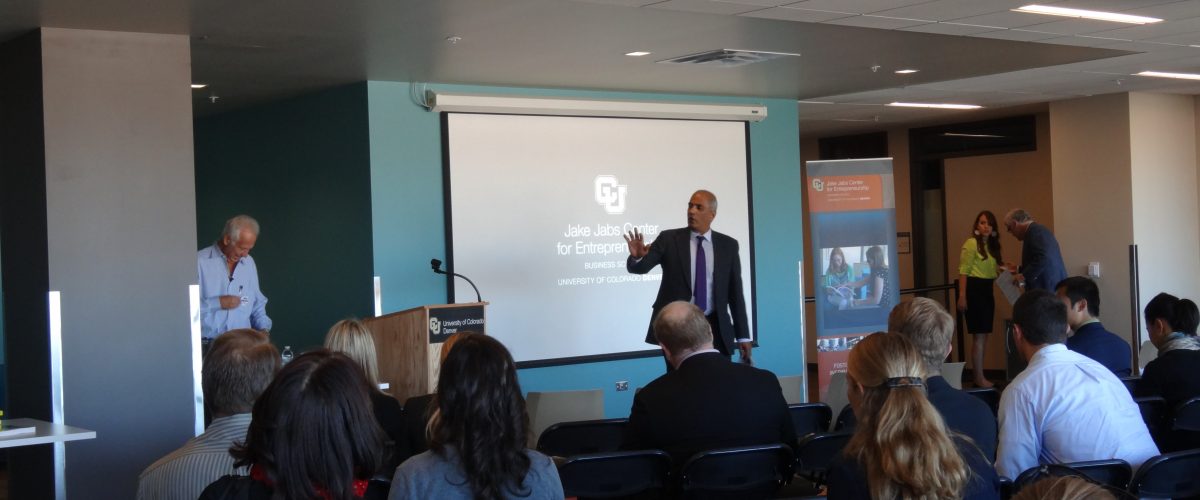 From September 15 through 20, startup experts will present on entrepreneurial topics all over Denver for Denver Startup Week (DSW).
The Jake Jabs Center for Entrepreneurship at CU Denver Business School will be full of future moguls during DSW. On the fifth floor of the Business School building, the Laube Commons will host a presentation each day of the week.
These are great opportunities for the entrepreneurial first-timer or the seasoned startup veteran. All events are free and open to the public. Join us the week of September 15th to improve your empire-building experience.
Presentations at the Business School
5 Fastest Ways to Sink Your Startup
Monday, September 15, 2014, 1:00-2:30 PM – The best advice comes from people who have done it before and those who have lived through the mistakes. During this panel discussion, industry leaders in human resources, legal and other key business building areas will share the 5 fastest ways to sink your startup.
Best of Colorado: Dazbog Coffee
Tuesday, September 16, 2014, 7:30-9:00 AM –Colorado is the home of many inspiring entrepreneurs and growing startups looking to become next big company. Dazbog Coffee is the realization of the American dream by two immigrants of the former Soviet Union, Anatoly and Leonid Yuffa. The Yuffa family fled Russia to embark on a new and better life of freedom, democracy and opportunity. Their journey is the legacy of Dazbog Coffee.
The Top 10 Intellectual Property Issues That Every CEO Should Know
Tuesday, September 16, 2014, 9:00-10:30 AM – This presentation will cover many cutting edge issues impacting every business. Participants will learn about choosing and maintaining brand names, protecting ideas through patents, and what can and cannot be used on the internet.
Wednesday, September 17, 2014, 1:00-2:30 PM –In this interactive improvisation and storytelling-based workshop, the speaker creates an awareness of how to connect with others, enhance team dynamic and establish a space for collaboration and innovation. Learn how to build trust with your team, co-workers, and employees.
Trademark Basics: What Every Small Business Should Know Now
Wednesday, September 17, 2014, 5:00-6:00 PM –The United States Patent and Trademark Office (USPTO) will present a free informational presentation on trademark basics to the entrepreneurial community. The program will discuss how trademarks, copyrights, patents, domain names, and business name registrations all differ. It will highlights factors important when choosing a mark and what to do if another trademark owner believes it has stronger rights and issues a "cease-and-desist" letter.
Don't Be a Jerk: Customer Service and Servant Leadership
Friday, September 19, 2014, 9:00-10:30 AM –Being nice, both to your customers and your staff, is a competitive advantage. Servant leadership and similar approaches will foster innovation, creativity, and empowered staff that in turn create happy, loyal customers. Learn about the approach of servant leadership and hear from industry leaders about how these methods actually work in practice.
Follow any presentation link to RSVP for that event.
For more information about other Denver Startup Week presentations, please visit the DSW schedule.