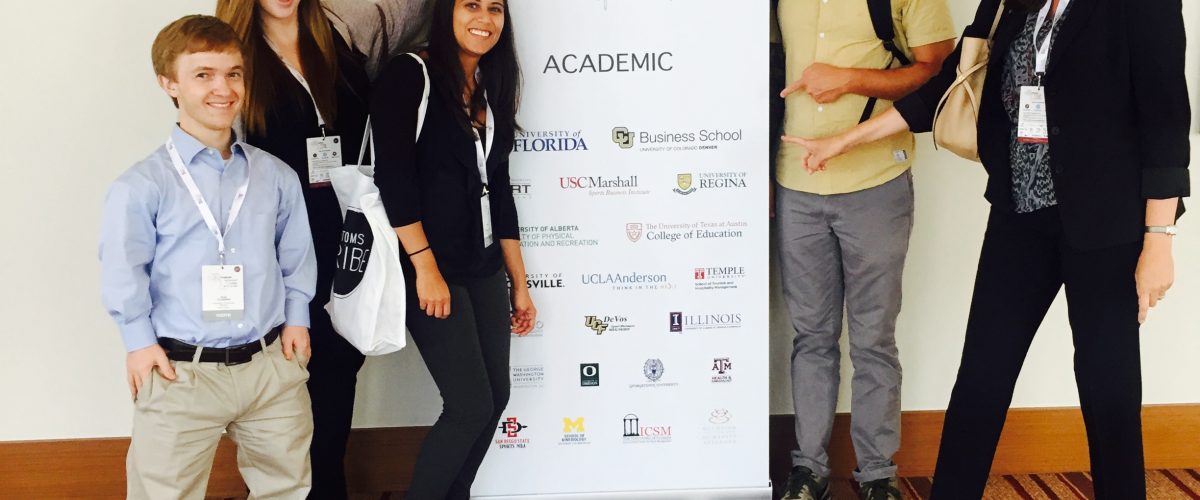 CU Denver Business School Sports and Entertainment Management students collaborate with top sports leaders at international conference in Los Angeles
From July 25-27, 2015, a group of students with Wendy Guild, Director of Sports and Entertainment Management Programs, went to Los Angeles to participate in the Doha GOALS forum.  The forum is a premier event that brings together the top sports leaders in the world.  It began in 2012 by His Highness Sheikh Tamim bin Hamad Al Thani, the Emir of Qatar.
Eight students from the University of Colorado Denver Business School, Sports and Entertainment Management program were invited by the Aspire Zone Foundation.  The students were: Rebecca Rowley, Sean Ralph, Ross Stebbins, Matt Mollica, Andrew Kennedy, Cassandra McCulley, Kristian Cruz, and Alicia Allen.  All of the students were also awarded a scholarship to attend. CU Denver alumni, Todd Goldstein, was also in attendance as a speaker on insights in the sports industry.  He was recently appointed the Chief Revenue Officer at AEG.
The Doha GOALS 2015 program had four key themes: building a movement for change through sports, sports as a mechanism for social inclusion, sport's power to create bridges across the divides in our societies and sports as a catalyst for transformation and change. Over 100 speakers and 1,500 participants, athletes, experts, CEOs, federations, opinion leaders and media gathered in Los Angeles for this year's Forum.
Highlights from the Forum included interviews with Olympic gold-medalist, Michael Phelps, and World Cup U.S. Soccer Team Captain, Abby Wambach, as well as a 5K run with Olympic athletes.
For more information on the CU Denver Sports and Entertainment Management program, please follow this link.