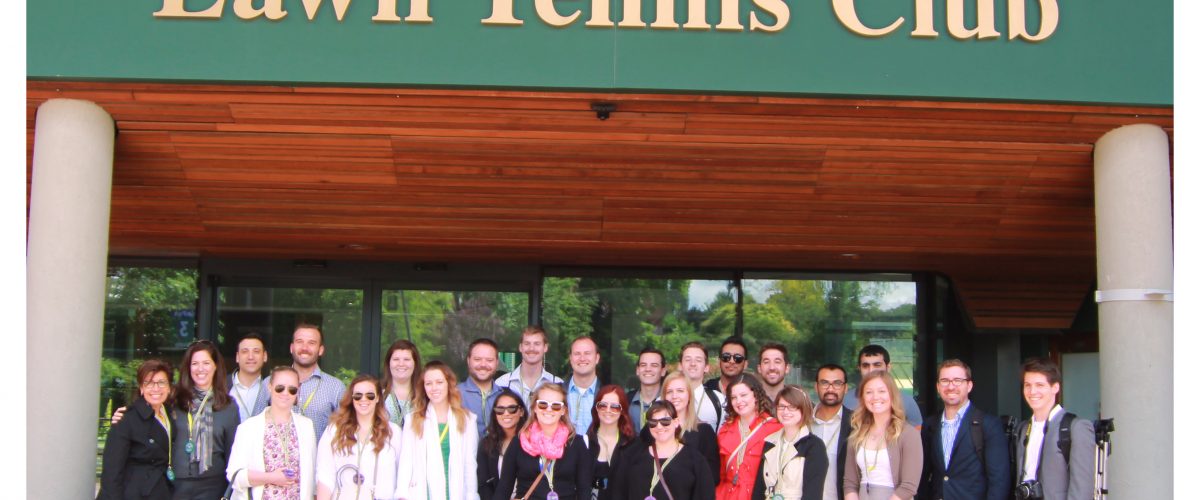 Josh Brandner and Leo Sideras are students at the CU Denver Business school who had the opportunity to experience the London Calling study abroad course designed for students studying Sports and Entertainment Management. Josh and Leo were both students on the trip and produced a video highlighting the program experience
Josh is an MBA student at the University of Colorado Denver Business School. He also studied film as an undergraduate student at Montana State University, and has been working in film and television ever since.
On his experience in London and Ireland, Josh said, "My time spent in London and Ireland was a phenomenal experience.  It came at a great time in my career both personally and academically."
"I had finished my specialization in marketing just weeks before I went on the London trip, so I looked at the trip through a marketing lense.  All organizations need marketing, and I found myself engaging with lecturers by asking many marketing specific questions to see how they compare and contrast from the practices here in the states.  We spent time with many wonderful executives in London, but I got the most out of a lecture from a representative of Content Media Corp."
"She talked specifically about the development of film, licensing and distribution.  This was very fitting, because I am trying to finish my second feature length documentary, and many of the topics of funding, licensing and distribution apply to this film," Brandner continued.
Leo is an MBA student at the University of Colorado Denver.  He graduated from Ohio University with a MS in Music Production, while studying music, film and business. His prior roles in film production, both as a student and a professional, have been audio recording, sound design, soundtrack composition, and post-production.  This project, in addition to the audio-oriented tasks, enabled him to film, edit, and produce.
"The London Calling trip exceeded all of my expectations. The course structure allowed us time to explore English culture, and approach the trip from a documentarian perspective," Leo said of his experience.
Students had the opportunity to tour the storied venues of Chelsea's Stamford Bridge, Twickenham, Lord's Cricket Ground and The BBC. They watched England's national rugby team in a friendly match at Twickenham Stadium, saw a world-class concert at The O2 Arena and a play at Shakespeare's Globe Theatre.
"The chance to share the individual experiences of the students on the trip was powerful, and central to our production." Leo said. "Each site visit and lecture was transformative for someone, and the challenge was to capture that.  Prior to this video, students interested in the London Calling program could read about what the program offers and what the experience would be like.  Now, with the study abroad video, prospective students can witness first hand the transformative experiences of program participants."
"I had filmed internationally in Malaysia and recalled how transformative of an experience that was for me.  The chance to film internationally again, and create a strong marketing product for CU Denver while completing a studying abroad course, presented itself as an immense opportunity for growth," Sideras finished.
"This video gave me an opportunity to give back to CU Denver Business School, as well as strengthen the brand of my production company Ouzel Media.  It has brought me closer to my classmates, and has even put me in a position to teach video production and editing to some of my fellow classmates.  Video is ubiquitous online, and the message of the videos is targeted to CU Denver Business School students who are serious about studying international business abroad.  I have learned a lot about myself on this project, and I always look forward to getting behind the camera.  I hope the video adds value to the marketing efforts at the University of Colorado Denver Business School," he concluded.
The London Calling study abroad program will be in its 8th year this upcoming spring. The three credit course is available to graduate students and undergraduate students with junior or senior class standing. Prerequisites include a letter of recommendation, personal essay and a 3.0 GPA minimum. The application deadline is February 5th, 2016 and the program will span from May 21st – June 5th, 2016.
Two information sessions for the London Calling program will be held on November 5th and November 11th at 5PM. RSVP and find more information here.