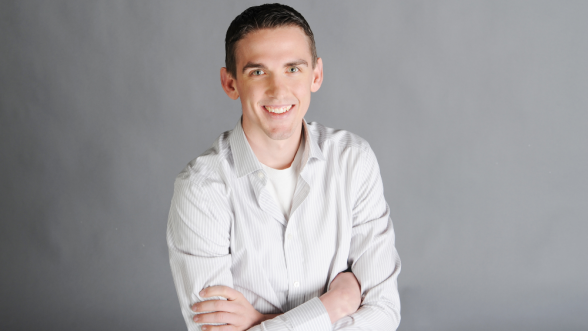 Rob Carpenter is an exceptional individual who has used the education he is receiving from the CU Denver Business School to become a very successful entrepreneur.
Rob received his undergraduate degree in Entrepreneurship from Northern Michigan University and will complete his Master's in Business Administration next summer with an emphasis in Enterprise Technology Management.
He is currently the CEO of AppIt Ventures, a custom software development company that builds cutting edge products. They work with small to medium sized companies building a variety of software solutions from mobile applications and databases, to connected devices (internet of things) and hardware.
Rob started AppIt Ventures in January of 2012 after his first app Business Plan Premier broke even in three weeks. It went on to sell over 20,000 copies worldwide and is currently the #1 ranked business plan app in iTunes. In September of 2013 he was named one of the top 25 most influential young professionals in Colorado by ColoradoBiz Magazine.
When asked how his experience at the CU Denver Business School was and how it has helped him in his professional life, Carpenter said "It's been an enjoyable experience and I've had a great time working with a lot of very interesting and talented people. The business plan competition and the Rutt Bridges Venture Capital Fund both provided me with incredible opportunities for growth and personal development."
Carpenter continued, "The Jake Jabs Center for Entrepreneurship business plan competition helped me to hone my elevator pitch for the company, develop a business plan and gave me invaluable exposure to local media outlets and industry professionals. It helped me to immediately boost my profile and the profile of my company."
He has presented at several conferences and events on the benefits and challenges of entrepreneurship, as well as the merits of self-funding and building a minimum viable product (MVP). He also speaks on the importance of testing the hypothesis, things to consider when raising start-up capital, and the associated pros and cons to angel investors, friends & family, crowdfunding, and venture capital.
Prior to starting AppIt Ventures Rob was a student advisor on the Rutt Bridges Venture Capital Fund at the Jake Jabs Center for Entrepreneurship while he worked on his MBA and is the author of The Last Revolution and the published co-author of the HR Analytics Handbook.
Carpenter is currently on a mission to build a globally recognized company that works with the world's largest brands, develops award winning software and provides cutting edge hardware and software solutions to his clients.