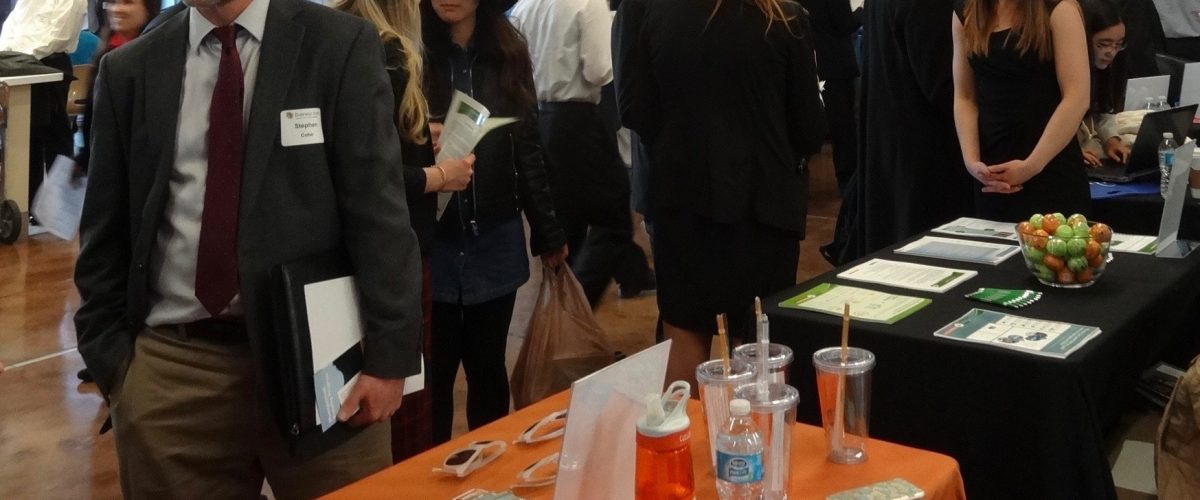 The State of Colorado announced its most recent unemployment rate on March 25th. It is at a 15 year low of 3.2%, tied for fourth lowest in the nation.
This record was in evidence at the CU Denver Business School's third annual Career Fair. Sixty employer representatives from 24 companies were in attendance and offered a warm welcome to 250 students and alumni. Employers represented the Public Accounting, Banking, Healthcare, Investment Services, Manufacturing Distribution, Risk Management and Insurance, Start-Up, and Telecommunications sectors. While there was strong demand across disciplines, Accounting and Finance students topped the charts on employer interest.
One employer commented, "I extremely enjoy attending this career fair each year. It is by far the most productive event that we attend. Your students always stand out as being professional and ready for a career. Thank you for inviting us to participate in it as we left with some potential intern and full-time candidates."
"An increasing number of employers tell us that there needs to be a greater focus on soft skills and workplace readiness. Even though the job market is better than it's been in a very long time, students still have to be able to compete effectively in both the job search and in the workplace." said Sue Wyman, Director of Business Career Connections.
Did you miss the career fair? There are still plenty of opportunity-rich events to attend this semester. To find out more, visit the Business Career Connections Events page. If events are difficult for your schedule, contact Sue Wyman, Director of Business Career Connections to understand how you can get the most out of the Business Career Connection resources. Business Career Connections is available to all undergraduate and graduate students as well as alumni of the Business School.