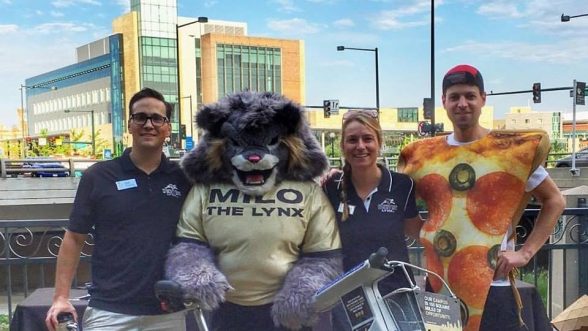 On Wednesday, June 22nd, the CU Denver Business School participated in Bike to Work Day, an event hosted by the Denver Regional Council of Governments ("DRCOG") to help promote bicycle commuting and educate commuters about the benefits of using two wheels to get to work. The Business School was joined by ten other departments to help bring Bike to Work Day to life at CU Denver.
The CU Denver Bike to Work Day Team was led by Matt Fleming, Enrico Leone and Andrea Lipkin, all Business School staff members. The Inaugural CU Denver Station Location was at Cherry Creek Front Park, from 6:30-9:00AM (between Larimer and Lawrence, Speer and 14th Street).
CU Denver's station provided free breakfast burritos from Diego's, coffee from the Cherry Bean, live music from Linda-Theus Lee (another Business School staff member), a visit from Milo the Lynx, games, giveaways and a myriad of great activities!  The team estimates that over 400 cyclists came through the CU Denver Station.
The organizers want to thank everyone who helped make CU Denver's Inaugural Bike to Work Day Breakfast Station a great success. They plan to make next year's station bigger and better, and make CU Denver's Bike to Work Day Station an annual tradition.