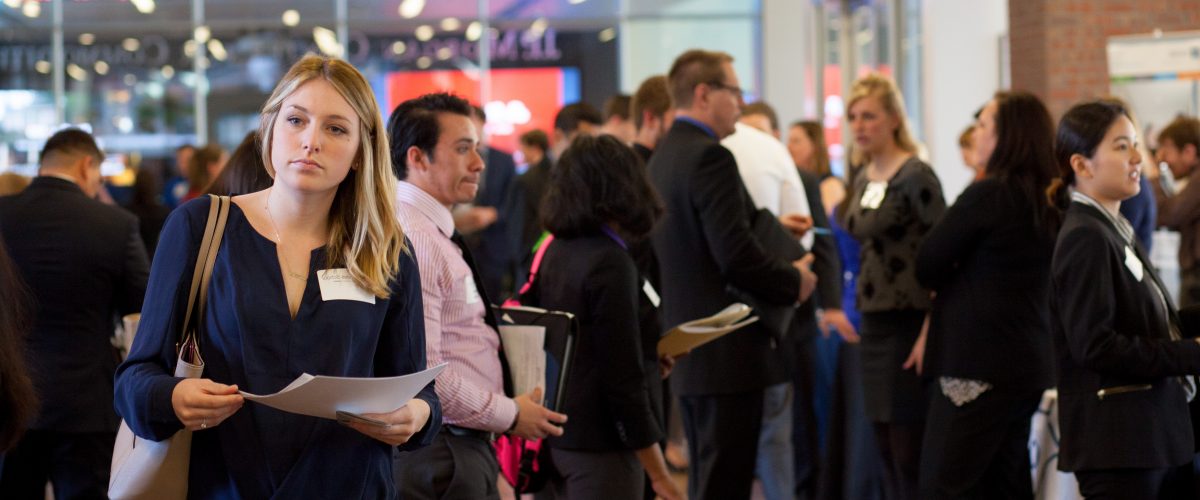 The 2017 Spring Career Fair hosted by the Business Career Connections (BCC) office will be held on March 8. As the latter half of the spring semester rapidly approaches, the job hunt for students and upcoming graduates is getting into full swing. It can be a stressful time, leaving many students wondering how and where to start their search.
Held once a year, the Business School Career Fair provides students and alumni with the chance to meet and network with corporate partners from major industries within the field of business. Of course, it's an excellent opportunity for any student hoping to secure an internship or full-time position, but it's also much more than that. As Sue Wyman, Director of the BCC office explained, the hands-on nature of the event is valuable in-and-of-itself, "Attendees are able to develop a human connection with their companies of interest, allowing them to learn more about each company's culture and hiring processes from the insiders who've experienced it first-hand."
And with 22 employers in attendance, students and alumni will have plenty to experience. Students are required to dress up in business attire to impress recruiters and put their best foot forward when networking. This year's firm list is comprised of industry heavy-hitters, a third of whom that will be participating in the Career Fair for the first time. Handpicked by the BCC office to ensure optimal participant success, employers will be looking for a serious wave of new talent, with one company hoping to bring on 400 new employees throughout 2017.
Participating Employers:
Ajilon
Analytic Partners
Arrow Electronics
Centura Health
Charles Schwab
CoBank
CoBiz Financial
FirstBank
Graebel Companies
Great West Financial
Ibotta
Kaiser Permanente
Lockton
Merrill Lynch
OppenheimerFunds
Prologis
Rubin Brown
S&P Global
TIAA
Transamerica
Vertafore
Zillow Group
Not a business student? Not to worry, the Career Fair is for you, too. Whether you're looking to polish your elevator pitch, network with professionals, or pursue a career in business, regardless of your major, the BCC office encourages students and alumni from all backgrounds to attend.
Don't have an elevator pitch, resume, or LinkedIn account? The BCC has you covered. Two weeks before the event, they will be holding a series of Career Fair Prep Workshops designed to get you ready for the big day, and put you on the fast track to your dream job. Additionally, visiting the BCC Resources page can provide you with a list of Career Fair tips, as well as sample resumes to help whip yours into tip-top shape.
Learn more about the 2017 Career Fair and how to RSVP.