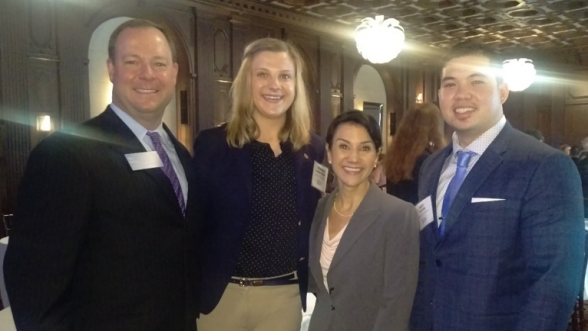 Two CU Denver Business School Risk Management and Insurance (RMI) students were selected to travel to the Surplus Lines Association of California (SLACAL) Annual Meeting in San Francisco on February 7, 2017. This is the second time that students have been generously sponsored by SLACAL to attend their Annual Meeting. The students enjoyed an action packed two days of visits with carriers and brokers, as well as introductions to leaders in the California wholesale market.
BSBA RMI student Nick Nguyen and BSBA dual major RMI/Finance student Kennedi Christensen were delighted to participate and gained invaluable experience over the course of two days. Kennedi had participated in the University of Colorado Denver's Global Risk Management course that traveled to London in May 2016, so she had wholesale market background. Kennedi said, "Meeting the Surplus Lines Association Executive Director Ben McKay (RMI Advisory Council Member and mentor in London to students in the May 2015 Global Risk Management course) was an eye-opening experience. Ben is extremely knowledgeable about the insurance industry and has incredible …experience in both the private and public sector. Ben discussed a new up and coming company called Slice, which provides insurance for individuals that rent out their houses to Air B&B users. A company like Slice is why the Excess and Surplus industry in insurance is so interesting."
In addition to meeting Ben and the outstanding team of SLACAL, Nick and Kennedi spent a morning with the leadership team of Zurich NA. Regional Executive West Don Doyle had assembled a team of practice leaders to share their career insights and enthusiasm for Zurich NA. "The visits with Zurich NA were very educational and gave great insight to the different positions and levels of the company. We got insight from more senior underwriters as well as those fairly new within the industry…We had a tour of the office, which was beautiful! The office overlooks the Golden Gate Bridge with windows all around!" exclaimed Nick.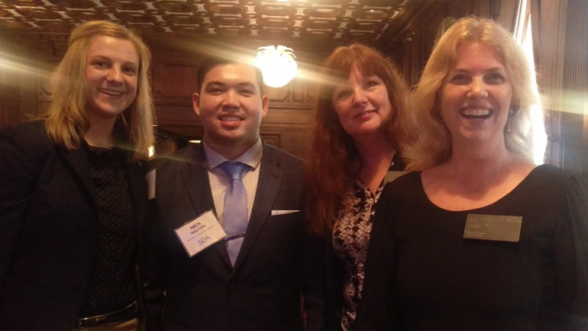 Nick and Kennedi learned about the wholesale specialty market through Kevin Oh, Underwriting Manager with Markel West Region, who discussed working on the carrier side of construction wraps. The students also met with AmWins SF Senior Vice President Ryan Adams, who specializes in broking construction wraps. Ryan explained how much the San Francisco construction wrap market had grown since he took the leadership of the SF office.
To put the meetings in larger perspective, Nick and Kennedi had lunch with Terri Moran, the Western Regional Executive of Vela Insurance Services. Terri is also a valued RMI Advisory Council member, and answered their questions about the brokers and carriers they had met and the new concepts and issues they had learned. Kennedi had interned with Vela in summer 2016. "It was great to catch up and be able to pick her brain on the wealth of knowledge she has." said Kennedi. "Terri … gave us great advice on how to navigate the industry into a career path that I would like to have in the future," added Nick. Terri also shared her insight on the situation of the Millennium Tower in San Francisco, the high end fully subscribed condominium skyscraper completed in 2009 that in 2016 was found to be both sinking and tilting. "Figuring out who will pay, who is at fault, in this E&S construction market will be a challenging process," Terri explained.
At the Annual Meeting, Ben McKay publicly recognized Nick and Kennedi to the voting members, which enhanced the student and program visibility. The students also visited with Pam Quilici of Crouse and Associates, as she explained the significance of the issues presented by the board.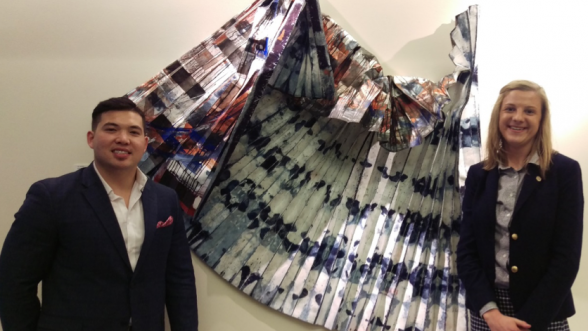 The two-day visit was hectic, enlightening, and amazing. "I want to thank the RMI department for affording me this opportunity," said Nick. "Switching majors has been the best decision I have made concerning my career. The RMI department really does everything they can for their students. Providing us with endless amounts of networking, internships, and career-related events throughout the entire year." Added Kennedi, "I would like to thank the SLACAL for a fantastic all-expense paid trip. It was a wonderful experience and I gained vast information and connections in the industry."
After they graduate this spring, both Nick and Kennedi are exploring careers in the San Francisco area, and in the Excess and Surplus Lines side of the industry, Wherever they go, they have gained invaluable experience. "We are grateful to RMI Advisory Council Members Ben McKay and Terri Moran, who have hosted out students and introduced them to career opportunities beyond Colorado," said Director of the RMI program Dr. Ajeyo Banerjee. "Vela Insurance Services, a W.R. Berkey Company, has generously supported RMI student scholarships and assisted with internships. Surplus Lines Association of California has also made a major gift to the program in 2016. We thank them for their ongoing support of RMI students and programs."
Feature photo L to R: SLACAL Executive Director Ben McKay, Kennedi Christensen, SLACAL COO and Director Joy Erven, Nick Nguyen