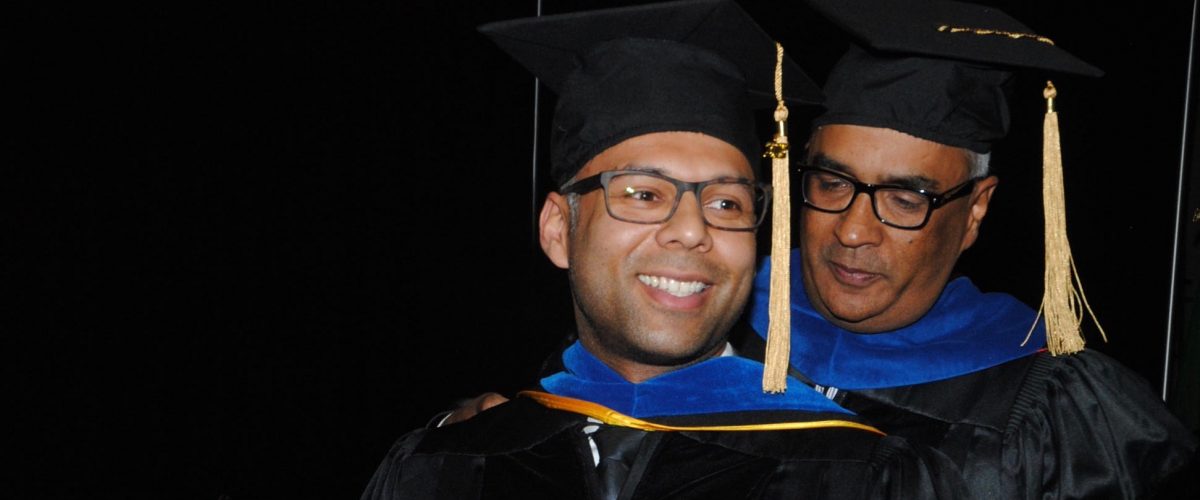 Landing a tenure-track position is not easy, but two recent CU Denver Business School PhD graduates, Yazan Alnsour and Bidyut Hazarika, from the Computer Science and Information Systems (CSIS) program did just that.
In the world of academia, one of the most sought after positions is that of a tenure-track position. It allows not only the freedom to teach controversial ideas, but also the opportunity to produce thought-provoking research. It is the stepping stone from PhD studentship to the higher echelons of research pursuit.
Alnsour and Hazarika worked under the guidance of Professor Jiban Khuntia at the Business School. Dr. Khuntia believes that choosing a program that fosters the skills, hard work, relentless patience and dedication helps PhD students succeed and ultimately receive a prestigious position after graduation. While the student must have the internal passion and motivation, an environment that pushes the student to achieve success is key.
Fortunately for Alnsour and Hazarika, along with a number of other students, the Computer Science and Information Systems (CSIS) program, an interdisciplinary doctoral program between the Business School and Computer Science and Engineering Department, aims to equip graduates with teaching experience, provide a rigorous curriculum, and facilitate cutting-edge research. With a constant focus on adapting program design, courses, and plans of study with changing times and market demands, the program has graduated a number of candidates since its inception in 2003. In a span of 14 years, the Business School side of the CSIS doctoral program has placed 12 students in various academic positions—a triumph for such a young PhD program. The program has also eight students in high-level positions in industry or government. However, over time, the focus of the program has become oriented towards academic positions, as evidenced by recent placements.
When discussing the success of PhD candidates, Dr. Khuntia stated, "The objective here is to inspire contributions to the discovery and dissemination of knowledge by shaping students for careers in research and teaching at great universities around the world. The faculty engaged in the program are a collaborative, research-oriented community of scholars, with a breadth of business knowledge to help students. The program is academically rigorous and highly selective. We strive for quality. There is a high demand from universities around the globe in places like Jordan and Thailand for quality faculty researchers and educators at business schools. Therefore, the program and its curriculum is designed to be continuously updated, to ensure student readiness through training in the latest research methods and requisite related knowledge that not only to caters to the needs of U.S. universities but also globally."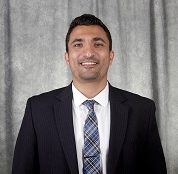 In response to the faculty contribution for the success of the two PhD students, Dr. Khuntia quipped that "it takes a village to raise a child." He noted the diverse faculty strength at the Business School, the eagerness to help students to succeed, and the location of the school in the metro Denver area all are highly influential in shaping cutting-edge research. For example, Alnsour's research focuses on the use of web portals in healthcare, which he completed in collaboration with Kaiser Permanente—the top health care provider in the region. Both Drs. Alnsour and Hazarika's research are cross-disciplinary and involve multiple stakeholders. Such plans are always a risky venture for a PhD student, unless that student is immensely supported by advising faculty. Dr. Khuntia's activities in industry outreach and collaboration in health IT-related research area certainly supported those research efforts. Dr. Dawn Gregg, and Dr. Onook Oh, dissertation examination committee members for Alnsour, were instrumental in ensuring that his research remained forward-thinking.
In a similar vein, Hazarika collaborated with a marketing research firm to obtain the datasets used in his research, while working in the cross-section of marketing and information systems to explore issues around mobile applications. Hazarika shaped his digital marketing and service focus with guidance from faculty in the program and his involvement in earlier works with IS faculty Dr. Jim Gerlach, Dr. Ronald Ramirez, Dr. Jahangir Karimi, and Marketing faculty Dr. Lawrence Cunningham. In his dissertation research, Dr. Madhavan Parthasarathy, Professor in Marketing provided support and guidance. Dr. Hazarika recently had a paper in Journal of Global Information Management, coauthored with Dr. Parthasarathy and Dr. Vicki Lane, both professors in the Marketing Department at Business School.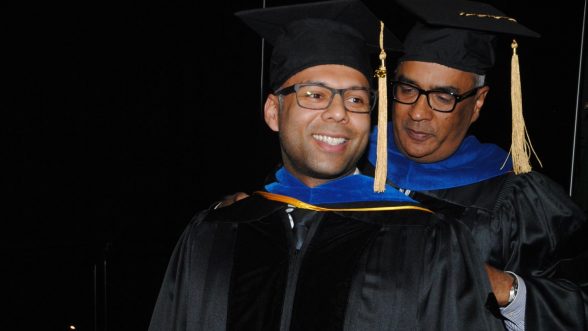 In fact, it is this distinct nature of the PhD program which attracted Alnsour and Hazarika, now tenure-track professors at Northern Illinois University at Springfield, IL and Western Michigan University at Kalamazoo, MI, respectively, to pursue their advanced degrees at the CU Denver Business School. "I wanted to pursue a scholarly career in a university," said Hazarika. "CU Denver has well-known faculty members in the IS domain who have published articles in top IS journals. My research interests matched theirs."
Alnsour was also drawn to the program for its research-centric and dynamic curriculum. "I was always interested in IS during my undergraduate career and through my MBA. I wanted to do more research in IS and came to CU Denver for its unique program that combines computer science with IS," he said, adding that the Business School's recognition as a leading research institute also influenced his decision to attend.
Reflecting on their time as doctoral candidates at the Business School, both Alnsour and Hazarika agreed that their education had a tremendous impact on their success in obtaining professorships. "I had the chance to learn from and interact with outstanding scholars," said Alnsour. Hazarika concurred, explaining that his faculty mentors like Dr. Khuntia, were instrumental in his finding a job. "The faculty at the Business School are well known in their respected disciplines. With every job I applied to, people knew about the Business School, as well as its faculty members and their research. It helped me get my job even before graduating."
Overall, the success of the two students demonstrates that the CSIS PhD program is a fostering ground for collaborative, cross-disciplinary, cutting-edge research. Both Hazarika and Alnsour agree that they have immensely benefitted from the Business School and its location; and going forward, they plan to use their strong research skills to produce even more high-quality research while in their new posts, carrying on the tradition of the professors who taught them.