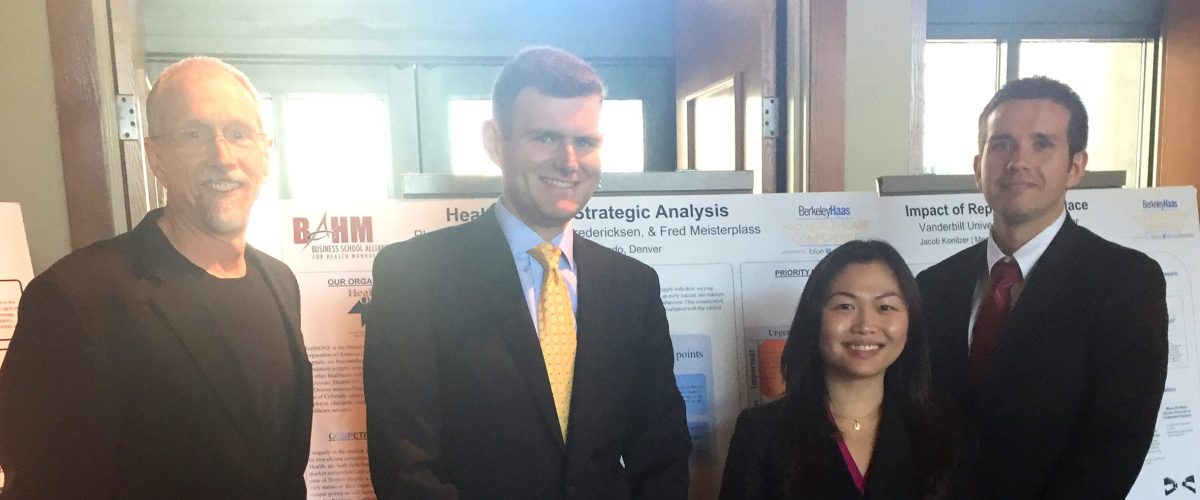 In late March, three CU Denver Health Administration MBA students competed in the 8th Annual Business School Alliance for the Health Management (BAHM) Case Competition at the Haas School of Business. The team traveled to Berkeley, California to present their case on the topic of "President-elect Trump & The Future of Healthcare Reform" and network with hundreds of top healthcare players.
BAHM is an alliance of leading MBA programs with a healthcare focus, comprised of the country's most prestigious business schools. Along with CU Denver, member schools include Harvard Business School, The Wharton School of the University of Pennsylvania, and University of California Berkeley Haas School of Business. A signature event for BAHM, the case competition allows students to apply classroom instruction to analysis of real problems within the healthcare industry.
The CU Denver Business School team consisted of Fred Meisterplass, Hans Tyler Fredericksen, and Phuong Dinh. The team was supported by Dr. Jeffrey Helton as the case competition faculty mentor and Dr. Errol Biggs as the Program Director for Graduate Programs in Health Administration. The team elected to research and develop a case study on HealthONE, the largest and only for-profit health system in Denver.
This year's competition presented an interesting opportunity to prepare a case study on an organization's response to anticipated legislative changes made by the GOP to the Patient Protection and Affordable Care Act (PPACA), also known as Obamacare. President Trump established a seven-point plan to repeal and replace Obamacare, including the complete repeal of Obamacare, modifying current laws that inhibits the sale of health insurance across state lines, and requiring price transparency from all healthcare providers.
The team chose to present on HealthONE, because the company represents the archetypal healthcare system in Colorado, but its status as a publicly traded organization creates dual priorities. HealthONE's corporate stakeholders tolerate little interruption to profitability, while patients and community members demand upkeep of the organization's mission, vision, and values. As the only team in the competition to choose a for-profit hospital system, the team faced the added challenge of considering the profit-driven nature of the organization.
The team based their analysis on Trump's agenda along with developments in the American Health Care Act (AHCA). Given the uncertainty surrounding the future of healthcare reform, the team made the decision to focus on the company's existing strategies, which were closely aligned with industry trends. However, the team noted one missed opportunity in their hesitancy to innovate beyond evidence-based practices, due to the uncertain value in which unproven projects can bring to stakeholders. The team's solution was to use a small number of hospitals as testbeds for new practices, where those practices can be refined before being implemented across all hospitals.
Speaking on applying his courses to the case, Meisterplass stated, "I cannot stress enough how much I have learned during my time in the CU Denver Health Administration MBA program. In the past eighteen months, I have gone from understanding virtually nothing about healthcare policy and operations to considering myself proficient enough to understand the operational, quality, economic, and marketplace effects of a healthcare organization's strategic decisions. My coursework and instructors have also helped me hone my critical thinking skills, and encouraged my own intellectual development and leadership skills—all of which were not only invaluable at this competition, but will continue to be in my career."
Beyond the competition, students had the opportunity to network extensively, from attending lectures to mingling with executives at the 10th Annual Haas Healthcare Conference. "Through interacting with program directors, professors, and fellow students, we gained insight on how top programs across the nation designed their curriculum to train the industry's future health administrators," Dinh said. "Our interaction with judges provided new career opportunities, connections, and perspective into the work that leading healthcare companies bring to market."
Feature photo from L to R: Dr. Jeffrey Helton, Fred Meisterplass, Phuong Dinh, Hans Tyler Fredericksen