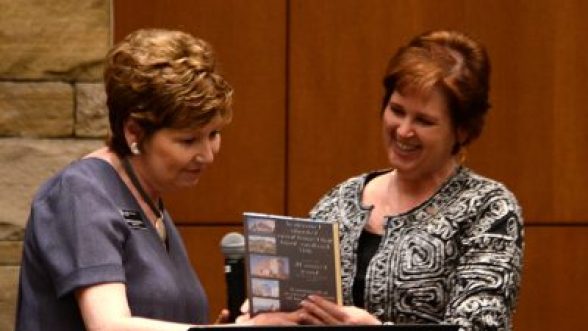 On April 14, Chancellor Dorothy Horrell presented the University of Colorado Staff Council 2017 Service Excellence Award to Connie Amen, assistant dean of the Business School. 
The Service Excellence Award is given annually to recognize and reward staff members who have provided outstanding and sustained volunteer service to their campus, community/civic/professional organizations, and the university as a whole through active involvement in staff events, community engagement opportunities, committee work, social advocacy projects and diversity initiatives. The honor includes a $1000 stipend. 
Chancellor Horrell delivered the following remarks at a luncheon honoring Amen and two other recipients from CU Boulder and University of Colorado Colorado Springs.
It is my pleasure to present the Service Excellence Award to Connie Amen, the Assistant Dean of Finance and Human Resources in the CU Denver Business School.
Connie has been with CU Denver since 2007 and exemplifies the spirit of service that this award honors.
For a decade, she has contributed her time and talent in service to the Business School, the CU Denver campus as well the CU system.