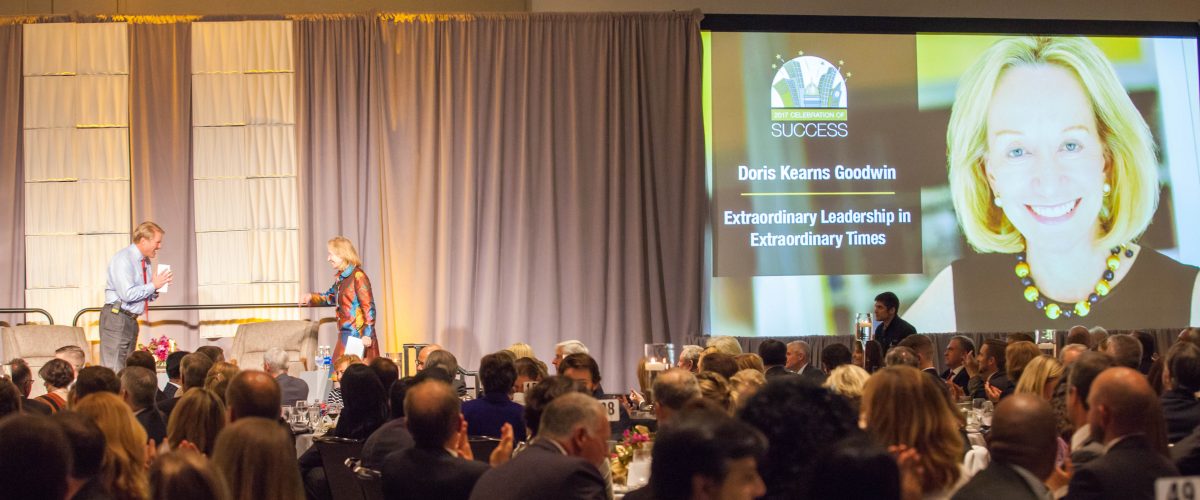 When Doris Kearns Goodwin talks of "my guys" – the leaders she has studied in unparalleled depth over her career as U.S. presidential historian – she ticks off shared traits such as intelligence, empathy, energy and communication skills. But the most important presidential quality, she says, is resilience. So, as President Trump this week reaches his first 100 days in office, he will likewise be tested, sooner or later, in the adaptability department.
"Resilience is a mystery, and it is the key leadership trait, in my judgment," Goodwin said. "All of my guys come from different circumstances, but that sense of resilience, that ambition and desire to help their fellow man, united them all."
$3.3 million raised
Goodwin, a Pulitzer Prize-winning author, shared stories about U.S. presidents going back over a century as the distinguished guest speaker at the CU Denver Business School's 2017 Celebration of Success. A sellout crowd of 640 people attended the recent scholarship fundraising event at Denver's Grand Hyatt.
Over the years, Denver's business community has joined with the Business School to raise more than $3.3 million (including an estimated $400,000 this year), benefiting more than 1,800 students. Also, several deserving faculty have been awarded fellowships.
The spotlight also shined on new Business School Dean Rohan Christie-David, who served as emcee at his first Celebration of Success, regarded as one of the most prominent events within the Denver business community.
Denver's most recognizable businessman-turned-politician, Gov. John Hickenlooper, was among the guests, and the governor extolled the pivotal contributions of the CU Denver Business School. Back when he was launching his craft brewery downtown, Hickenlooper took several entrepreneurial courses at the CU Denver Business School and has since seen the school grow in size and sophistication.
Photos taken by Shameka McBoat of McBoat Photography