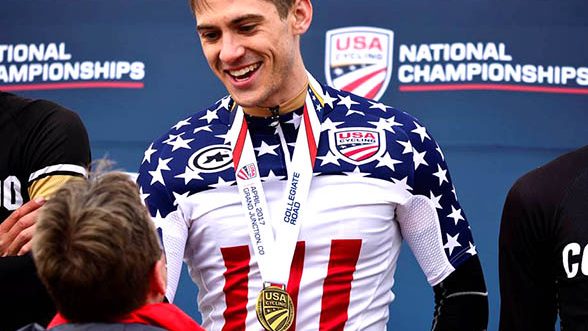 Cyclists tend to be soft-spoken, non-boastful types. So, it's not surprising that CU Denver graduate student Cyrus Pearo, who recently won the USA Cycling Collegiate Road National Championships, summed up the race this way: "Good bit of climbing. Good bit of wind. It was a tough day."
Tough indeed. The day also included a good bit of "pull" – to use cycling parlance – for Pearo. Against a significant headwind, the Business School student managed to outduel two CU Boulder racers who were drafting off him to become CU Denver's first national champion in a club sport.
Pearo's national title is even more impressive considering he works full time at TIAA-CREF in Denver in addition to pursuing a graduate degree. The Business School's online classes offer much-needed flexibility for Pearo as his busy schedule includes 300-plus miles a week of training on the bike.