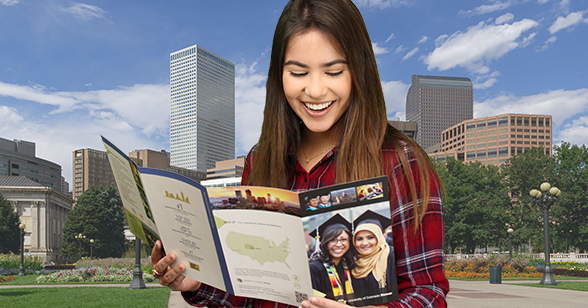 For Anna Luiza, the decision of where to attend college was easy. A Brazilian native, Luiza first arrived in Denver during high school through an exchange program. She fell in love with the city and began planning her return shortly after leaving several years ago. Now pursuing a bachelor's degree in business administration majoring in both financial management and accounting, Luiza recently sat down with the Office of International Affairs to elaborate on why CU Denver was the obvious choice for her.
---

Why did you want to enroll in the University of Colorado Denver?
I wanted to enroll at CU Denver, because as a former exchange student in this city, I fell in love with it and wanted to come back. The University of Colorado has a terrific reputation in the state of Colorado, and what better campus to choose if not the one located at the heart of the capital? CU Denver has a beautiful campus with a wonderful location and nonetheless, it provides a great education.
Have you felt welcomed at CU Denver? Is Denver an interesting city to live in?
The people here are very welcoming to foreigners and open to new perspectives. Denver is great. When you are in the heart of downtown, you have everything that you could ever need in a big city and if you drive for 20 minutes into the suburbs, you can have the feeling of a small town life, where kids can play on the streets and everyone knows each other in the neighborhood. It is like two different life styles in one place.
What do your friends and family think about your studying in America—do you think they are proud of your accomplishments?
My family and friends are very happy and proud of me. Getting a higher education in the United States has been a dream of mine ever since I was a little girl, so they are all very happy to see me accomplish my dream."