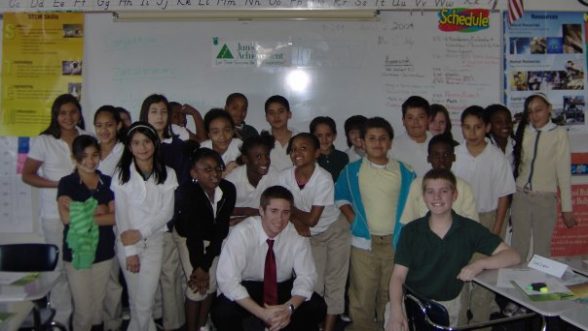 Despite the common goal of wanting to pursue a challenging academic experience, every student who enters the CU Denver Business School does so for different reasons. For some it's about making their mark in the business world as part of a Fortune 500 company. For others it's about using their skillset to give back. Jason Battista, an 11-Month MBA alumnus, is a perfect example of the latter.
Battista first came to the Mercy Loan Fund, a subsidiary of Mercy Housing, Inc., one of the largest affordable housing providers in the county, as an entry-level employee, where he worked as a national real estate underwriter. He had recently completed his MBA and was intent on making an impact in the community.
"Typically, sophisticated national organizations and benevolence seem to be mutually exclusive, but Mercy Housing is both. It is a very well run real estate company that truly makes a difference in our nation's most vulnerable communities through housing. I love our focus on social justice, and how we strive to stabilize lives and lift up the most vulnerable among us," he said.
Thanks to his dedication to Mercy Housing's mission and his MBA distinction, Battista quickly advanced through the ranks of the Mercy Loan Fund, where he now serves as the company's youngest president at the age of 31 and has earned Denver Business Journal's "40 under 40" award.
He lists two keys to his success. The first was hard work. The second was his CU Denver MBA. Speaking on hard work, he says there is no substitute. He worked long hours, underwriting countless real estate deals to build his proficiency in the field. This drive is what led him to set records for the number of deals underwritten and closed, which in turn led to promotions and increased responsibilities.
He also considers his MBA to be critical in his promotion to a management role at such a young age. Not only did it help him land his promotion, but it also set him up for success. As president, he wears many hats and uses the majority of his MBA curriculum regularly.
He stated, "I confidently shift between management, legal issues, marketing and business development, finance and budgeting, accounting, IT systems, and organizational structure seamlessly due to the breadth and quality of training at the CU Denver Business School."
Battista hails his experience at the Business School as a challenging one. There he was emboldened to chase his passions, and become a leader in the nonprofit sector.  He offers the following advice for the first job out of graduate school, "Salary should be important but it shouldn't be the deciding factor. It is much more important to pick an industry, company, and functional role that will enliven your passions and provide for long-term advancement."
Battista is proof that it's not as important where you start your journey as long as you follow your passion and help others. That passion along with a CU Denver MBA will lead you to your own path of success.