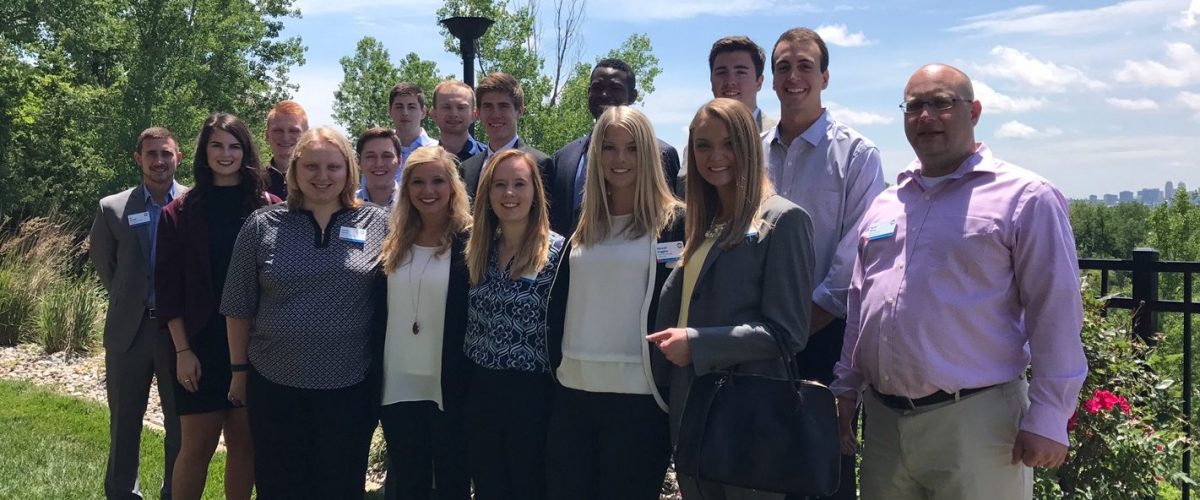 Since 2016, three outstanding Risk Management and Insurance (RMI) students have landed internships with the National Association of Professional Surplus Lines Offices, Ltd (NAPSLO). Taylor Brock is a dual major in Finance and Risk Management and Insurance. He is also the first CU Denver RMI student to be invited to participate in the new Wholesale and Specialty Insurance Association's (WSIA) Annual Conference in San Diego this September. This conference has over 4,000 surplus lines professionals in attendance and will determine if Brock will be selected as a WSIA intern in London for Summer 2018.
Brock shares his internship experience
Over the past summer, I was fortunate enough to be one of 17 undergraduate students across the nation to be selected for the WSIA (formerly NAPSLO) internship program. This incredible internship program gave us firsthand experience in the surplus lines insurance industry by spending five weeks with a carrier and four weeks with a brokerage firm. We were placed with member firms across the nation ranging from New York to Los Angeles. The surplus lines industry is the side of insurance where coverage is written for unique, distressed, or high capacity risks that the admitted market cannot place. This market operates with freedom of rate and form, such as coverage for celebrity houses, high rise construction, professional liability, contractors, or dive bars.
Overall, each intern, including myself, witnessed how carriers write these kinds of coverage, how they adhere to their underwriting guidelines, how they correspond with brokers, manage claims, rate coverage, and bind policies. I experienced this with Mesa Underwriters Specialty Insurance Company (MUSIC) in Horsham, Pennsylvania. Also, I was lucky enough to be placed with Gorst and Compass Insurance, one of the largest excess and surplus lines markets, in Los Angeles. With each host firm, we were invited to special events and outings such as Dodgers' baseball games and the Lantern festival in Philadelphia.
How Brock landed his invitation
I was recommended to apply for this program after meeting my previous scholarship donor and internship mentor, Terri Moran of Vela Insurance. It was her recommendation that made me aware of this incredible opportunity but my participation in risk management classes, a previous internship, and steady office work experience offered me transferable skills that made me qualified for this program.
In order to be invited to the WSIA's Annual Conference in San Diego, each intern must write two essays and submit performance reviews. I was fortunate enough to be one of the 10, and I will see how business is conducted at these types of events where high-level broker and carrier members meet in person. I will be courted and shown convention events with other member firms, and the top intern is selected thereafter to attend an internship program with Lloyds of London next summer.
"After this summer, I cannot imagine a career outside of the surplus lines industry."
The diversity of risks, innovation, necessity of communication, impact of relationships, and the subjective input of the underwriter have captivated me to pursue a career in this industry. My RMI background along with this internship puts me in a good position to build a career in surplus lines.
Interested in how you can obtain a NAPSLO/ WSIA internship and scholarships?
Terri Moran of Vela Insurance Services, and Bart Schaffer of Argo Group will visit CU Denver RMI class and present on NAPSLO/WSIA internships and scholarships on Wednesday, October 4, from 3:40 – 4:45 in BUS 3007. The CU Denver Business School invites all interested students to attend and learn more about this dynamic and exciting internship opportunity.
Contact Barbara.Sidwell@ucdenver.edu to apply.