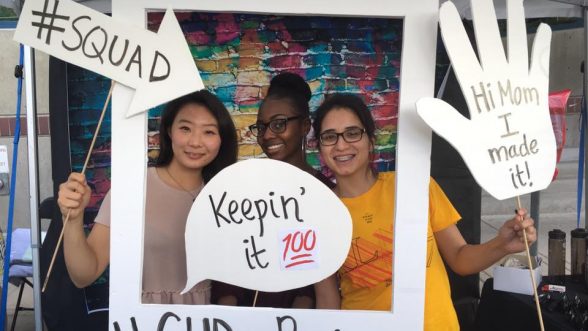 Last Thursday, CU Denver shut down part of Lawrence Street (from Speer Boulevard to 14th Street) for the sixth time, ensuring an amazing event for all CU Denver students, faculty, alumni, and the Denver community. This lively event embodies CU in the City by placing CU Denver's culture in the heart of Denver's downtown.
Various CU Denver alumni showcased their talent and success by serving at this event. From former Business School student employee Emma Cole and her band, Wildermiss, performing at the event to alumnus DJ Chonz providing the tunes, not a beat was missed. There were various food trucks serving up some amazing cuisine, including the Batter Crepe Company food truck, a business founded by CU Denver Business School alumni.
The live music, free giveaways, interactive booths, and games made the Block Party a huge success. Thanks to all sponsors including Jim 'N Nicks for helping the CU Denver community enjoy yet another great event.
Whether you got free swag at the CU Denver Business School booth or climbed the rock wall, we hope you had the time of your life. In case you missed the event or if you just want to relive the big day, we have a video to recap CU Denver's Block Party.