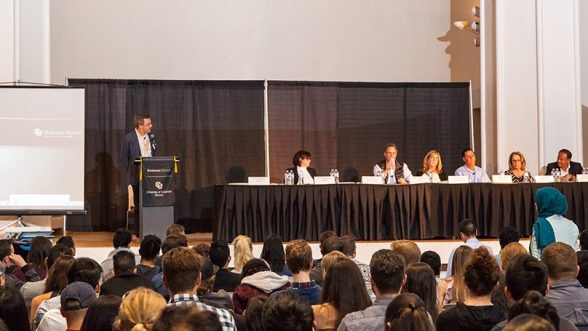 Under the St. Cajetan cathedral domes, 300 students and community members heard about the future of information technology (IT) from top executives in the Denver area at the 12th Annual Become a Business Leader with an Edge.
Hosted by the Center for Information Technology Innovation (CITI) in collaboration with the Information Systems Association (ISA), the event was packed. Jahangir Karimi, PhD, professor of information systems and CITI's director, organizes the event every year to give students perspective on what Denver's most successful companies are looking for and what they see as the future of business and IT. Speakers included:
Presenter:
Randy Guthrie, Microsoft Technical Evangelist
Panelists:
Alan Cullop, CIO and SVP at DaVita Inc.
Judy Batenburg, SVP of IT Services, Starz
Yvette Connor, CRO, Focal Point Data Risk
Gail Coury, VP of Risk Management, Oracle
Albert Kendrick, CIO, FirstBank
Sam Kumar, President, Newcloud Networks
Moderator:
Ted Hellmuth, Founder & GM, IQ Clarity
The night began with a special presentation by Randy Guthrie, Microsoft Technical Evangelist, on what makes a career great and the current IT job market. Guthrie stated:
"The jobs in the most demand are telecommunications engineers, computer application developers, and computer/ software engineers." – Bureau of Labor Statistics
There are currently 27,498 unfilled positions at Microsoft due to underqualified people in the job market.
Denver, Colorado and its growing IT market
Speaking on the current state of Denver and Colorado in relation to the tech industry, moderator and CU Denver alumnus, Ted Hellmuth, Founder & GM of IQ Clarity, LLC, shared his insights:
"Denver is ranked the second-best city in nation for employment opportunities." –Denver Business Journal
"Colorado is ranked the second-best state in both employment and overall economic growth." – Business Insider
"Colorado is the 10th highest ranking state for startup activity." – www.kauffman.org
Insight into the future of technology
Panelists shared how the "next decade will be the decade of cloud." Trends like the internet of technology and artificial intelligence have the ability to be disruptors, however, companies are still going to face issues trying to properly utilize this technology. Cybersecurity was also a hot topic, where panelists went in depth on how companies should prepare for and categorize security breaches. Other takeaways included:
"About 92% of the population globally has access to a smartphone. From an edge perspective, this drives innovative opportunities on how to mass create an app to serve an individual better." – Alan Cullop, CIO and SVP at DaVita Healthcare Partners, Inc.
"We have to think of ourselves as the business, and we can't separate technology and what it can accomplish from what the business objectives are." – Judy Batenburg, SVP of IT Services, Starz
"Historically security teams are seen as the 'Team of No.' It's not about saying no. It's about saying we can enable the business to move into this market." – Gail Coury, VP of Risk Management, Oracle Cloud
Advice for the next generation of IT professionals
With these insights, the panelists also encouraged students to explore their passions and how to become the next generation of tech leaders.
"It's a terrific time to figure out what you want to do and then explore how you can build multidimensional skillsets. Because innovation today will be very different than innovation that we will talk about in five years. Figure out what will drive a lot of change and how you can engage in it." – Yvette Connor
"My advice is don't think of yourself as an IT person within a company, but rather think of yourself as part of the business. Learn about that business. Learn and understand what drives that business, and you'll be a part of that. And you won't be seen as just that IT person who's providing a service." – Albert Kendrick, CIO, FirstBank
"Sit down with your colleagues and find out how you can proactively bring technology solutions to what they're doing, maybe in ways they hadn't thought about." – Judy Batenburg
"If you combine the business savviness and your technology skills- you'll have a glorious future." – Sam Kumar, Founder and CEO, Newcloud Networks
The future ahead is looking very bright for the tech industry as more and more companies are realizing the value of technology in business.