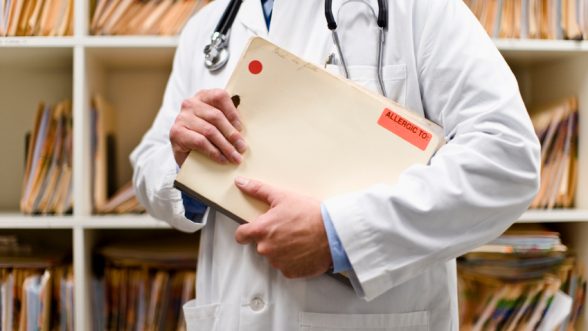 Although the healthcare industry has large databases of medical histories, medical professionals underutilize this potential resource. Medical professionals lack tools to compare medical histories of patients and use medical histories to improve decision-making.   To address this gap, Michael Mannino, PhD, associate professor of Information Systems, developed a research agenda to utilize medical histories in decision-making by healthcare providers.
The fundamental part of his plan is a similarity measure to help medical providers better identify patients that have strong resemblance based on their medical history. Measures developed in previous studies do not use unique aspects of medical histories and were not evaluated on real medical history data.
Mannino and doctoral student Joel Fredrickson developed a similarity measure using unique aspects of medical histories and evaluated it on actual medical histories of inpatient and outpatient events.  The results were published this year titled Development and Evaluation of a Similarity Measure for Medical Event Sequences in ACM Transactions on Management Information Systems.
According to Mannino, "The initial idea for studying similarity measures for medical histories began in my doctoral class in spring 2015 as a common class project. After much additional work, the class project blossomed into a conference publication, foundation for a doctoral dissertation, journal paper, and collaboration between the Business School and Computer Science and Engineering Department."
Collaborative research for better healthcare
The initial study is just the first part of Mannino's research agenda. The initial study indicated the superiority of the similarity measure compared to previously developed measures. However, larger questions remain unanswered about using the similarity measure to improve decision-making by medical professionals.
A second study, originated in Mannino's doctoral class in spring 2017, involves evaluation of the similarity measure to improve data mining performance in medical applications. Mannino and Fredrickson, assisted by team of students from his doctoral class are using the similarity measure for prediction of mortality and high risk patients. This study uses data from the National Trauma Data Bank for mortality prediction and the Center for Medicare and Medicaid for risk prediction.
The longer-term plans involve development of a query architecture for medical histories and evaluating usage of the architecture by medical professionals. Assistant Professor Farnoush Banaei-Kashani in the Computer Science and Engineering Department will collaborate to develop algorithms for massive medical histories.
A usage case for the query architecture could look something like the following. A doctor is presented with a complex case. Instead of relying on intuition or anecdotal evidence, the doctor utilizes the query architecture to search relevant medical histories. By providing data like demographics, circumstances, and symptoms of the patient, the query architecture then retrieves a list of similar cases that help the doctor see how other doctors have diagnosed and treated patients under similar circumstances. The doctor would then use these similar cases to make a more informed diagnosis and appropriate treatment for the patient.
Mannino as a leading researcher and mentor
Dr. Mannino is a strong proponent of collaborative research. This research involves supervision of Joel Fredrickson, a Computer Science and Information Systems (CSIS) doctoral candidate. Also, support from other doctoral students in both business and computer science was used in collaboration with Dr. Banaei-Kashani from the Computer Science and Engineering Department.
According to Mannino, "The CSIS doctoral program places a strong emphasis on interdepartmental collaborations to expand its impact on the real world. This research agenda epitomizes the potential of the CSIS program to combine information systems research with an emphasis on the evaluation of information technology on organizations with computer science research with an emphasis on the development of new information technology. "
Dr. Mannino is a notable educator and researcher recognized for his work in database management, data warehouses, and management of information technology. He co-developed the Coursera Organization's specialization, "Data Warehousing for Business Intelligence," attracting more than 70,000 active learners since its launch in late 2015. His other recent research focuses on a business strategy game about maturity of information technology usage in organizations.