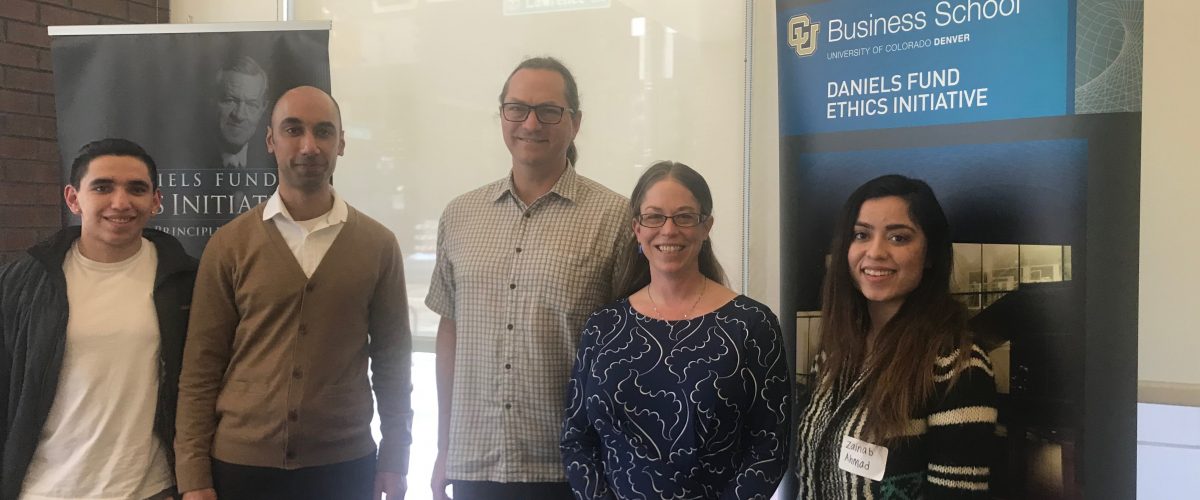 Natalie Wagner, a personal financial advisor and money wellness coach with a holistic take on the industry, sat down with CU Denver Business School students to share her unique and powerful insight on the power and potential of money and how a simple change in perspective can change the world for the better.
How she got here
"My love of cash flow lies in it being the vortex of where we interact with our money, and therefore, where we hold our power." – Natalie Wagner
The power of money (for good)

Natalie shared that money is not in itself "good" or "bad", but it is an immensely powerful tool. "Money has a lot of potential power and can and should be used for great good," she said.
Natalie teaches her clients how to make more conscious and thoughtful decisions about spending and creating money, and in turn harnessing the power therein.
MS Accounting student Roshan Darji expressed concern as he moves forward in his career when making ethical investment and career choices.
"I'd like to build a career that has ethics, meaning, and purpose from the start." – Roshan Darji, MS Accounting
Roshan asked, "How can I invest money in a way that makes me feel good? It feels wrong investing in a company whose principles I disagree with, but I also want to build wealth."
While Natalie's practice is not focused on long-term investment planning, she shared tools and information about socially responsible investing (SRI). This practice has grown in popularity in recent years, no doubt thanks to like-minded young people like Roshan that care deeply about supporting ethical organizations.
Natalie understood Roshan's monetary conflict. "Dollars can feel different based on how we earn and spend them. What's important to remember is to harness money's power in a way that truly serves us."
The effects dirty money can have
Natalie shared a story of a long-term client that had inherited a great deal of money from her wealthy family. She is smart and competent, but felt unfulfilled and conflicted about her inheritance that was created through what she felt was unethical means. She developed an unhealthy relationship with money and quickly established a habit of going on wildly indulgent shopping sprees she called "no-thought shops". She received no value or energy back from these sprees, actually feeling drained afterward. She was deeply sad and unexpressed, constantly comparing herself to what others think. Her unhealthy relationship with money had become a huge impediment to loving herself fully.
Natalie believes that you must have a good relationship with the money you earn and spend. If you feel guilty or ashamed of the money you've earned, resentment builds and the money becomes "dirty".
Natalie explained that when we are not proud of our money, we often try to spend it just to get rid of it. Instead, Natalie said,
"Make peace with your money. Take the money and use it with your own ethics and integrity, viewing it as a responsibility to spend it in a positive way for you."
About Lunch with Leaders
Lunch with Leaders is a recurring series of casual, conversational discussions over lunch to provide CU Denver Business School students the opportunity to meet and learn from business leaders that value and embody ethical business practices in our community.
These personal, round-table events are limited to 15 students in order to facilitate a genuine, small group discussion about real ethical challenges in the workplace.
The Lunch with Leaders program is funded by the Daniels Fund Ethics Initiative at the University of Colorado Denver Business School. The University of Colorado Denver Business School received a grant from the Daniels Fund to participate in the Daniels Fund Ethics Initiative, which is aimed at teaching students principle-based ethics, emphasizing real-world application of ethical principles, and extending ethical behavior beyond campus and into the community. Register online for upcoming Lunch with Leaders sessions.
Lunch with Leaders Spring 2018 Schedule
Thursday, March 15 | 12:15-1:30
Social Responsibility & Ethics in Marketing
Jonathan McGrew BSBA '06, MS Marketing '13
Director, Communication and Engagement, Solimar Systems
President & Co-Owner, Sideways Sports Lounge
Wednesday, April 4 | 12:15-1:30
Ethics in the Legal Profession
Yev Muchnik
Founder & CEO, ESQ Legal
Wednesday, April 11 | 12:15-1:30
Personal Integrity in Small Business
Wy Livingston
President & CEO at Wystone's World Teas
Owner & Founder, Purple Monkey cannabis-infused teas