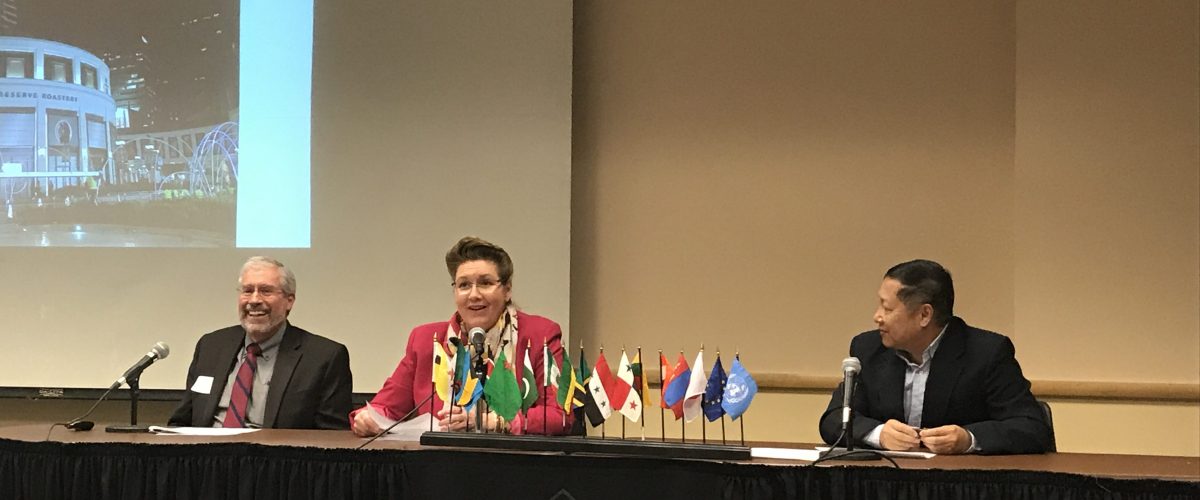 Last Thursday, the third floor of the Tivoli Student Union was packed with students from all across the Rocky Mountain region. Over 400 students from Metro State University, CU Colorado Springs, University of Denver, Colorado Christian University, and CU Denver attended the International Business & U student conference put on by the World Trade Center Denver.
The Business School has very close ties with the organizer of the event, Karen Warsh. She is a current MS International Business student and led the International Business Student Network organization last year. Through her networking and persistence, she landed a job at the World Trade Center Denver as their Director of Marketing and Engagement. Now, she's busier than ever juggling her studies and working for the World Trade Center Denver.
At the event, students networked with other students, faculty, and industry experts while learning about various international opportunities. Each speaker noted the importance and differentiating factors that studying or working abroad gives to each person.
Launch Your Career Through Global Opportunities
You learn a lot about your own culture as much as you learn about others.
This panel included two women who previously studied abroad and two international students who are currently studying in Colorado. They answered questions and described what they took away from studying abroad. The panel consisted of:
Moderator:
Roy Becker, Lecturer at CU Denver, International Business
Panelists:
Becker has 30 years of experiences in the banking world, lectures at CU Denver, and teaches three courses at the World Trade Center Denver.
Domestic and international students faced different challenges. Domestic students acknowledged a major challenge in financing a trip. On the other hand, international students spoke about the difficult and long process of acquiring visas from the US.
"Living abroad is the most difficult thing you'll ever do, but you learn so much about yourself and make such meaningful relationships. It makes it one of the most valuable things in the world that you can do," Warsh expressed.
In an international context, you don't have normal US commodities like ice or peanut butter. "You learn a lot about your own culture as much as you learn about others," shared Sletteland.
Navigating China: An Economic Powerhouse
This panel consisted of professionals and professors who are knowledgeable about the Chinese culture and economy, having lived or traveled there countless times. The panel went into detail about the business opportunities in China, compliance issues, and the outreach China is doing to expand its influence beyond its own borders through the Belt Road Initiative.
Moderator:
Doug Allen, PhD, associate professor of Management, University of Denver
Speakers:
China's expanding infrastructure
At the start of the discussion, Allen went into detail of China's new five-year plan. China plans on building 30,000 kilometers of highways and 30,000 kilometers of high-speed rails with a goal of connecting 80 percent of China's cities by rail.
 China has the largest country population of 1.38 billion people and holds the title as world's largest economy since 2014.
China plans on building a new "New York City" each year for the next 10 years and three billion square meters of housing because they are hoping to see 300 million rural dwellers move to cities.
China has the largest country population of 1.38 billion people and holds the title as world's largest economy since 2014. It is also the world's largest exporter and second largest importer of goods.
To put the perspective of the size of China and its growing economy, China's accomplishments were listed:
Shanghai possesses the largest Starbucks in the world at 30,000 square feet. There are currently 2500 Starbucks in China, and Starbucks plans on opening a new store every day for the next five years.
Analysts predict China will suppress the US as the world's largest commercial aviation market by 2030.
Boeing predicts China will need 7240 new aircrafts over the next two decades. China will build 74 new airports and expand 139 airports by 2020.
A new skyscraper is built ever five years.
China uses more cement in three years than the US used in the entire 20th century
It almost goes without saying that there are endless opportunities awaiting in China.
China's One Belt One Road Initiative
Chen described China's Belt Road Initiative that will cost $1.5 trillion dollars. In one route of the Belt Road Initiative, China will fund the infrastructure in countries along the old Silk Road linking it to Europe. They will have several other routes joining trade routes to Europe. He advised that if you relate any project to the Belt Road Initiative or China's Five-Year Plan, then it most likely will get approved.
Some people fear the Chinese economy is slowing down, but Chen believes China is readjusting itself. He believes the next five to 10 years will be the second takeoff of the Chinese economy. "Therefore, the business opportunities will be tremendous," Chen stated.
With the world becoming more and more global, having an international mindset is key to success.
China and its connection to CU Denver
Chen helps build bridges between China and CU Denver by taking students and faculty abroad to China.
Other opportunities for international exposure include a number of study abroad programs in countries like Ireland, Dubai, and China. We also are home to the prestigious Center for International Business Education and Research (CIBER) grant designated by the US Department of Education. They put on various roundtables to allow experts to speak on a number of topics related to global business.