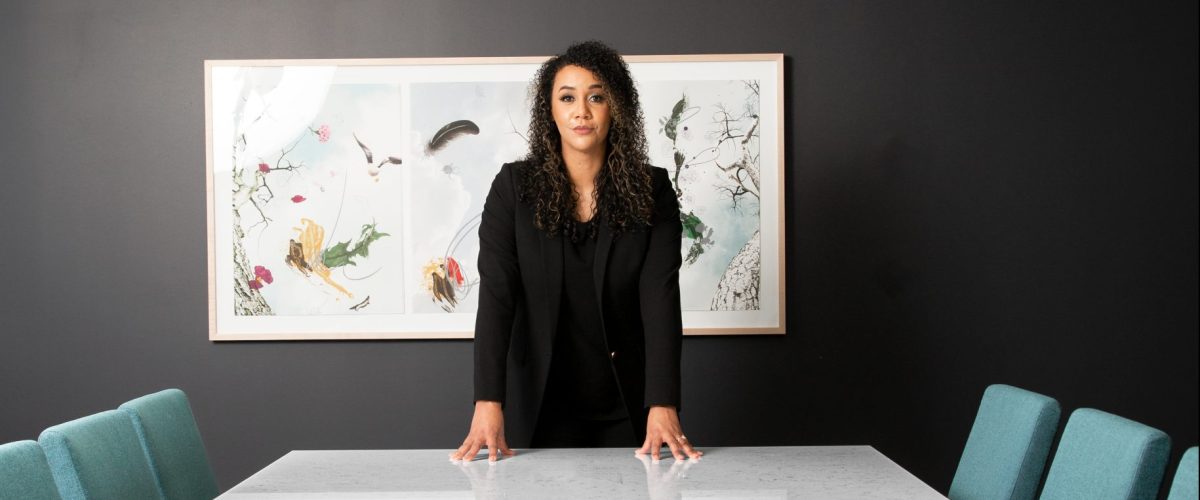 Did you know that less than 1% of venture capital funding goes to BIPOC-owned businesses? Yes, you read that right. Despite the growing awareness of racial equity and the push for diversity and inclusion in the industry, entrepreneurs of color face systemic barriers when accessing capital.
Danielle Shoots is changing the color of capital. The CU Denver Business School alumna is the founding partner and managing director of the New Community Transformation Fund-Denver (NCTF-Denver), an early stage Venture Capital Fund created in 2022 to support BIPOC Founders and Businesses located or interested in relocating to Colorado. With a background in business administration and leadership across multiple industries, Shoots promotes racial equity in the venture capital industry. The Business School recently met with her to learn more about her investment philosophy and NCTF-Denver's impact on the broader business community and the U.S. economy.
Shoots loves to learn and defines herself as a builder. She developed the idea for NCTF-Denver during the COVID-19 pandemic when she began extensive research on small businesses and businesses led by women of color; Shoots discovered a dearth of BIPOC business-focused equity products. In fact, according to Axios.com, "Over the last several years, the venture capital industry has made countless pledges about hiring and funding more Black investors and entrepreneurs. However, venture dollars under Black management remain small with 99.97% of total capital under management by Black VCs controlled by men, while women only managed 0.03%."
Given the economic gap and her passion for social change, Shoots left the traditional corporate world after a successful career to co-fund the New Community Transformation Fund (NCTF-Denver). "As a visionary, I knew I would eventually start something independently. Before co-founding NCTF-Denver, I felt at the time that I knew what my community needed and felt I had the resources to be a part of a solution that I know is desperately needed in Colorado and the country," Shoots said.
Making a Difference
Accord­ing to the US Gov­ern­ment Account­abil­i­ty Office report, less than 1% of the $70 tril­lion dol­lars in U.S. assets under man­age­ment are invest­ed in busi­ness­es led by BIPOC individuals. This weak support could suggest a lack of understanding of the BIPOC experience. This may indicate an unconscious bias among non-BIPOC venture capitalists despite studies demonstrating that business owners of color meet and exceed market expectations.
Data from 2018 revealed that "only 20% of venture capitalists were Asian men, 6% were Asian women, 3% were Black men and women, 1% were Latino men, and less than 1% were Latina women." (reported by Richard Kerby at Equity Ventures and shared in BLCK VC). Thus, entrepreneurs of color find themselves pitching to investors who may not understand their unique experiences and the challenges they face.
With NCTF-Denver, Shoots is moving the needle on wealth disparity in the community and giving BIPOC innovators and entrepreneurs the backing they need. As Colorado's first Black-owned and Black woman-led venture capital firm, NCTF-Denver is working to expand access to capital to diverse entrepreneurs and invest in the early stages of BIPOC+ founders. Shoots consider that initiative a smart investment because she firmly believes that supporting the unsupported helps create a dollar value that goes further. "My investment philosophy is that we bet on the companies the system has missed," Shoots said.
Within a few months of its creation, NCTF-Denver made its first close in 2022 with "$10.6 million in commitments from five founding investors led by Bank of America and a total approved investments to date reaching $24.1 million." Regarding that accomplishment and the major milestones that have yet to come, Shoots proudly asserted, "We're one of a kind. We're not just making a difference. Hopefully, we are changing how people do this work entirely." NCTF-Denver aspires to raise a fund maximum of $50 million in 2023.
The Power of Purpose
When asked about her unique experience as a black person in the venture capital industry working to advance racial equity, Shoots frankly acknowledged the complexity of the challenge. "It's been the hardest thing I've ever done in my career. We're building something difficult and historic, and the system makes our work hard." She further shared the particularity of her experience as a woman and emphasized that "there's a reason why there are a few women in this industry."
Still, Shoots is determined to continue the work. Despite having many reasons to quit, the feeling that she is walking in her purpose reassures Shoots and gives her the boost she needs. "I might not make everyone happy, but I can leave the industry and the system a little better than I found it. We will make a change. I might not be around to see it, but the impact will ripple."
Finding Joy in a Journey of Uncertainty
As she navigates such a nuanced industry, Shoots believes in the importance of planning while still taking it day-by-day and step-by-step, so when asked about her plans for the rest of the year, Shoots said, "This is a ride. We're pivoting every day. I try to stay calm and keep my eye on the end goal."
Shoots take this mindset with her in every aspect of her life and try to enjoy life no matter how hard it gets. She is determined and motivated. Her advice to other young women and girls of color? "You will have to face some things that others don't, and you will have to gather the energy somewhere else to carry that. So, know yourself well and be unapologetic about who and what you are. I wish I would've known how badass I was!"