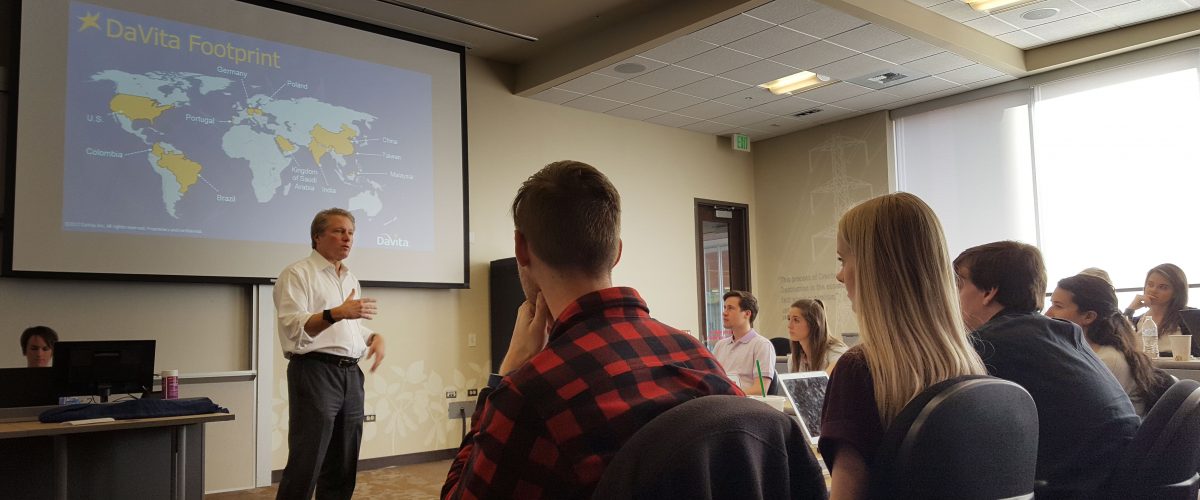 In 1999, DaVita, then known as Total Renal Care, restructured itself to come back from the brink of bankruptcy. Kent Thiry, newly tapped as the organization's CEO, played a pivotal role in turning the company around.
Nineteen years later, DaVita is a leader in healthcare, focused not only on improved clinical outcomes and holistic care, but also on participating in positive community impact. Now a Fortune 500 company, the company brings in over $10 billion in annual revenue, operates in 12 countries around the world, and delivers healthcare to nearly two million patients.
DaVita is unique because of its mission of employee engagement and empowerment. Thiry travels to leading organizations across the nation to speak about creating this sense of community and why it continues to be a driving force in DaVita's success.
One of these visits was down the street from DaVita's headquarters in a classroom at the CU Denver Business School. Errol Biggs, director of the health administration programs, regularly brings in CEOs from healthcare organizations around the country as a part of his Profiles in Healthcare course.
A community as the core of DaVita
Creating the kind of community that DaVita strives for is a process that takes a lot of work because of natural skepticism and resistance.
Thiry expressed his appreciation to discuss these topics with future healthcare leaders who are in the first stages of developing their philosophy in leadership and management. He believes that establishing this mentality early is crucial in the success of these student's careers and the success of healthcare organizations globally.
"Executives don't care how much you know until they know how much you care," Thiry advised. "We set out to create a differentially healthy workplace, a place where you care about each other as much as your patients."
"Executives don't care how much you know until they know how much you care." – Kent Thiry
Overcoming healthcare's short-term mentality
Money is required to do good things, but that it is exponentially truer when it comes to healthcare. Healthcare is expensive, and it's extra tricky when the system disincentivizes companies to invest in long-term solutions.
The economics of adding value to a diabetic's life so they don't go from moderate to severe symptoms or keeping someone with allergies out of an ER are undeniable. The issue at hand is the healthcare system is rigged to focus on large short-term costs to the detriment of these kinds of long-term benefits.
The system is organized in such a way that preventative care requires a lot of upfront capital. Healthcare organizations don't necessarily get reimbursed for that work when they need the money.
Thiry commented, "The economy's essential, but it's a means and not the end. The end is what we do as we take care of people and how we share the economics of our business with our community."
"The economy's essential, but it's a means and not the end. The end is what we do as we take care of people and how we share the economics of our business with our community." – Kent Thiry
Thiry's solution is his DaVita community, hiring and training the right people. DaVita's perfect candidate has a high level of emotional intelligence.
DaVita then continues to nurture those core values through professional development trainings and events. For example, DaVita's 75,000 employees are invited to two-day academies where the focus is on values, self-awareness, and reflection.
"People want to be involved in organizations where they can have a lot of trust in each other. DaVita has demonstrated an unusual level of honesty and unusual amounts of fun," Thiry said. "We're the biggest small company in America."
When it comes to leadership, intentionality rules
One of Thiry's favorite business tips to offer students is that when it comes to leadership, intentionality rules. In other words, "Begin with the end in mind."
"Begin with the end in mind." – Kent Thiry
This is especially important in any type of crisis situation, be it with a small start-up or global company. Thiry equated a crisis to the Super Bowl in that everyone is listening and watching.
"What you say what you do at that critical moment will count a hundred times more than if you wait until things are going well," he advised. "If you're sincere, they realize their desire is the same as yours."
Building strong foundations for future healthcare leaders
Thiry was one of a number of top CEOs in the healthcare industry invited to speak to MBA in Health Administration students as part of the Profiles in Healthcare course. Designed for health professionals looking to add an MBA to their skill set, it's preparation for senior level management positions in the industry.
Biggs said, "This has been an incredibly popular course, where students will remember a particular speaker for years. We also have a number of graduates working with DaVita, and he [Thiry] enjoys talking to our students."
All of the CEOs who visit discuss what they look for in healthcare leaders of tomorrow, as well as the skills they look for when they hire, emphasizing the need for networking and integrity. With the success of DaVita and the Business School's downtown Denver location, Thiry was a perfect fit for the class.
A top health administration program
CU Denver's health administration program has been consistently ranked by US News and World Report as one of the top 25 graduate healthcare management programs in the country. The school is also accredited by the most prestigious healthcare administration accreditation body, the Commission on Accreditation of Healthcare Management Education (CAHME).
The program also belongs to the Business School Alliance for Health Management (BAHM).  BAHM is an exclusive group that includes the Harvard Business School, Yale, the Wharton School of Business, among others.