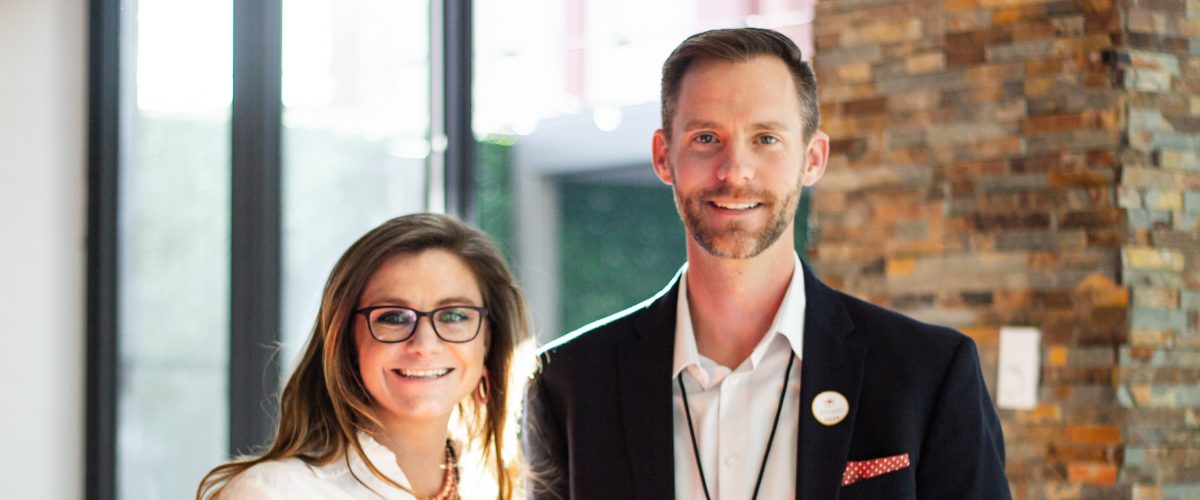 Whitney Setterberg and Peter Boardman, both students in the CU Denver Business School Professional MBA program, won the 2019 CLIMB Business Plan Competition on April 25 when they pitched their peer-to-peer storage service called STOWED. THE CLIMB, an annual event put on by Jake Jabs Center for Entrepreneurship, is designed to help student entrepreneurs transform their ideas into viable businesses through education, mentorship, networking, and financial support. It gives these students the chance to network with and pitch to some of the most successful entrepreneurs in the state of Colorado.
Whitney and Peter met in the very first class of their graduate program. They both had a lot of ideas to bring to the table and knew they wanted to pursue a business plan together. To do this, they joined the Business Model Development and Plan elective course with Madhavan Parthasarathy, PhD, Director of the Jake Jabs Center for Entrepreneurship. In this course, they created the business plan for STOWED that they would pitch at THE CLIMB | Pitch Night.
As the winners of THE CLIMB, they took home the grand prize $7,500 to invest in their company. Not only this, but they now have several mentors to really help STOWED get up and running.
Finding an opportunity with the Jake Jabs Center for Entrepreneurship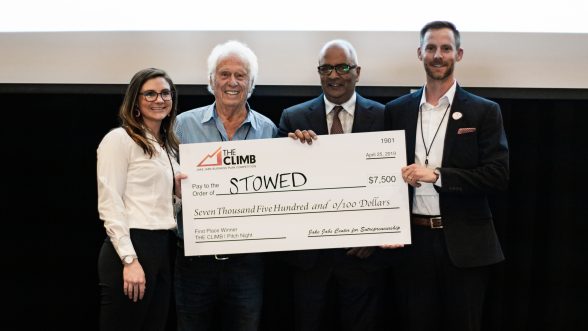 Every year, the Jake Jabs Center for Entrepreneurship encourages students to pursue their business ideas and apply to compete in THE CLIMB. Along the way, the program offers mentorship, guidance, and strategies for refining business ideas. Whitney stated, "What's really cool about the Jake Jabs Center is that they're encouraging young minds to really go for it and then offer their support in the back end with so many connections."
Whitney and Peter continuously emphasized how excellent the feedback was that they received along the way and how much it helped them. They did tons of research to make sure there was a need in the market for their idea. And with the help of the folks at the Jake Jabs Center, they were able to confirm the viability of the business plan.
"It was cool to win the big award and get that initial investment and really see that some of the ideas we had could come to fruition." – Whitney Setterberg
Something they're both grateful for is the amount of resources they now have access to. "It was cool to win the big award and get that initial investment and really see that some of the ideas we had could come to fruition," said Whitney. "But we also had a lot of different entrepreneurs and resources reach out to us immediately afterwards." Their next step after winning the competition is to reach out to these entrepreneurs and continue to raise funding for STOWED.
STOWED: a peer-to-peer platform for storage
From the beginning, Whitney and Peter knew that this was a viable idea that could potentially take off. To put it simply, STOWED is a web and mobile-based platform for shared marketplace companies. People can choose to be either a host or a user and create a profile for themselves. On the user side, the tenant will state their space requirements, what they need stored, and for how long.
"We're still figuring out the intricacies of the length of time and how to bill," said Peter. "But our primary objective is to go after short-term users that would be able to pay for a per-night or per-cube of space rate."
On the host side, they can see what the users are looking for and accommodate accordingly. They can list the space they have available, take pictures of the space, and create a profile for users to see. Spaces can include garages, basements, spare bedrooms, attics, or any space the host feels is useful. Hosts can also specify their availability windows, just as they would in other shared marketplace companies like Rover or Airbnb. The hosts can block off any time they don't want to host or they can host multiple users at once.
Both the users and the hosts gain value from the platform. For the users, the value proposition is that they only have to pay for space in the time that they need it. They can avoid the constraints of typical long-term storage facilities. As for hosts, they can earn money from unused storage space. By being able to host multiple users and set their time availability, they control the amount of money they make off of their space.
"There are a lot of current storage options that are a bit more rigid and fixed," said Whitney, "This can offer that flexibility for both the user and the host." Whether it's for seasonal gear that you can't fit in your apartment, or you don't know where to put your old couch for a week, or you're in the middle of moving homes – STOWED has got you covered.
Preparing for pitch night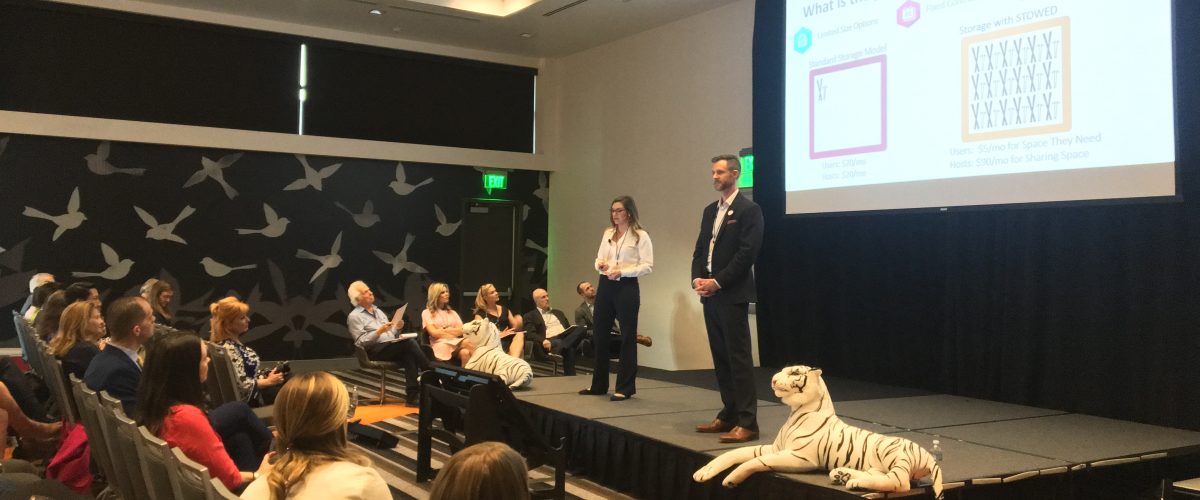 4 minutes. That's all you get to pitch your business idea. It's not a lot of time to articulate your idea and to show the judges the true benefits of a product or service. But as Whitney and Peter reflect on it, they said it helped them to refine their idea even more. "It's amazing what you can get done in four months and then what you can get done in four minutes," said Peter.
Memorizing the script and making sure to get all the important points into the pitch is only part of the challenge. "You definitely want to get across your idea and articulate well," explained Peter. "You get some help along the way refining that but you always wonder if you're communicating well enough to the judges so that they see why we're different."
 "The amount of time it took to refine the idea and actually get it out in four minutes was not easy," said Whitney. "But I think if you can refine it that far it means you've got a good direction on where you really want to take something, which is pretty cool."
Advice for aspiring entrepreneurs
Both Whitney and Peter strongly encourage aspiring entrepreneurs to never give up on their ideas. Even when your business idea doesn't win a competition like THE CLIMB, you receive valuable feedback, suggestions, and support during the process. Entrepreneurs aren't done after just one idea. Peter said, "Every experience that you have along the way is going to be beneficial. You learn something from every opportunity."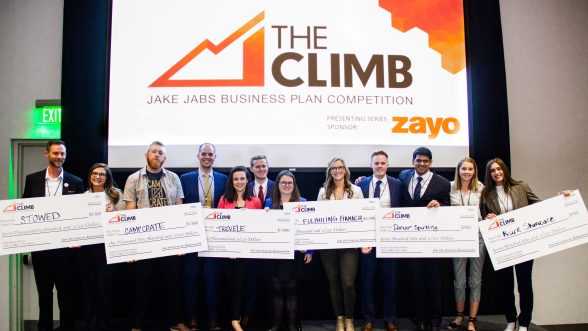 They also expressed the importance of refining an idea as early as possible. "Get ahead of the deadlines," said Peter, "Start working on your pitch video and your business plan early."  Using mentors along the way is huge. STOWED became what it is because they took advantage of every opportunity to receive criticism and advice on their work. Take any criticism along the way with a grain of salt and don't be afraid to dive headfirst into the entrepreneurial world.  
Plans beyond THE CLIMB
While they're thrilled they won, Peter and Whitney realize that there is still a lot of work to be done. Their main goal is to continue to raise money and find people willing to invest in STOWED. They explained that they're not first to the market they're entering, with a competitor already on the horizon. So for them, this means they have to do it better. "We have to get our message out faster and more broadly, which takes a lot of money to do well," said Peter.
They're taking this business plan week by week to really make sure they get it right. They realize that in a startup company like theirs, they have to think about what they need right now to keep everything moving in the right direction. Whitney stated, "At the end of the day, our goal is to make sure that this is moving forward as fast as possible. Our goal this month is to look at it objectively so that we don't get wrapped up in roles, but really figuring out what it's going to take to make STOWED big."
"The great thing about this competition is it's a safe and exciting environment to come share ideas or hear ideas to become more comfortable with the idea of entrepreneurship." – Peter Boardman
Overall, Whitney and Peter are extremely grateful for their experience with THE CLIMB and the Jake Jabs Center for Entrepreneurship. They were ready for this risk, but see the platform as a great place for young entrepreneurs to be willing to take the same risk they did. Peter explained, "The great thing about this competition is it's a place for people who want to be an entrepreneur but think it might be a risk at first. This is a safe and exciting environment to come share ideas or hear ideas to become more comfortable with the idea of entrepreneurship." For them, the risk was worth it and they can't wait to see where STOWED will take them.
---
For more information about the Jake Jabs Center for Entrepreneurship, or to get involved in THE CLIMB: