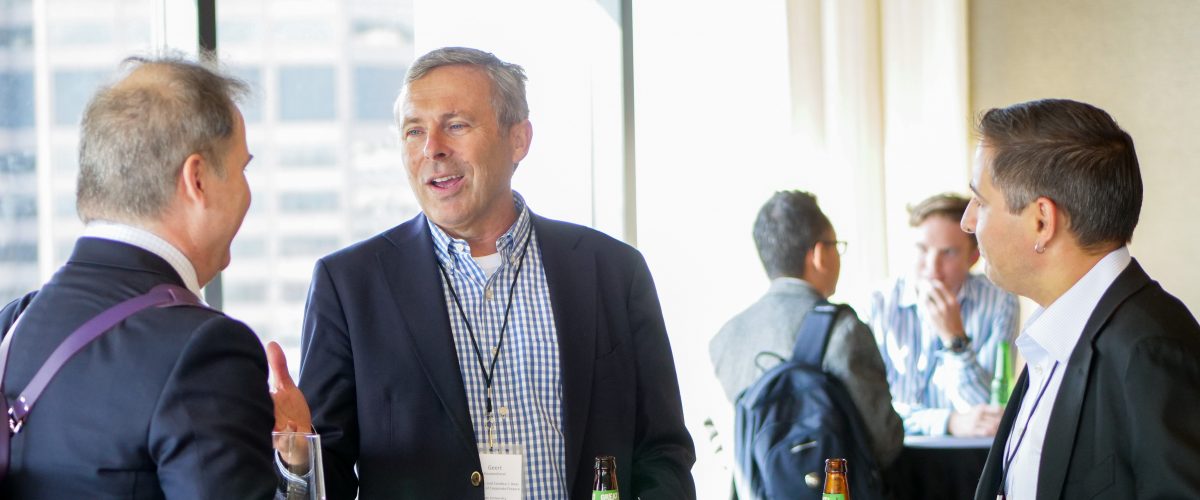 The New Directions in Commodities Research international symposium returned to the CU Denver Business School on August 12-13, 2019. Led by the J.P. Morgan Center for Commodities, the symposium brought more than 140 academic researchers and industry practitioners from around the world to discuss current challenges and advancements in commodities research.
These high-profile attendees included academics, policymakers and industry professionals from more than 50 companies representing 11 countries. The conference hosted senior professors from Yale, Stanford, MIT and UC-Berkley; policymakers from the Federal Reserve Board, the Commodity Futures Trading Commission and International Monetary Fund; and professionals from JP Morgan, CME Group, CoBank, Robert Bosch, Janus Henderson and more.
Sessions that speak to the heart of commodities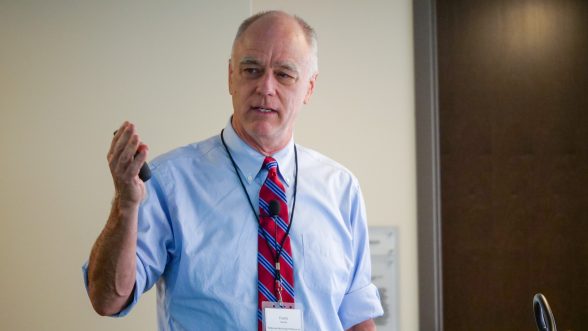 The symposium's 10 sessions were limited to outstanding research and spanned 26 competitively selected paper presentations and three panels. In particular, there was a special energy panel co-organized with CFA Society of Colorado.
Keynote speakers and distinguished participants included:
The Benefits of Purely Financial Participants in Commodity Markets, Frank A. Wolak, Holbrook Working Professor of Commodity Price Studies, Stanford University, and NBER
The Commodity Risk Premium: 1870-2019, K. Geert Rouwenhorst, Robert B. and Candice J. Haas Professor of Corporate Finance, Yale School of Management; JPMCC Distinguished Visiting Fellow
Oil, Equities, and the Zero Lower Bound, Robert J. Vigfusson, Assistant Director and Chief, Division of International Finance at the Federal Reserve Board
Risk Appetite and Intermediation by Swap Dealers, Scott Mixon (Commodity Futures Trading Commission) and Esen Onur (Commodity Futures Trading Commission)

A presentation from Robert J. Vigfusson, Federal Reserve Board. Photo by Patrick Campbell. 

Oil Prices, Exchange Rates and Interest Rates, Lutz Kilian, Federal Reserve Bank of Dallas & CEPR
For many of those in attendance, the most valuable part of the conference was sharing research and ideas between academics and industry professionals.
"The symposium does a tremendous job of focusing attention on topics that are of current interest to both academics and practitioners," said Bluford Putnam, Chief Economist & Managing Director at CME Group. "In a lot of fields, the concerns of academics and practitioners are so different that there's no communication between the two. This conference is highlighting academic research that's important to practitioners, which is incredibly valuable and pretty much doesn't exist in other conferences."
"There's an amazing caliber of professors here from universities all over the world, and the impact of that can't be underestimated." – Kassie Davis, Executive Director of the CME Group Foundation
Exploring commodities markets through a multidisciplinary lens
Rather than focus on one field or industry, the New Directions in Commodities Research symposium features researchers and industry professional from a cross-section of commodities fields.
"I've spent my whole career in energy, so it's great to connect with folks from different industries," said Daniel Baruch, Director of Global Energy Markets & Business Development at URSA Space. "I've had the chance to talk with researchers and professionals in agriculture, glass, metals, chemicals, renewables like solar and wind, things I've never thought much about. It's been enlightening to learn more about different fields and make contacts in different industries."
Across commodities industries, the symposium places emphasis on derivatives trading, financialization and risk management. It also explores the nuances of commodities markets with papers and presentations, including: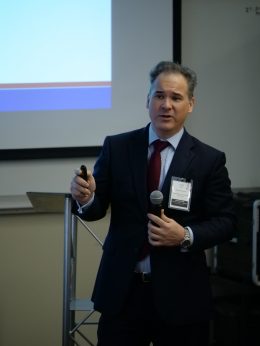 Diversification and Financialization in Commodity Markets: Evidence from Commodity Trading Advisors, Yong Chen (Texas A&M University), Wenting Dai (Texas A&M University) and Sorin Sorescu (Texas A&M University). Discussant: Ke Tang, Tsinghua University
Demystifying Commodity Futures in China, John Hua Fan (Griffith University, Australia) and Tingxi Zhang (Griffith University, Australia). Discussant: Xiao Qiao, Paraconic Technologies US Inc.

Never a Dull Moment: Entropy Risk in Commodity Markets, Fousseni Chabi-Yo (University of Massachusetts), Hitesh Doshi (University of Houston), and Virgilio Zurita (Baylor University), Discussant: Haibo Jiang, Tulane University
"The most valuable part of this symposium for us is networking and getting to know the experts in all these different commodities markets," said Scott Mixon, Supervisory Economist and Associate Director of the Office of the Chief Economist at the Commodity Futures Trading Commission. "The participants and attendees of this conference have an enormous amount of knowledge and expertise in their research fields. It's so important to have a network of contacts you can call on in a variety of different industries, and this is the one of the places we've developed that network."
Providing value for industry and academics alike
Industry panel discussions, some of the more popular sessions at the symposium, provide opportunities for practitioners across various fields to share their experience and knowledge with the academics in the audience.
At three industry panel discussions, this year's attendees heard from:
Charles Anderson, Senior Client Portfolio Manager, Oppenheimer Funds
Douglas J. Arent, Deputy Associate Lab Director, National Renewable Energy Laboratory (NREL)
Daniel Baruch, Director, Global Energy Markets & Business Development, URSA Space Systems
Abhishek Deshpande, Head of Global Oil Market Research & Strategy, J.P. Morgan
Timothy Fitzgerald, Former Chief International Economist, the US President's Council of Economic Advisers; Associate Professor of Economics, Texas Tech
Julie A. Lerner, CEO, PanXchange
Dave Neslin, Attorney, Davis Graham & Stubbs LLP
Andrea Pescatori, Commodity Chief, International Monetary Fund
Tom Petrie, Petrie Partners
Bluford Putnam, Managing Director and Chief Economist, CME Group
Karl Skold, Head of Agricultural Economics, JBS
Lance Titus, Managing Director, Uniper Global Commodities.
Chris Wright, CEO & Chairman, Liberty Oilfield Services
"This is my third year attending the conference, and one of the things that keeps getting better and better each year is the industry panels," said Kassie Davis, Executive Director of the CME Group Foundation. "There's an amazing caliber of professors here from universities all over the world, and the impact of that can't be underestimated. But the industry panels really tie the whole event together."
Geert Rouwenhorst, a Chair Professor of Finance at Yale School of Management and a keynote speaker at the symposium, agreed. "What strikes me about this conference and what makes it different from other conferences is that there's a parallel track of practitioners and academics. That's what's most interesting – during coffee breaks, you can hear these new connections being made between professors and professionals, which is very refreshing."
A special issue of Journal of Futures Markets, a leading finance journal in futures and derivatives, will be published based on selected papers presented at the 2019 symposium. Along with the inaugural special issue for the 2018 symposium, published in August, this captures and shares the cutting-edge research being presented at the conference each year.
Building a reputation for excellence around the world
Led by Jian Yang, Research Director at J.P. Morgan Center for Commodities and conference organizer, the New Directions in Commodities Research symposium is developing a reputation both at home and abroad. The 2019 symposium was attended by leading scholars and professionals from Argentina, Australia, Canada, China, Germany, Poland, Netherlands, Singapore, Spain, the U.K., and the United States.
The 2019 conference has been covered in several prominent Chinese news publications, including the Economic Daily (经济日报) and the Futures Daily. There are stories planned in China Futures Magazine and Denver-based Asian Avenue magazine as well, elevating the reputation of the J.P. Morgan Center for Commodities on a global scale.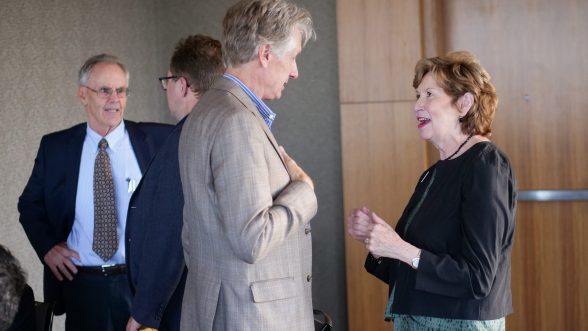 Members of the J.P. Morgan Center for Commodities team, including Matt Fleming, Program Manager, and Yosef Bonaparte, Director of the JPMCC, work tirelessly throughout the year to make the center and the symposium a success. The event also had great support from the CU Denver community, with Chancellor Dorothy Horrell attending the final evening of the conference to deliver concluding remarks and attend the award ceremony. Paul Teske, Dean of School of Public Affairs at CU Denver and University of Colorado Distinguished Professor, moderated the joint energy panel with CFA Society of Colorado.
The event this year also greatly benefited from strong support from many professors including several department chairs and chair professors at several other major research universities on the Front Range, including CU Boulder, Colorado State University, Colorado School of Mines, University of Denver, and University of Wyoming.
Yang and Dr. Gary Colbert, Interim Dean of the CU Denver Business School, are very proud of the growth and reputation of the symposium and the platform the J.P. Morgan Center is creating. "Based on the feedback we received from many participants during the conference, the conference continues to be more valuable for commodities researchers and practitioners each year," Yang said. "We're looking forward to next year's symposium and offering an even better event for our guests."