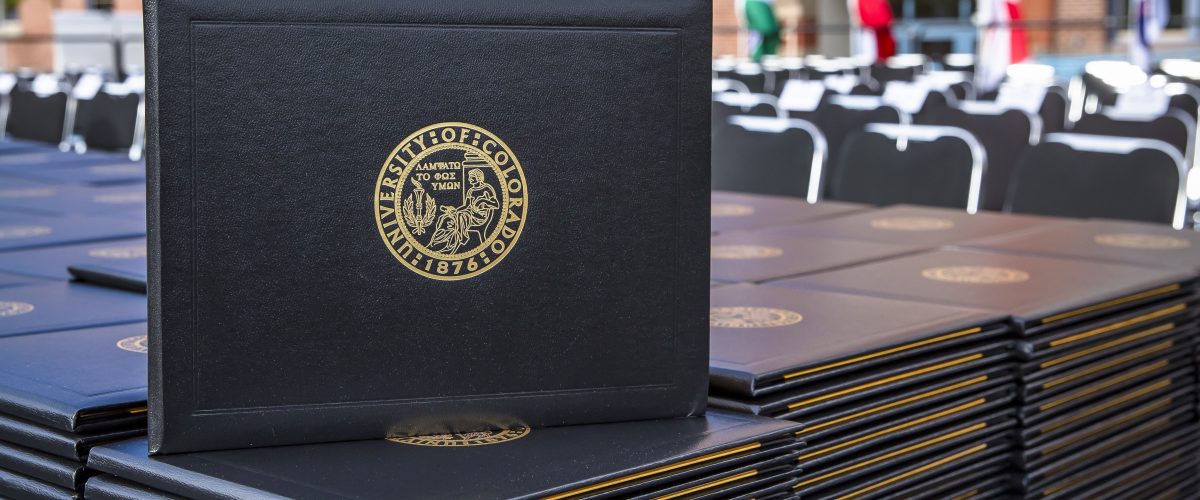 Continuing our tradition of honoring our graduating students, two graduate and two undergraduate students were selected this Spring semester as recipients of the Outstanding Student Awards. These students are recognized for going above and beyond to excel in their classes, getting involved in the CU Denver Business School, and giving back to their communities.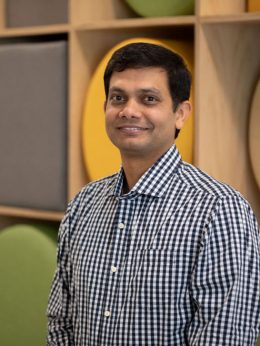 Venkat Korlakunta, MS Information Systems
Venkat Korlakunta has always been eager to learn how systems work. This interest inspired him to enroll in CU Denver's MS in Information Systems, where he became fascinated with cybersecurity, risk management, and digital forensics. He's confident the knowledge and skills he learned will open many doors for him, in his current organization and in other organizations across the world.
In addition to shaping his career, Venkat's degree has also been impactful in his personal life. He comes from a rural background in southern India, where his family works in agriculture. Venkat's father worked hard to provide his children with the opportunity for an education. "It's always been his dream to see his kids graduate from an American University," Venkat recalls. "That dream was so close to being realized. I had already booked his flight from India so he could attend my graduation ceremony. That was before the COVID-19 global pandemic forced us to change plans." Although his father won't be able to travel to Denver for the occasion, and CU Denver's Spring 2020 commencement ceremony will be held remotely, Venkat's father is proud of his achievements.
Venkat's father was not his only inspiration to succeed at CU Denver. His wife and daughter have encouraged him throughout his time in the program. "I've been working full-time in addition to my coursework, and this wouldn't have been possible without my family's support," Venkat says. "It's been a great opportunity to teach my daughter about commitment and dedication. She's often asked me, 'How can you read for so many hours at a time?' As she watches me study and work hard, she's learning about the value of education."
Although Venkat has been busy with his full-time job, school, and family, he also finds time to serve his community. He's an active member of the Longest Day Foundation, an initiative by the Alzheimer's Association that brings thousands of participants from across the world together to raise funds and awareness for Alzheimer's. Each year, Venkat organizes hiking trips and provides food and camping gear to the participants of this fundraiser. He's also involved in his local community food bank, participates in the Meals on Wheels distribution program for senior citizens, and volunteers with his company to pick up litter at Rocky Mountain National Park. "These moments are the most satisfying of my life," Venkat reflected. "Especially volunteering with my community's local food bank. Getting to know the people who use these resources has changed my outlook on how fortunate my family is."
As Venkat reflects on his time at CU Denver, he's grateful for his professors and classmates that made the experience so enjoyable. After graduation, Venkat is hoping to transition to a new role in his organization's cybersecurity division, where he can implement security frameworks to protect the company's information assets. He looks forward to completing his degree and hopes someday he can show his father the campus where he studied. And he shares some final inspiring words from Mahatma Gandhi: "Live as if you were to die tomorrow. Learn as if you were to live forever."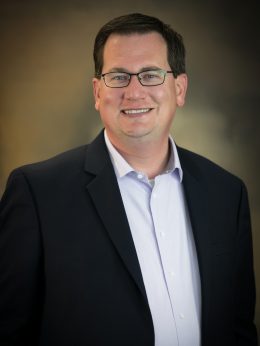 Chris Wilson, MBA in Health Administration
Before he decided to study business, Chris Wilson worked as a pharmacist for many years. As a Board-Certified Pharmacotherapy Specialist, Chris had many years of clinical education, which consisted of lectures and tests designed to produce a qualified healthcare worker. "There was always a right answer," Chris recalls. "There was no real focus on problem solving, strategy, or innovation in my clinical training." When Chris accepted a leadership role without any formal training, he realized he had a lot to learn. That's when he enrolled in the CU Denver Business School's MBA in Health Administration.
"I decided on CU Denver for several reasons," Chris says. "I wanted a program with mostly in-person instruction and classes. I already had a fondness for CU, where I'd also completed my Doctor of Pharmacy degree. And after speaking with faculty about how the program teaches students to lead in the healthcare business, I knew it was the right fit for me."
Before Chris started his MBA, he had taken over a struggling specialty pharmacy operation, which became his very own "living lab," a business where he could experiment and apply various techniques. "I started to apply some of the strategies from class, sometimes straight out of the textbook and sometimes with my own twist on the lessons," Chris recalls. "It taught me to speak the language of the C-suite to unlock the resources I needed to grow."
One aspect of the MBA program Chris was eager to dive into was leadership skills. As his team grew from 2 direct reports to 32 direct and indirect reports, he had to find ways to integrate new hires into rapidly growing and changing processes. "Finding, recruiting, training, and leading this many new individuals still gives me a little bit of heartburn," Chris admits. "But the MBA program provided multiple classes focused on team leadership, creation of a common mission and vision, and performance management. These tools have come in handy as my organization grows."
There was also an element of service and community benefit that Chris derived from his time at CU Denver. When Chris embarked on a project to create a comprehensive specialty pharmacy benefits coverage program, he realized that his organization didn't have many resources devoted to helping patients untangle their pharmacy benefits and expenses. Applying the lessons from his courses, he created a fully articulated business plan to establish a pharmacy financial counseling service. "We have secured over $5M in external funding for pharmacy patients since 2018 and we have provided over $500K in direct assistance to patients in our practice," Chris says. "We started with the expectation that no patient would be left without appropriate support, and I think that has made all the difference."
"The MBA program has exceeded my expectations," Chris says of his time at CU Denver. "Most of my classes have been focused on problem solving. I've learned to apply various management theories to innovate solutions. Essentially, it was the missing pieces of how to execute in my new role that my clinical education left out." In the end, Chris has grown his division from $6M in annual revenue to $46M in the last 6 years. They now serve more than 1,000 high-risk patients in 6 states. Most importantly, his patients are now robustly supported in their pharmacy care.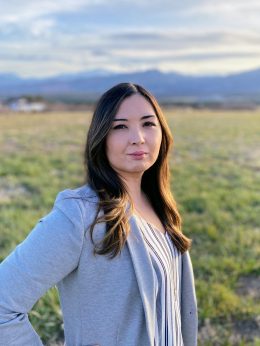 Vanesa Nasi, BSBA in Information Systems
For Vanesa Nasi, a BSBA in Information Systems is a dream that once seemed impossible. Since she started earning her degree eight years ago, her academic journey has not gone smoothly. As a wife and mother of two kids, she credits her family for giving her purpose and encouraging her not to give up.
"I've always wanted my children to know that higher education is important," Vanesa says. "Ultimately, I did this for them. I want them to know they can succeed, and I want them to have an easier journey that I had." Vanesa also relied on the love and support of her husband, who encouraged her to enroll at CU Denver and to chase her dreams. "I'm fortunate to have married someone who truly believes in me. He could see my potential even when I couldn't, and that helped me grow as a person," Vanesa reflects.
Vanesa's parents also inspired her to earn her degree. She's a first-generation college student, and she watched her parents struggle throughout her childhood. "My parents were part of a generation that worked all the time. Nothing came easy for them," Vanesa recalls. "They were so proud of me for getting good grades and they loved celebrating my accomplishments. I couldn't wait for them to watch me walk across that stage and get my diploma."
Unfortunately, life had other plans, and Vanesa's mother passed away in 2018. It was a devastating loss for Vanesa, who struggled to find her purpose without her mom's guidance and encouragement. "Suddenly it felt like my dream meant nothing," Vanesa shares. "I wasn't sure anymore if I was up to the challenge. Then, my family rallied to inspire me to continue this journey."
Now, as she's poised to graduate from CU Denver in May, Vanesa realizes that nothing about this big day will be the way she pictured it. "I've always imagined the excitement of waking up early for the ceremony, the bittersweet feeling of my last commute to campus." Although she won't have the graduation day of her dreams, Vanesa says it doesn't impact how proud she is of this accomplishment.
"This journey has taught me how to be resilient and grateful for every lesson that made me a better person," Vanesa says. "I am thankful for everyone in my life that walked this path with me. This degree represents many years of trying, failing, and getting back up. This degree is no longer a dream, it's a reality, and I can't wait to see what new challenges it brings me."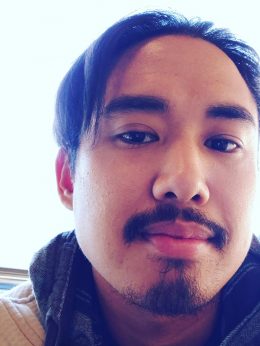 Jacob Victoria, BSBA Information Systems
When Jacob Victoria discovered the CU Denver Business School, he was living in San Diego, waiting tables, going to community college, and serving in the United States Army Reserves (USAR). But the more he looked into the BSBA in Information Systems program, the more determined he became – he knew the downtown Denver campus and the business environment were right for him. When he was accepted into the program, he rented a U-Haul and drove across the country to make it happen.
Within two weeks of arriving in Denver, Jacob's classes began. He was quickly overwhelmed with the adjustments of living in a new city, taking five classes, commuting more than an hour to school each day, and struggling to make friends. "I remember taking a step back to do a little self-reflection," Jacob says. "I had to remind myself that I could adjust to this. I've overcome many struggles in my life, during my time in the Army and with financial difficulties after my exit from active duty. I've been through a lot, and I've always been resilient." With this new confidence in mind, Jacob set out to achieve success at CU Denver.
Before long, Jacob developed a productive routine. He got into the habit of preparing food for the week, waking up early, studying on his commute, and working out at the Wellness Center each day. With his new schedule, things started to click, and Jacob began to perform exceptionally well in his courses. Despite taking six classes at a time, he landed on the Dean's List several semesters in a row with a high GPA.
When Jacob reflects on the people who had the greatest impact on his education, he thinks of Dr. Dawn Gregg, Discipline Director of the Information Systems program. "I took several courses with Professor Gregg," Jacob recalls. "I was nervous because these programming courses can be exceptionally difficult. To my surprise, I was amazed by how well she taught the courses, and they became some of my favorites." Professor Gregg also opened doors for Jacob professionally, helping him earn an internship role as a software developer at a small startup company.
In addition to finding success in his classes, Jacob got involved in the CU Denver community. He was a founding member of the Transamerica Cybersecurity and Digital Forensics club, serving first as Technology Officer and later as Treasurer. He also joined Peer Advisors for Veteran Education (PAVE), a campus organization dedicated to helping veterans as they make the transition into college life.
Perhaps the most important thing Jacob did during his time at CU Denver was to start volunteering.
He got involved with several non-profit organizations and sought out opportunities to help feed the homeless, clean up parks, organize clothing drives, and plan charity events. "By volunteering a small amount of my time, I was able to help a lot of people less fortunate than me," Jacob says. "It really changed my perspective. I became more grateful for what I have."
With the skills and abilities Jacob has learned from his degree, he plans to help businesses identify vulnerable networks and implement best practices in cybersecurity. "This degree will not only open doors for my career," Jacob says. "It will also enable me to make an impact on the world." After gaining some experience in the tech industry, Jacob plans on honing his cybersecurity skills and applying to a government agency as a cybersecurity specialist to help agencies rid the world of online criminals.
"School has not only given me valuable skills, but it has taught me that I can handle any challenge that may come my way, big or small. Without the unforgettable experiences I had a CU Denver, I wouldn't be the person I am today."