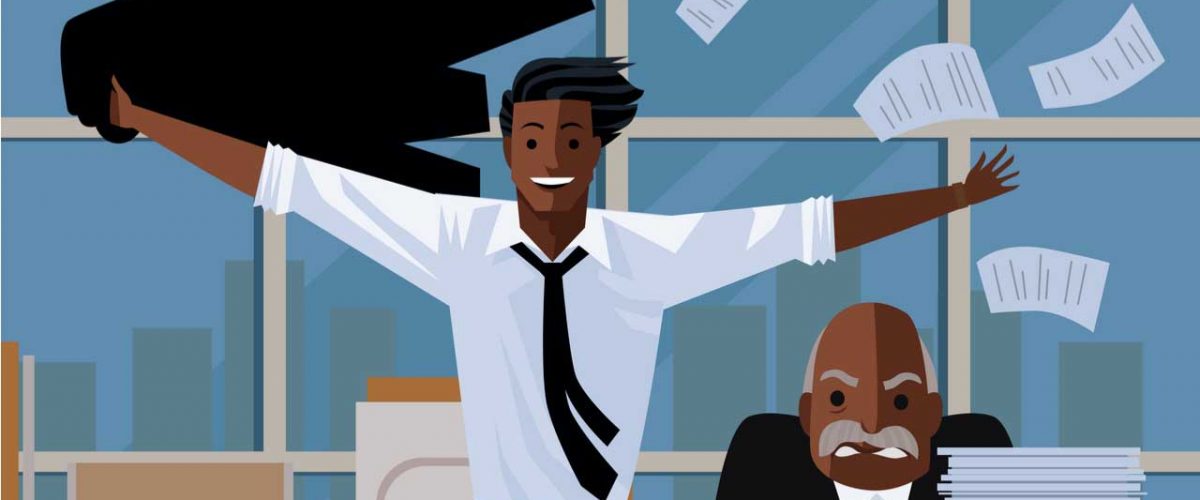 All of us dream about what's next in our careers, even if it's simply escaping the trials of our current role. How do you know if you're giving up something decent for something that – while it could be much better – also holds the possibility that it could be much worse? It's not a decision to take lightly but most people aren't sure where to start.
The CU Denver Business School Alumni Network (BSAN) hosted an online Career Edge Webinar to share expert advice for quitting your job the right way. Sue Wyman, Director of Business Career Services (BCC) and long-time career consultant, presented the information-packed webinar and alum Charlotte Bockstahler (MBA '10), Business School Marketing Lecturer and strategy consultant, moderated.
I quit!
Who hasn't wanted to storm out of their job at one point or another? It's important to remove the emotion from the decision in favor of making it into a process.
Step 1: Get your thoughts down on paper. Take a step back and catch your breath. A simple pros/cons list is a proven way to organize your thoughts and clarify a problem. Making a hasty decision only results in insecurity, burned bridges, and increasing your stress level, which was probably the opposite of your goal in the first place.
Toxic work environment: You'll know it when you feel it, and your family will too. One tell is when it feels like everyone is always whispering.
Step 2: Ask yourself six questions.
1. Can I learn more? Learning new skills, volunteering for a new project, asking for more responsibility. Taking initiative can lead to great new things. Feeling like you have no room to grow or learn is often a major source of frustration that sparks to itch to move on.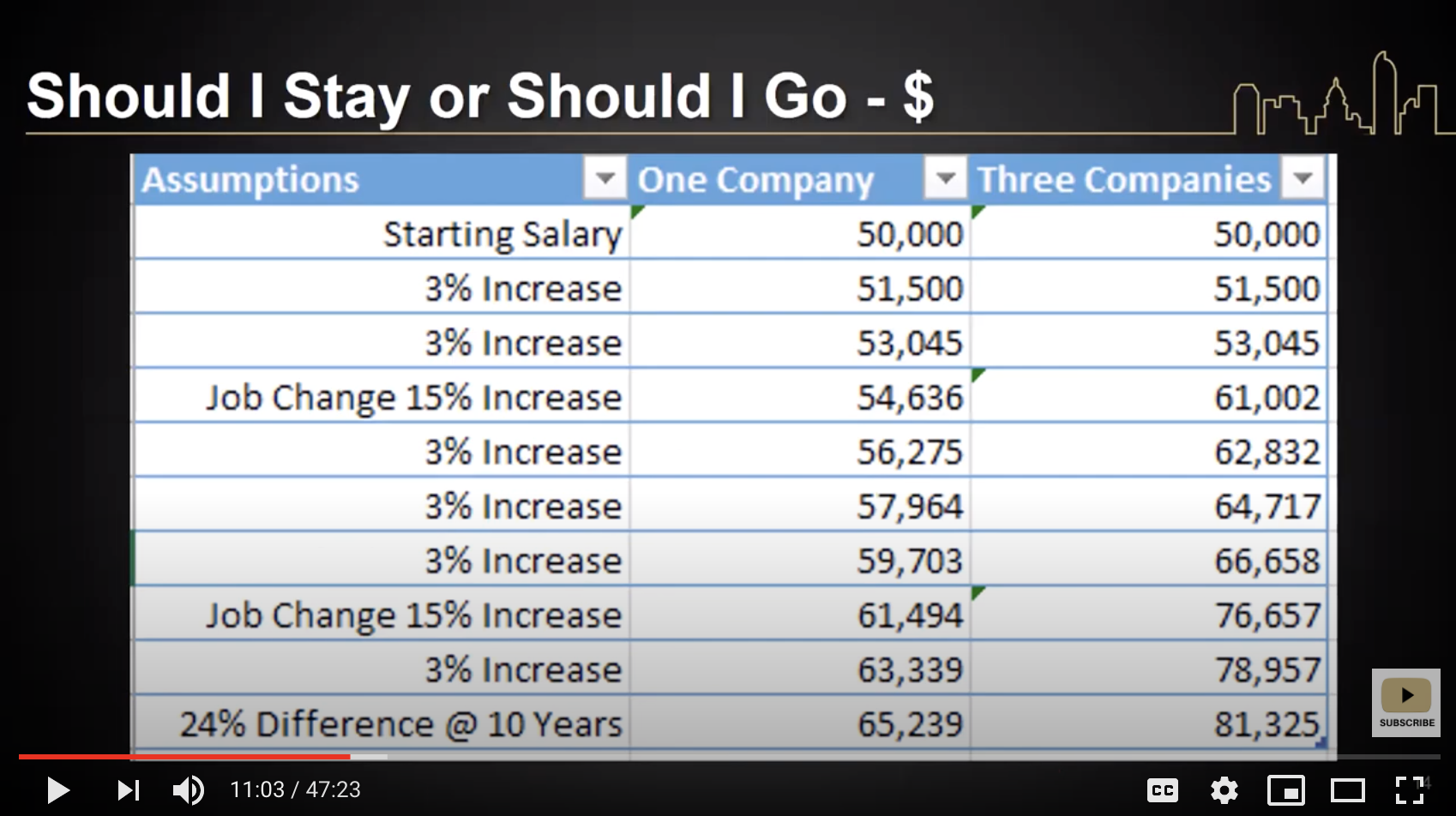 2. Can I earn more? Define your value and do not underestimate yourself. Measurable results are key to justifying your worth and successfully negotiating a raise or bonus. A 2014 Forbes study found that staying at the same company for over two years on average is going to make you earn less over your lifetime by about 50% or more. That sounds extreme, but even moving jobs a couple times over 10 years makes a huge difference in salary increase.
3. Is there a personal benefit to staying longer? Perhaps you are finishing your degree and so a job you know and do well just makes sense to keep until you have more bandwidth. Personal reasons like a company paying for your school tuition or the timing of annual raises are important to consider. It's also worth it to be honest with yourself – if you've hated every job you've ever had, then it's time to consider if you're a part of the problem and take steps to explore that.
4. How's my timing? If you've been at a job less than a year or two, depending on your work history, it might be best to stick it out for a little bit. There are no hard or fast rules there, but too much job-hopping tends to reflect poorly for potential future employers. Also, are you leaving during a very busy time or when your team members are on extended leave? Leaving your team in a bad position may burn bridges so it's best to avoid if possible.
5. What companies and jobs do I want to target? The internet has made researching easier than ever. Is your commute a priority? Do you want to move to non-profit work? Browsing job listings gives you a great idea for what employers are looking for so you can expand your skills if needed and tailor your resume to match what's in-demand for the jobs that interest you. Remember that you're looking for not just a place that will hire you, but a place that you'd really love to work.
6. What's my job search strategy? You've made decisions and gathered your data; now how will you go about making it happen? It's ideal to look for a new job when you already have a job. Squeezing in interviews at lunch or during a vacation day to keep your job search secret is a good plan. Make sure you can articulate to interviewers why you are leaving your current job in a professional way that shows why this new company will be a great fit. Be thoughtful and careful with your strategy.
Don't stay too long and don't leave too soon.
The webinar went on to answer more questions from viewers and you can view the entire webinar online anytime here. Check out Business Career Connections for more career resources and personalized coaching for job-seeking Business School alums. The Business School Alumni Network (BSAN) frequently hosts career-focused webinar programming and keeps past webinar recordings online for anyone to explore topics like salary negotiation, resume tips, personal branding, networking secrets, and much more.