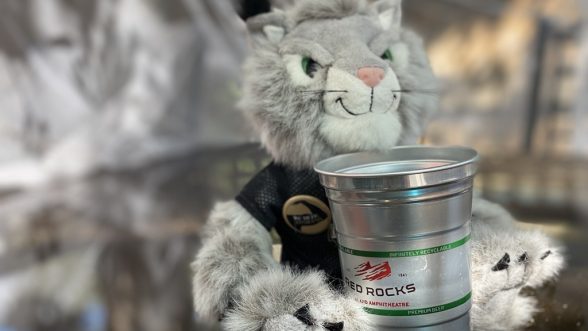 "I want to give students a chance to experience something real during their graduate studies." 
This is Susan Heinzeroth, founder and CEO of SageRiver Consulting, and professor of CU Denver's Business Strategy Lab course. This semester, in a partnership with Ball Corporation, Susan is offering students a chance to practice both business strategy development and management consulting from the convenience of the classroom.  
Active Recruiting 
Partnering with businesses is not a new concept for the Management course. After working with companies like Jackson National, Similasan, the Arvada Resiliency Task Force and Long View Systems, Susan wanted to recruit a company that could impact the current state of our world. 
She went beyond her typical recruiting for a company. "This semester I wondered to myself 'what would be an interesting, relevant and timely project?' That led me to the Ball Aluminum Cup," said Susan.  
She reached out to several network connections at Ball Corporation with the idea and the client was solidified. 
Ball Corporation 
Ball Corporation is the perfect choice for a business with revolutionary potential. Ball Corporation (a company that currently calls Broomfield, Colorado home) recently rolled out their sustainable novelty, the Ball Aluminum Cup. The Ball Aluminum Cup is a recyclable and refillable cup that seeks to not only help save the environment but reinvent the drinking experience.  
Sebastian Siethoff, General Manager of Ball Aluminum Cups believes in the positive impact the cups can have on the world. "The Ball Aluminum Cup aims to make a meaningful impact on alleviating the packaging waste crisis," said Siethoff.  
Siethoff and his team identified an opportunity to provide the general public with an alternative to the standard disposable cups at large events.  
"Major on-site gatherings like concerts, sporting events and festivals often require the convenience of disposable cups," said Siethoff. "The Ball Aluminum Cup is the most sustainable option because it can be easily recycled and turned into another cup, unlike the billions of plastic cups that end up in landfills every year." 
Business strategy student Krista White is also excited about the potential she sees in the Ball Aluminum Cup. "By successfully converting plastic cup users to the Ball Aluminum Cup, we can help keep about 20 billion plastic cups out of the ocean each year,'" said Krista. "That feels pretty amazing!" 
This is not the first collaboration between Ball and CU. Ball Corporation and CU have a history of teamwork. After a successful first rollout of the Ball Aluminum Cup   at Folsom Field in Boulder, Ball began seeking advice on how to further connect with younger generations. 
Learning through Partnership  
Collaborating with a local business is a fun opportunity for graduate students to think creatively and engage with business professionals. Collaboration not only gives students practice in marketing strategy, but also helps support Ball Aluminum with their current business initiatives. 
Susan's graduate students use opportunities like the one with Ball to practice their business expertise in real time. "Students get to apply the theories that they've learned throughout their program to a real-world business challenge," said Susan. "They learn about two tracks:  strategy and consulting."  
At the end of the semester, student-lead teams present their final recommendations addressing their strategic challenge to Ball executives. The students have their sights set on influencing Ball's strategic path forward with the Ball Aluminum Cup.  Their hard work certainly pays off and provides students excellent first-hand experience in both strategy development and management consulting.  
Getting the Ball Rolling 
Through collaboration with CU, Ball gains insight into the customer experience.  
Meeting with students throughout the semester helps Ball engage with younger consumers of their brand and get real-time feedback on their business initiatives.  
The Success Story 
Susan's goal for this course is that everyone leaves the partnership experience satisfied. "In the end, all of our hard work is focused around delivering for the client," said Susan.  It is safe to say Ball will thrive with the help of CU's brightest minds. 
In an effort to avoid any spoilers on what Ball and CU will accomplish next, Susan left this message for future students: 
"This is a challenging course, but at the end of the semester my students say they loved the experience."