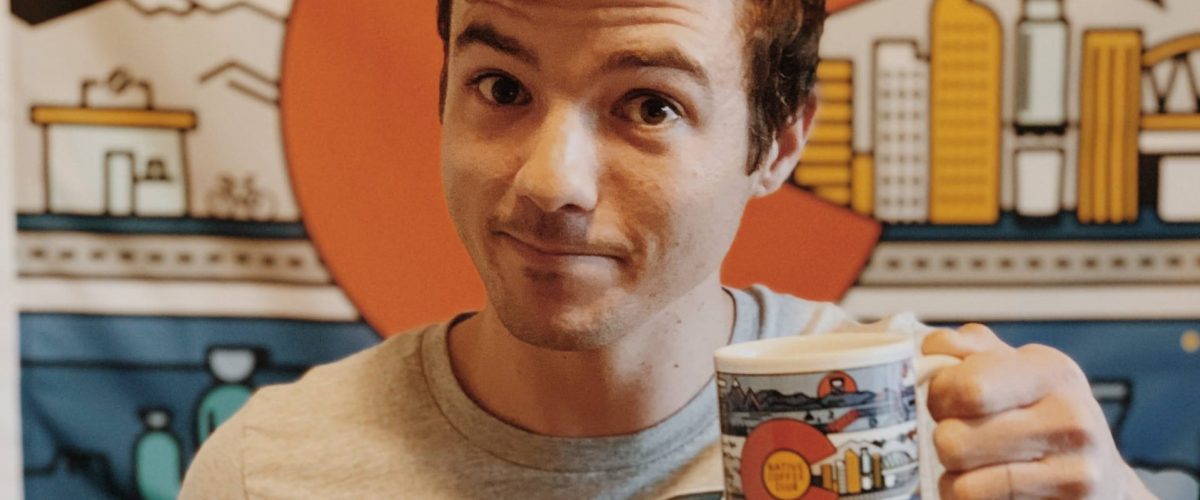 Warm, rich, and aromatic. Globally, so many people wake up to the sensory experience of coffee. This little cup of zen can start a morning off on the right foot and ready us for the day. It can even inspire big ideas in small moments, bright ideas that inspire big change. Meet Jake Stechmeyer, '13, CU Denver alum, CEO of Native Coffee Club, and digital marketing manager at CU Denver Business School. With bold business savvy and bold flavor, Stechmeyer knows the feeling well.
Stechmeyer always had an interest in expression and home coffee making. As an avid espresso drinker and supporter of Colorado coffee, he wanted to find a convenient way to try coffee from all over the state; he discovered that such an offer didn't exist. In 2018, Stechmeyer took the opportunity to create a service that combined his business know-how and his caffeinated passion: Native Coffee Club. The monthly subscription-based model allowed Colorado coffee lovers to try specialty coffee, receive free drink cards, and merchandise from different local roasters across the state.
Growing Success With a Work-life Balance
Stechmeyer mentioned always having a passion to create something and see it grow. On the day he decided to start his business, he attend the World Coffee Champs competition in Denver where he was hosting a booth for Native Coffee Club. Stechmeyer recalled having a mix of anxiety and excitement, "I remember trying to launch the business while managing the event." A few years later, he's running a successful business.
With plenty on his plate, Stechmeyer managed Native Coffee Club alongside his work as a full-time marketer, MBA student, husband, and brand-new father. One thing was clear in his mind, he was not willing to compromise his personal life for business. Finding a good work-life balance was key. With his close friend and business partner, Margaret, they used just 5-8 hours of work a week to grow the business into a $100,000+ a year operation.
"We always wanted to make everything as lean as possible to prevent us from spending long hours away from our family. Margaret and I have always asked ourselves 'how can we put in as little hour as possible while still making this grow and make it successful?'"
He emphasized that this "prevents the burnout that a lot of people experience and leads them to quit." Stechmeyer asserted that strategically moving away from the hustle mindset helped him keep a healthier outlook and allowed him to balance other aspects of his life while growing a lean business.
Brewing Diversity
Success in business today takes inclusive cultures where everyone can turn on a dime — together. Stechmeyer has understood this and utilized Native Coffee Club to extend the promise of business to diverse coffee roasters in the local community.
"From the beginning, our focus has been on supporting the growing Colorado coffee community. Our Colorado coffee roaster partners mean everything to us. They are what makes Colorado coffee special and what keeps Native Coffee Club going. Each one has a story and a mission behind the coffee they roast. That is why we work so hard to promote the work that they do. In each package we ship, we work with that roaster partner to provide our subscribers with a discount to their store and merchandise to always send business back to them."
In an American industry dominated by white men, Stechmeyer highlights diversity by intentionally working with coffee roasters coming from different cultural backgrounds and partners with many female farmers and female coffee roasters. Along with his business partner Margaret, Stechmeyer sees the value of promoting and partnering with a wide array of people in the coffee community.
Maintaining a Lifelong Learner Mindset
Degrees are important and helpful but practical learning can greatly enhance theory. Stechmeyer shared that although an MBA proved to be very valuable, he learned a lot on the job. In fact, he admitted that taking the entrepreneurial route pushed him to learn new things like advertising and SEO.
Stechmeyer embraces the Business School's motto of being a lifelong learner but he strongly believes that learning is nothing without practice. He encourages students and active professionals to take action. "Find the time to apply your learning regardless of your current level because your knowledge is always valuable."
Many people can dread the execution of their plans given the demands of entrepreneurial preparation. "Starting a business is not as hard as people try to make it out to be," Stechmeyer affirmed. He later advised, "Just ask yourself 'What's the next possible closest step I can take?" As he noted, taking a step-by-step approach instead of starting off big can help streamline things and build confidence.
The Pivoting Pay-Off
Vince Lombardi once said, "Winners never quit, and quitters never win." But Stechmeyer attested that learning to know when to quit is a healthy position to be in. By quitting, he doesn't mean stopping everything but rather understanding the trajectory of your business over time and changing tactics, moving on to new ventures when needed. "Constantly innovating is key in entrepreneurship and innovating requires having the audacity to pivot, after all, I'm an entrepreneur, I can always start something new," Stechmeyer said. Trying new things can spark greater inspiration and growth. "Try to figure out new possibilities and challenges in your workplace."
Just Do It.
Many people dream about being an entrepreneur but postpone their start date. Stechmeyer final advice is to "just start." He encourages new business owners to take the first smallest step and get into the habit of taking bigger steps progressively. Moreover, he urged startup founders to set an amount limit that that they're willing to spend on the business and have an end date, as this will push them to work smart, analyze the market and industry to decide if the project is viable in the long run.
One thing we can say for sure, Stechmeyer is brewing up good business and things are just heating up.