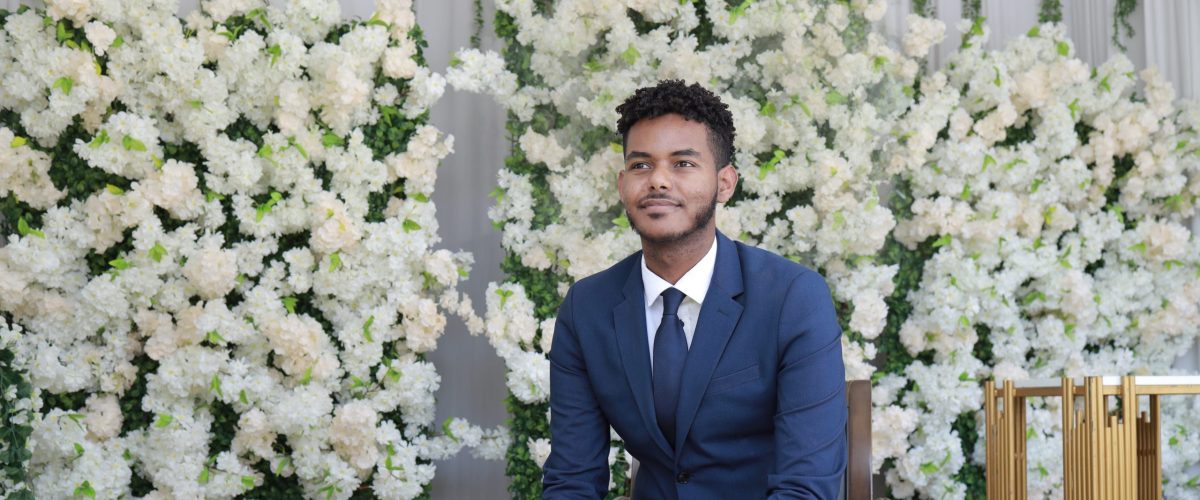 Abel Mesfin '22 was never just another fish in the sea; he had creativity, confidence, intelligence, humility, and family support to boot. As a high school student, Mesfin had a keen eye for design, a strong sense of leadership, and a drive to succeed. He fit the bill as an ideal candidate for any university. But despite his success in his formative years, he still questioned if college would be feasible. The waters of higher education can be difficult to navigate, and cost can be a metaphorical hook. Mesfin's mother was passionate about his education and urged him to consider it even though money would be tight. With the help of concurrent enrollment courses and a generous scholarship from CU Denver, Mesfin decided to dive in for at least one year to see if college life suited him. He kept busy with full-time work, extracurriculars, and a 19-credit-hour course load. The mix of activities proved to be a sink-or-swim challenge. 
Cue the COVID-19 pandemic. Mesfin's calendar quickly cleared as lockdown hit, and he took to his studies online. He had relished the on-campus experience. The vibrancy of student life and the diversity of his peers had been the primary draws to attending CU Denver, as well as his valuable scholarship. Fortunately, the coursework kept him on his toes, and the mentorship program provided by his scholarship helped inspire him to complete his degree. With the mentoring support of Mary Jane Rogers, head of executive communications, consumer community, and banking at J.P. Morgan Chase, Mesfin honed skills that would help him adapt outside the scope of graphic design. Rogers would host Mesfin during meetings where her group developed branded campaigns with rich storytelling components; for Mesfin, the personalized approach shined a light on a holistic view of business practices.
Mesfin had plenty of inspiration from another influential source as well. His entrepreneurial grandparents owned and operated their water bottling company "Classy" in Ethiopia. Their business venture helped their entire community flourish. The couple even went so far as to provide housing for workers, an effort that Mesfin himself aided in designing housing plans.
"Our family understood the long efforts these workers would spend simply to show up. Eventually, those efforts grew into providing day and night transportation services, and seeing those commitments from my grandparents was enough to show me that their impact – big or small – does matter," Mesfin said.
Along with his mentorship program and his family business experience, Mesfin was about to cast his most advantageous net yet with a pivotal CU Denver internship. After supplying a graphic design application to The Shark Group, founded by Daymond John, star of Shark Tank on ABC, without response, Mesfin persisted with an alternative business development application. The latter won out. Mesfin used the first few months of the internship to understand the role dynamics and grew into side projects finding unique products to air on Good Morning America and meeting weekly with numerous entrepreneurs to identify how The Shark Group could use John's resources and experience to elevate their businesses. After a second semester and completing his internship credits, Mesfin hooked his biggest catch: a unique full-time position working with brand partnerships, philanthropic work, and diversity-centered projects.
Mesfin said, "In the spirit of promoting a culture of inclusivity and diversity, I am fortunate to help support Daymond John and The Shark Group on various initiatives designed to support the representation of smaller businesses. Our commitment to establishing meaningful opportunities for these individuals has been unwavering, and I am excited to see the impactful difference we create for these entrepreneurs."
This coming fall 2023, Mesfin will get to make a splash on the national business stage, helping to amplify black voices and entrepreneurial success during Black Entrepreneurs Day, an event celebrating Black entrepreneurship at Harlem's iconic Apollo Theatre. Established by Daymond John in 2020, Black Entrepreneurs Day brings together wisdom from prominent African American business leaders, featuring game changer conversations with celebrity entrepreneurs like Shaquille O'Neal, Spike Lee, Kevin Hart, Tyra Banks, and Venus Williams, along with spectacular performances from Grammy-nominated entertainers like Big Sean and Khalid. The previous year's event partnered with NAACP to give away over $250,000 in grants on-air to eight different Black-owned businesses during the event. Mesfin continues to align himself with organizations investing in their communities.
From a big fish in a little pond to making his way in open waters, Mesfin has taken every opportunity to make a positive impact. Mesfin greatly credits his scholarship as a means to making it all possible. "I wouldn't have this job without that degree and without that scholarship, so everything connects," Mesfin acknowledged. He champions giving back, knowing the difference it made in his educational journey: "It was awe-inspiring to be awarded a scholarship…CU Denver offers generous resources in terms of financial aid, and I'm very grateful to be a part of this community."
Mesfin is excited to be a part of this event in conjunction with Daymond John, supporting student success, and helping others gain the same opportunities he had: "The 2023 Celebration of Success is a great opportunity to support the CU Denver community and support future Business School students in their personal mission for higher education. I'm very much looking forward to seeing how much they can raise for the next generation of students."
________________________________________________________
CU Denver Business School is committed to opening doors and lowering barriers to success.
On Friday, April 6, 2023, at Seawell Ballroom, CU Denver Business School will host the Celebration of Success gala to raise scholarship funds for CU Denver Business School students. Attendees will network with Denver community donors, meet CU Denver scholarship recipients, and hear a keynote address from entrepreneur Daymond John of ABC's Shark Tank.
CU Denver Business School is passionate about extending the promise of education to all students. The School intends to make a lasting impact with scholarship funds that provide means for students to pursue their passions and change their lives. From courses to books and beyond, these scholarships make education accessible and attainable. With "Denver Built. Global Ready." degrees, CU Denver graduates enrich their communities and foster the practice of "business for good." The Business School is excited to continue a legacy of life-long learning for all.
Support student success and join us at Celebration of Success. Register today!