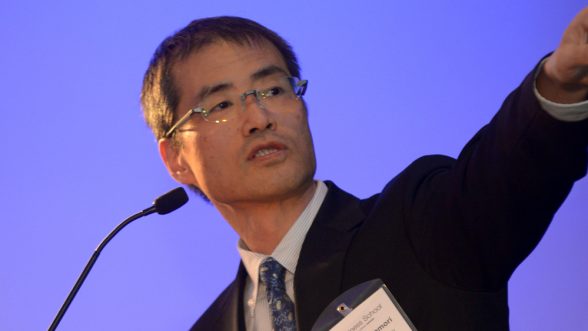 DENVER—With fast-growing Asian nations changing the global landscape in the 21st century, energy's impact on emerging economies, environmental regulations and trade policy will only escalate in the coming decades.
That was the backdrop of the Energy Moving Forward forum, which drew more than 225 attendees—business, government, academic and other observers—to a candid discussion about all facets of global energy. The fourth annual conference was organized by the Global Energy Management Program at the CU Denver Business School. GEM worked in tandem with the forum's presenting sponsor, Encana Corp., and the Denver Office of Economic Development to bring in an international powerhouse of perspectives: panelists and other speakers came from the United States, France, Canada, Mexico and Japan.
Colorado's role in the increasingly complex energy industry also received considerable discussion.
Scenes from the Energy Moving Forward forum:
"The energy industry continues to be fast-paced and changing," Sueann Ambron, dean of the CU Denver Business School, said in her opening remarks. "We're seeing shifts in worldwide energy demands as well as production that provide great opportunities and challenges for us all. At the university, we are uniquely positioned to bring together thought leaders with different points of view. We're really excited about the forum this year because we've expanded it to encompass the globe, and the industry's implications for Colorado and the region."
Doug Hock, media relations manager for Canada-based Encana, said candid dialogue about energy issues wasn't common when the Energy Moving Forward forum began a few years ago. "We'd love to take credit for that, but it's really an indication of the growing recognition of the important role that energy plays in our economy, in public policy and in the future of our state and the nation," Hock said. "Reflecting this broader understanding, we've gone from an event that in past years focused on various sources of energy and their future to today's conference which focuses on the broader implications of America's newfound role as a leading producer and potential exporter of energy."
Keynote speakers were Keisuke Sadamori, director of the Energy Markets and Security Directorate of the Paris-based International Energy Agency, and Phillip K. Verleger Jr., president of Carbondale, Colo.-based PKVerleger LLC.
Sadamori laid out the world energy outlook, noting that global energy demand will increase by one-third by 2035. "By far the largest share comes from the emerging economies of Asia. The main driver of this growth currently is China—already the largest energy consumer in the world," he said. "In the 2020s the emphasis shifts south to India and the countries of Southeast Asia. In India, energy demand will more than double by 2035."
Coal will be the world's largest fuel source in the near future, he said, driven mainly by demand in China. Asian and emerging-nation demand for liquefied natural gas will skyrocket by 2035, with the United States and Canada being top producers globally.
Renewable energy sources, especially solar and wind, will likewise see growth in the next 20 years. "This is kind of good news," Sadamori said. "Improving cost competitiveness is what's behind the solid expansion of renewables."
The forum's international focus was on full display in the first panel as Canada (Stan Pence, trade commissioner at Consulate General of Canada—Denver), Mexico (Carlos Huerta, political economy energy advisor at PEMEX) and Japan (Ichiro Kutani, assistant director of strategy research unit, Institute of Energy Economics) were represented. Also on the panel was Hidehiko Takiguchi, president of Pacific Pond LLC.
The topic of discussion was "Opportunities for Colorado Business: What Does the World Offer Colorado?" Kutani said Colorado offers leading environment-related entities and world-class research. "This will combine not only to increase (energy) production, but also how to cope with environmental issues," he said. "I expect big help from Colorado on these issues."
Pence said Canada is pleased to see greater opening of markets in Mexico as well as the widening energy trade network in the Pacific basin. And Colorado is home to several major Canadian companies, including Encana, Suncor and Great West Life. "If you look at western Calgary and Colorado, not only do Calgary and Denver look alike, but they run off the same engine—it's energy. It's gas. It's oil. And it's moving that out to the places that need it."
There are an estimated 3 billion to 5 billion barrels of oil in the Niobrara play in northeastern Colorado, which is not only a rising producer in global energy but also a bellwether state in energy regulation—the latter being viewed "as a good thing or a bad thing depending on your perspective," said forum moderator Greg Dobbs.
Learn about the CU Denver Business School's GEM Program.
Related Stories in the News:
[links category_name="Energy Moving Forward Forum"]