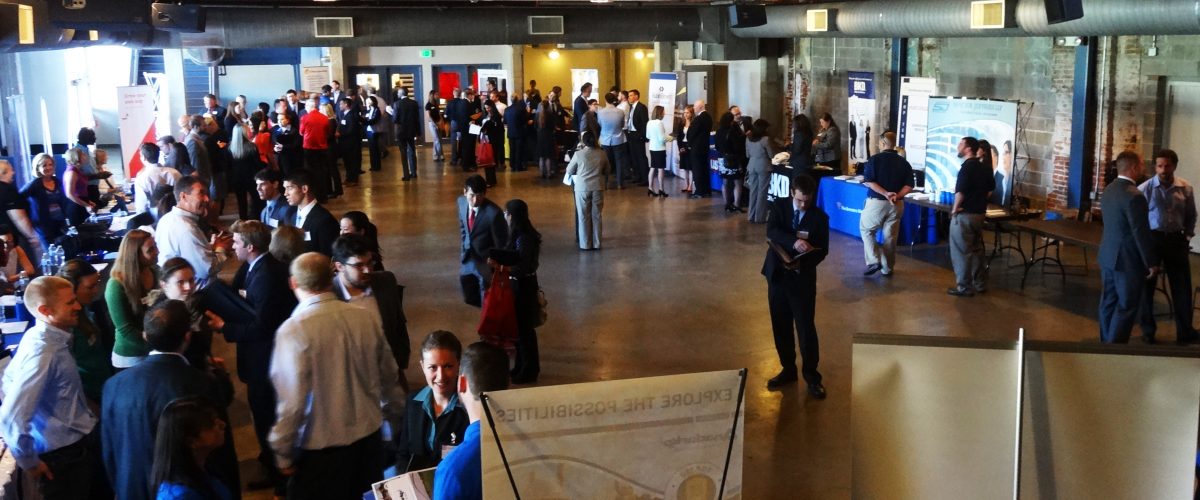 University of Colorado Denver Business School's Beta Alpha Psi (BAP), the honor society for accounting and financial information students, held a "Meet the Firms" with these organizations at the Tivoli Turnhalle September 19. This year was the greatest number of firms and the largest turnout of attending students and alumni. Fifteen of the top 20 accounting firms in Denver chose to find their talent at the CU Denver Business School.
"We've been planning this all summer," said BAP President Joshua Jarecke. "We only had 12 firms four years ago. This year we have 24 firms. It's a really good turnout."
From 3 to 5 PM BAP members, accounting students and alumni toured the ring of employer booths. For the accounting students, this was the perfect opportunity to network and meet accounting professionals from the most successful organizations in the Denver area.
"I'm not a recruiter," pointed out CU Denver alumnus and Anadarko accountant Jordan Robinson, "and I don't think many here are. It's the same in most technical industries; there are very few recruiters. We do the job, so we know what to look for in candidates."
For the professionals, this was the perfect opportunity to meet the best candidates in the talent pool. Each year this Accounting Meet and Greet grows in size as more and more firms hear about the excellent education of CU Denver Business School students.
"I've only been doing this three years," commented Robinson, "but we come back every year for the students. The Business School turns out great graduates."
For more information about the Accounting degree program, go here.
For more information about Beta Alpha Psi, check out its website.