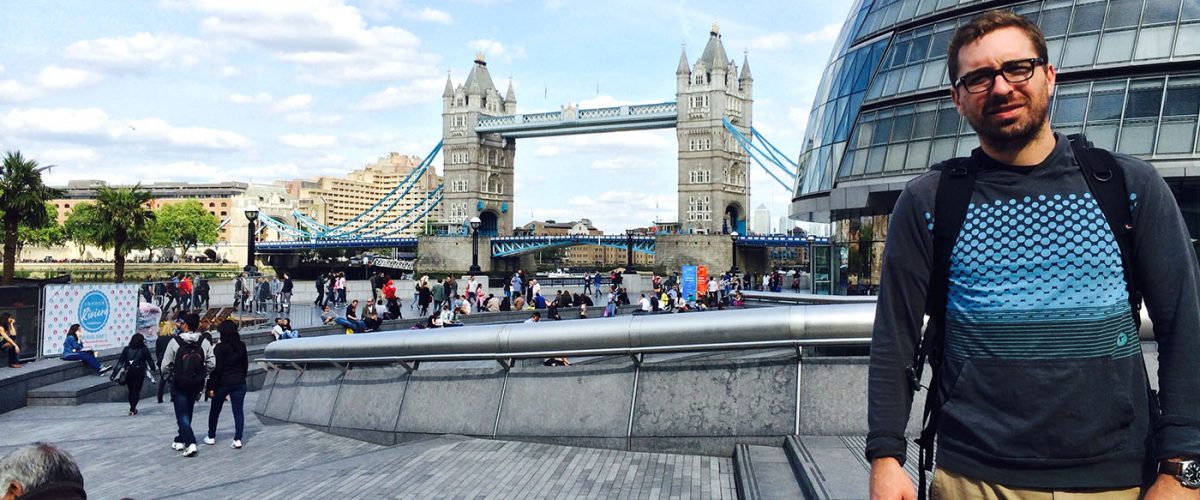 Coming from an arts background, Josh Brandner knows something about following his instincts.
Although he already had a successful career in TV and film, he sensed he could go even further. Despite some initial reservations about pursuing a graduate degree in business, Brandner now sees that his instincts were right: The Master's in Business Administration (MBA) in the CU Denver Business School has broadened his skillset and overall marketability. He's finishing the final three credits of his degree through a real-world internship that blends new business skills with his strong TV and film background.
"I've been going against the grain a little bit, and I would encourage other arts majors to do it, too," says Brandner, who earned a bachelor's degree in media and theatre arts at Montana State University over a decade ago.
When Brandner moved to Colorado in 2009, he continued working on film projects and his own video and photography business, Ouzel Media. But the Great Recession was dampening the economy and he realized "it was kind of now or never" on the matter of returning to school.
'London project inspired me'
He considered a few universities in Colorado, but especially liked the offerings at CU Denver's Business School. "It was flexible for me," he says. "I was apprehensive about going back to school in general and wasn't sure about going the business route, but it's been great. The CU Denver program has been everything I was looking for. And all the professors I've had have been really great and influential."
Brandner specialized his MBA studies on marketing as well as sports and entertainment management. For the latter, he went on the London Calling Maymester trip last spring and, as is his nature, combined business rigor with film talents. Along with fellow CU Denver Business School student Leo Sideras, Brandner produced videos that promote the Business School's London trip as well as its Leadership & Entrepreneurship in Ireland Maymester trip. The pair produced a third video that promotes both the Business School Study Abroad program and the CU Denver Office of Global Education.
"The London project inspired me … I thought it was a good idea to reach out and work with a local sports team or entertainment entity," he says. Wendy Guild, PhD, director of the Sports and Entertainment Management, encouraged Brandner to find a good fit at a local company. "It's been nice to have her backing me," says Brandner, who found just the right fit at Orion Entertainment, a growing Centennial-based company.
Exceptional internship
"It's directly in line with what I've been focusing my specialization studies on through the Business School," Brandner says. "It's allowing me to take all the things I've learned in class – accounting, finance, data analysis – and build on those skills in a real hands-on working environment. That's why the experiential learning route is really valuable to utilize for my last three credits."
Orion Entertainment is a leading TV production and marketing solutions company that has done work for a variety of networks, including The History Channel, HGTV, DIY, National Geographic, Discovery and Travel.
"Josh's business skills, in addition to his creative abilities, are highly valued and made him a very interesting candidate," says Amy Dorsey, CFO of Orion Entertainment. "Josh's focus in entertainment was also very interesting as well as his hands-on experience with field and post-production work."
This fall, Brandner will finish his MBA program and, unlike the gloom of 2009, step into a robust economy with an arsenal of knowledge – both right- and left-brained skills. Going to the CU Denver Business School proved to be a turning point for him.
"If I hadn't gone back to school I'd be pigeonholed into working the on-set or post-production life, likely in a union in Los Angeles," he says. "I felt that wasn't right for me at the time. One of the main things for me was getting an MBA so I'd be more employable."
Leaving a visual legacy
Wanting to give something back, he left the Business School with compelling promotional tools in the trio of study abroad videos. Still on the to-do list is completing a documentary that Brandner and a few other filmmakers have been working on. The film examines the struggles and triumphs of students and faculty in at-risk high schools.
Those are just the kinds of projects that Brandner hopes to continue doing as he moves into the next phase of his career. His experience at CU Denver has shown him that not only is there a place in the Business School for creative people, but artists-at-heart can actually thrive in the outcomes-driven world of business.
"I'll be able to pull from all the things I learned at the Business School and with Orion," Brandner says. "Coming from an arts background allows you to express yourself in a lot of ways that a lot of industry and career paths don't. I just want to work for an organization where I feel valued – that's when I'm at my best."